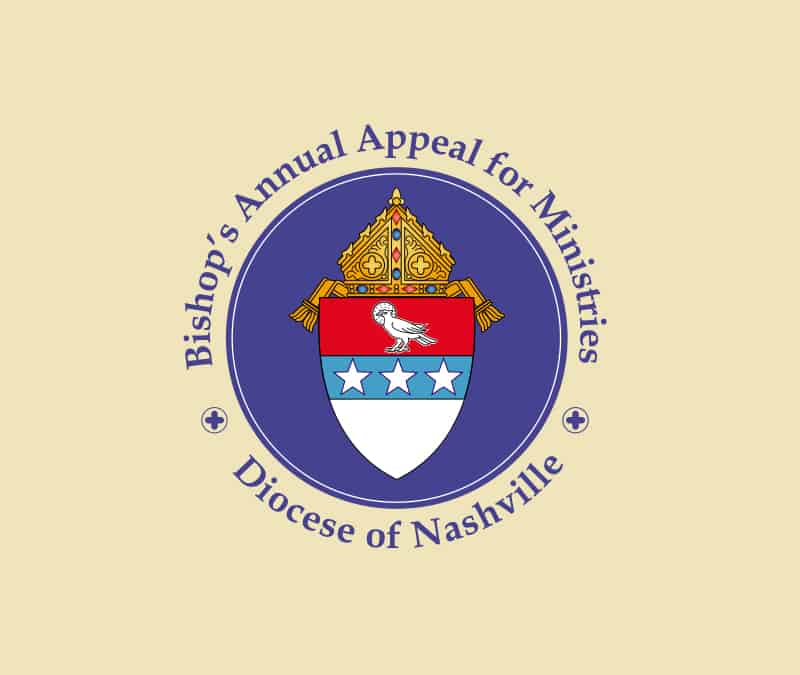 As of Aug. 17, the Bishops Annual Appeal for Ministries has raised more than 60 percent of its $3 million goal with approximately $1.9 million collected from parishioners across the Diocese of Nashville, according to Jen Mahr, annual appeal coordinator.
"For those who have donated … thank you for your generous support and thank you for playing a vital role in this diocese because, without you, we wouldn't be where we are today," Mahr said. "You help the Diocese of Nashville become the best that it can be."
Each year, the Bishop's Annual Appeal benefits multiple ministries throughout the diocese including vocations, Catholic schools, youth and adult formation, rural parishes, Catholic Charities, Diocese of Nashville, and more.
"The Bishop's Annual Appeal is a really important part of our overall funding, and it particularly enables us to provide services that might not otherwise be funded," said Judy Orr, Catholic Charities executive director. "It is a really critical component to the work we do walking the walk of Jesus."
Dr. Brad Peper, diocesan director of faith formation, said the Bishop's Annual Appeal helps the office put on the various programs it offers, including adult catechesis, the annual Scripture Summit and the SEARCH program for high school students, as well as providing scholarships to attend the annual March for Life in Washington, D.C.
"It gives everyone access to robust faith formation throughout the diocese," Peper said. "It's our aim."
Bill Staley, diocesan director of new media evangelization, said the Bishop's Annual Appeal helped provide the resources needed to livestream Mass online during the COVID-19 pandemic.
"Your gift helps spread the good news of Jesus Christ in new ways through new media," Staley said. "We need all the support we can get to keep the mission of the diocese going strong."
University Catholic is another ministry that benefits from the Bishop's Annual Appeal.
"Because of your generous donation, we are able to fulfill our mission to 'propose Jesus Christ and form His disciples' in the different universities and colleges," said Father Gervan Menezes, University Catholic chaplain. "As we know, emerging adults' years are essential for the formation of the youth and will determine their life choices."
As the campaign continues, Mahr has advice for those who may be hesitant to donate to the Bishop's Annual Appeal.
"I know oftentimes, when you see something like the Bishop's Annual Appeal, a person might think, 'I don't really know where those funds go or if my donation will make an impact,'" Mahr said. "I would encourage those who are hesitant to think about what and who they are passionate about.
"It's different for everybody," she said. "Some people are passionate about seminary education whereas others are enthusiastic about supporting those in need. I would encourage everyone to ask themselves, 'How do I desire to help the ministries and people within the diocese?'"
The Bishop's Annual Appeal continues through Dec. 31.
People can donate in one of three ways: online at www.dioceseofnashville.com/appeal; texting BISHOP to 615-552-1101; or mailing a cash or check to Office of Stewardship and Development, Catholic Pastoral Center, 2800 McGavock Pike, Nashville, TN 37214. Checks should be payable to Diocese of Nashville. Cash donations should include the donor's name and parish so the parish receives proper credit for its designated portion for the overall campaign, Mahr said.
For more information, call Mahr at 615-783-0783 or e-mail jennifer.mahr@dioceseofnashville.com.