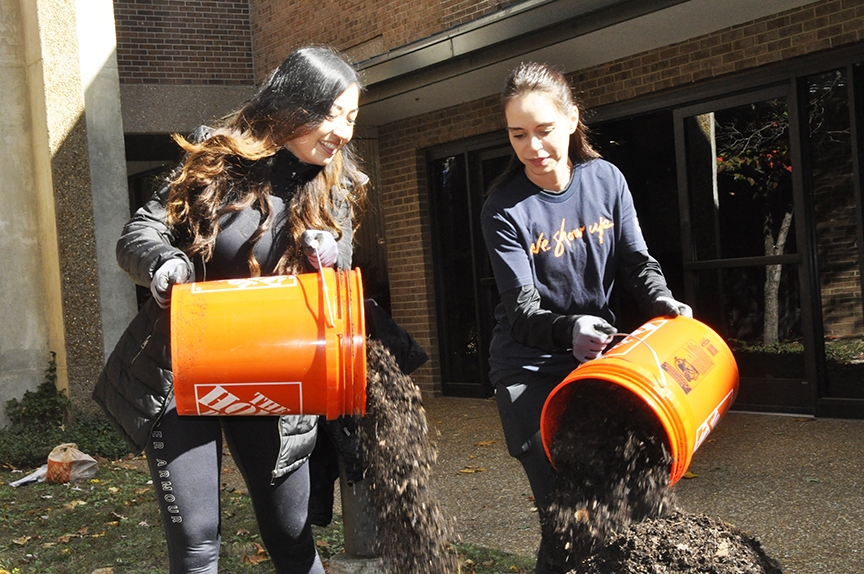 With the help of more than a dozen volunteers from HCA Healthcare's Tristar Southern Hills Medical Center, Catholic Charities, Diocese of Nashville is working to beautify the Bishop's Courtyard at the Catholic Pastoral Center to create a serene, prayerful space for employees.
"It's a great space, a prayer space, where staff can go out and have lunch or just decompress," said Brad Schrade, Catholic Charities volunteer coordinator. "We're all engaged in some stressful work, so it's important for us to have a space where we can decompress, be at peace and where you can have that time to meditate or pray or just recenter yourself."
After making plans with a landscape architect from the architecture firm Gresham Smith, volunteers from HCA came to the Catholic Pastoral Center Oct. 18 and 25 to help take out diseased crape myrtles, grind down tree stumps, rake leaves, and plant 1,100 daffodil bulbs, which were donated by Lowes and Home Depot. Eventually, they will also plant dozens of black-eyed susans, which were donated, along with mulch and compost, by Tony Emmanuel of The Mulch Company.
"This is a multi-year project as we see what grows from this first round," Schrade said. "Next year, we'll be making additions and slowly shaping it because it will take some work from our volunteers and staff members to make sure things are watered and maintained. But it's going to be a really beautiful space and offer a lot of peace for the entire staff at the Catholic Pastoral Center."
HCA became involved with the project because of their annual volunteer month every October, Schrade said, noting that Catholic Charities learned of this through one of their board members who works at HCA.
"Each year, TriStar Southern Hills participates in local events that help champion a healthier community," said Aline Leite, marketing director for HCA Healthcare. "(Catholic Charities) serves our communities in so many ways, and we were grateful to be able to support them through community service."
"Giving back to our community is in the DNA of our TriStar Southern Hills colleagues and spending time assisting Catholic Charities with various projects is so humbling for our team," added Drew Tyrer, chief executive officer of HCA Healthcare TriStar Southern Hills Medical Center. "Lending a hand to a community partner such as Catholic Charities that also impacts many of the lives of south Nashville residents is rewarding for us. We look forward to partnering in other ways with such a reputable community organization."
As the project develops, Schrade said, it offers another opportunity for other groups and individuals to get involved.
"This offers a really nice opportunity to get involved without doing direct service (with Catholic Charities) if they're not comfortable with that," Schrade said. "This is a nice way to still volunteer without being forced out of your comfort zone.
"Anytime you can get out of yourself and turn outwards and serve, it's a rewarding experience for the volunteer," he said. "Whether you're serving directly with a client, or you're serving to prepare spaces behind the scenes, it's all going back out into the community."
"The final goal of all of our work is to help people and to serve as Christ would," Schrade added, "so whether that's on the frontlines making meals and serving the hungry or behind the scenes preparing spaces to help support our counselors and staff members who are doing that direct service, it's all going into that pool of good."
For more information about volunteer opportunities with Catholic Charities, email Schrade at bschrade@cctenn.org.