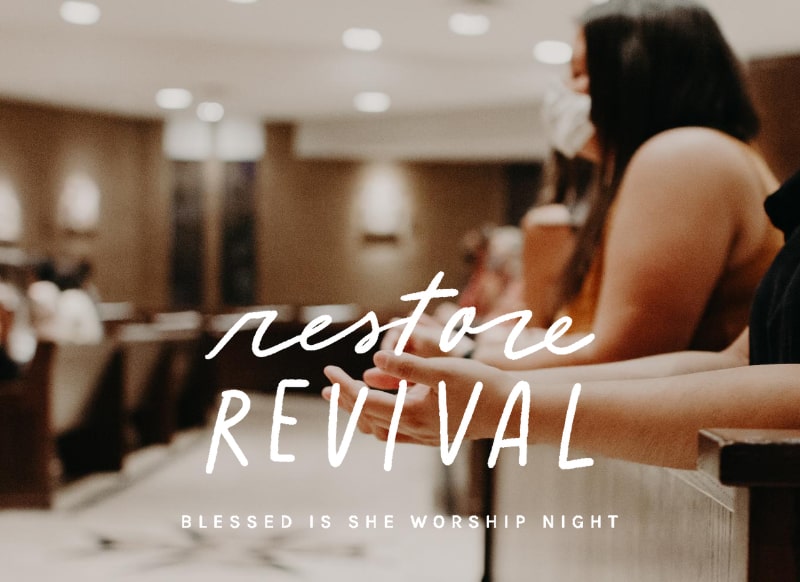 Blessed is She, "a sisterhood of women who desire prayer and community," is hosting a "Restore Revival" at the Cathedral of the Incarnation in Nashville the evenings of Sept. 4-5.
"We thought about canceling, but we know that people need spiritual opportunities. We're all hungry for that right now," said Joan Watson, director of the Diocese of Nashville's Office of Faith Formation and local site coordinator for the event.
The year 2020 "reminds us that we could all use a little more faith, and a little more Jesus," Watson said.
This year's Blessed is She retreat in Nashville will be pared down from last year's event, and will follow all the COVID-19 safety protocols that the Cathedral does for Mass. Attendance will be capped to allow for social distancing; face coverings will be required; and hand sanitizer will be available.
Instead of a full weekend of speakers, small group discussions and meals, this year's event will include a shortened program of just two speakers, praise and worship music, adoration, and confession.
"This is a chance to gather in a safe way," Watson said.
Speakers at the Nashville event will be Beth Davis, director of ministry advancement for Blessed is She, and Michelle Benzinger, a mother of six and a motivational speaker. Mary Castner will serve as the worship music leader for the program.
Blessed is She, an international Catholic women's community committed to deepening a life of prayer and creating a supportive sisterhood, started in the Diocese of Phoenix. Their website, www.blessedisshe.net offers daily devotional readings, a blog, and an opportunity to connect with other Catholic women. They also host in-person retreats at different locations around the country several times a year.
The retreats "are a real powerful opportunity to be with women from a variety of ages," Watson said, from grandmothers to millennials. At last year's event at the Cathedral, "you could really feel the Holy Spirit."
Blessed is She "really meets women where they are," Watson said, and offers "authentic and real" experiences.
Tickets are required to attend the Blessed is She "Restore Revival" event at the Cathedral. They can be purchased at the door, but advance purchase is recommended and available at: https://blessedisshe.net/restore-revival/. The Cathedral of located at 2015 West End Ave. in Nashville.
Each night's program will be different, so participants can purchase a ticket for one or both nights. Doors each night will open at 6 p.m.; the program will run from 7-9 p.m.