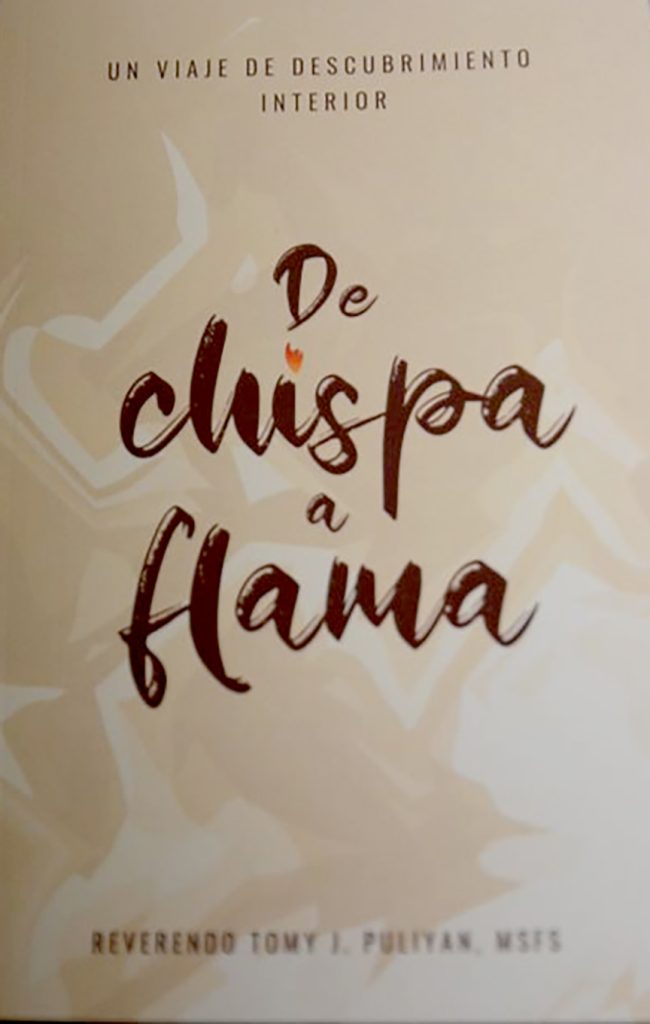 The latest book written by Father Tomy Joseph Puliyan, MSFS, the former pastor of St. Joseph Church in Madison, "Spark to Flame," has been translated into Spanish and released.
The book, "De Chispa a Flama," was written during the COVID-19 pandemic and explores the idea that "all of us have a niche. It is our responsibility to find the niche," Father Tomy said.
"God has infused the divine spark of goodness, truth, and beauty in all His creations, especially human beings who are the crown of His creations," Father Tomy wrote in the preface for the book. "It is our duty to search for the spark within us and foster it to create a better world, where everyone is accepted, respected, appreciated, acknowledged, and assimilated."
Father Tomy is the former Provincial of the Missionaries of St. Francis DeSales Province USA. The book reflects the spirituality of St. Francis de Sales, he said. "Fransalian spirituality says live your life joyfully. … I have profited a lot from his spirituality of joy, optimism."
St. Francis de Sales "is relevant today and he will be relevant for the ages to come," Father Tomy said.
During the COVID pandemic, "I started a blog," Father Tomy said. The reflections in his blog became part of the book, he said.
Since leaving the Diocese of Nashville to assume leadership of his order in the United States, Father Tomy also has served as pastor of St. Marguerite d'Youville Church in Lawrenceville, Georgia. The book was translated into Spanish by a parishioner at St. Marguerite d'Youville, Inocencia Marvin, Ph.D.
The book was originally published in English on Jan. 24, 2021. A second edition in English was published on July 3, 2021. The Spanish edition was released by Archbishop Gregory Hartmayer of Atlanta on Oct. 16, the Feast of St. Marguerite d'Youville at the parish.
The book is available for purchase on Amazon and at St. Mary's Bookstore in Nashville.
Before serving as pastor at St. Joseph, Father Tomy also served as pastor of Sacred Heart Church in Loretto and St. Joseph Church in St. Joseph, both in Lawrence County, and as associate pastor of Our Lady of the Lake Church in Hendersonville. He currently also serves as the Animator for Fransalian Associates throughout the United States.