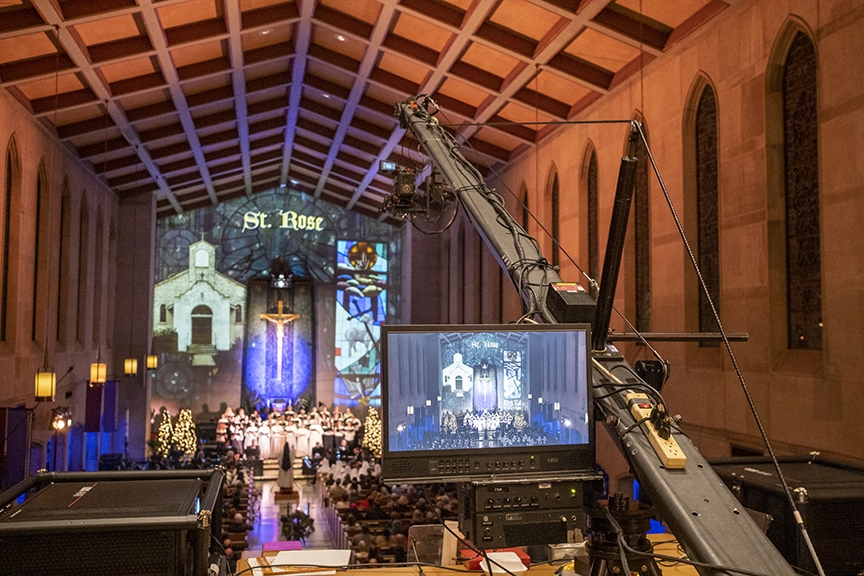 Calming, inspiring, and divine were just some of the words used to describe "The Gift of The Child: A Christmas Choral Celebration" event Wednesday, Nov. 30, at Christ the King.
The event was presented by the Diocese of Nashville and featured the schola of the Dominican Sisters of St. Cecilia Congregation, accompanied by a 22-piece orchestra, which featured members of the Nashville Symphony Orchestra.
"This was a God-given moment," said Rebecca Cornell, a parishioner of Christ the King, who said she came to the church garden to pray when she heard the music coming from inside. "I just came upon this miraculous moment, and I walk in and see the nuns on the stage.
"Before I moved to Nashville six years ago, my daughter attended a Catholic girls' school in Baltimore, which is the sister school of St. Cecilia Academy, and some of those women who happened to be on the stage were my daughter's teachers, so this was a truly divine moment," she explained. "It was a reminder to never give up hope because God is with you."
The evening, which was attended by hundreds including 60 Dominican sisters and novices and 28 residents of Mary, Queen of Angels Assisted Living Facility and Villa Maria Manor, featured music composed and arranged by Sister Rosemary Esseff, OP, who conducted an all-female choir. The 37-person choir was made up of schola members, members of the St. Cecilia Academy choir, and singers from Nashville and Belmont University.
The music was divided into four sets that included classic hymns such as "Of the Father's Love Begotten", "Angels We Have Heard on High", "Silent Night", "Joy to the World", "O Come All Ye Faithful", and "O Holy Night", as well as proper Communion Antiphons for all the Sundays of Advent.
"It was a wonderful event," said Bill Staley, director of outreach and engagement for the diocese's Office of Media and Evangelization. "This is our diocesan gift to the community, whether you're Catholic or not.
"It was a wonderful evening of sacred music, and it was our honor to provide this opportunity for the community to come in and start off their Advent in the best way possible," he said. After the concert ended, "This sweet little old lady came out to the hot chocolate stand and said, 'I can't believe it. I wasn't in there. I was in heaven.' So that was awesome to hear."
As the choir sang, images of the more than 60 church communities of the diocese were projected on the wall behind the choir. The pictures are those featured in the recently released "Diocese of Nashville: Family of Faith" history book, which was on sale before and after the concert. Copies are also for sale at dioceseofnashville.com for $50.
Having the pictures of the churches "felt like all of Middle Tennessee was here with us," said Gia Riney, chief marketing officer for the diocese.
Attendee Nelson Ngaleumo enjoyed the production. "I really loved the music. It was calming," said Ngaleumo, who saw the promotion about the event on the Diocese of Nashville Facebook page. "The songs they chose were good. It made me reflect about the coming of Christ.
"It reminded me about Advent itself," he said. "I'm not too frequent in church, so coming to this type of event brings me back in the mood of the Advent season. … It was very inspiring."
His only complaint: "It was short. I wish it was longer."
Ngaleumo is a recent refugee from Cameroon, Africa, having left to escape political instability.
"This is my first day to come close to a Catholic Church because I've been up and down trying to figure out settling down in Nashville," he said. "But I really like this place. Christ the King is the same name as the parish I was going to in my country."
Along with the music and accompanying photographs, in between sets, attendees heard two scripture readings, the first from the Prophet Isaiah and the second from the Gospel of Luke. Then, between the third and final set of music, Bishop J. Mark Spalding addressed attendees.
"The gift of a child. Think of that phrase and ponder it in your mind and in your hearts," Bishop Spalding began. "As you can see in the background all the way through this wonderful concert, the projection of pictures of various parishes, there are more than 60 Catholic communities that gather week in and week out and … because of the person we believe in, Jesus Christ, because of his teaching and his preaching, we continue to say to the world that every child is a gift. Receive it as such in your lives.
"In our day and time, we must be a people that places before others the gift that is a child, receiving them into our homes and into our families and receiving them with faith and with hope and with love," Bishop Spalding continued. "It's a faith that teaches us that all of us are created in a wonderful, magnificent way, that God has given us a gift and has placed a dream within us."
"The more that we come to know his son, his words, his deeds, his life, the more fulfilling our life is and we can say 'yes' to the gift of life each and every day, our own and others, and to know we are loved by God," Bishop Spalding said. "It's in nights like tonight, this kind of concert, these beautiful hymns and songs lifted up in praise of God and the miracle that was His son, His child, the child of Mary."
"Just like this whole season prepares us for the gift of the Child, the gift of any child is like the gift of Christ. It's wonderful … and it takes us to a higher level of living and being on this earth," he said. "Let us pray that God gives us the strength to continue to say 'yes' every day and to see the joys of that 'yes' of faith, hope, and love, most profoundly in receiving the gift of a child and raising that child in the gift of faith; the faith that believes that, in the darkest of moments, tomorrow always brings the light and life and the gift of the Child, Jesus Christ."
Broadcast times for Christmas concert
"The Gift of The Child" concert will be broadcast on Nashville television stations several times throughout Advent.
The schedule is as follows:
• 1 p.m. Sunday, Dec. 11, on WUXP MYTV30
• 3 p.m. Saturday, Dec. 17, on WZTV FOX17
• 6 p.m. Sunday, Dec. 18, on WZTV CW Nashville
• 8 p.m. Sunday, Dec. 18, on WUXP MYTV30
• 3 p.m. Saturday, Dec. 24, on WUXP MYTV30
• 4 p.m. Saturday, Dec. 24, on WUXP MYTV30
The concert will also be available for viewing at christmasconcert.org beginning Dec. 10.
The video is produced by KGV Studios with lighting by Declan Weir Productions, which is owned by a parishioner of St. Philip the Apostle Church in Franklin.