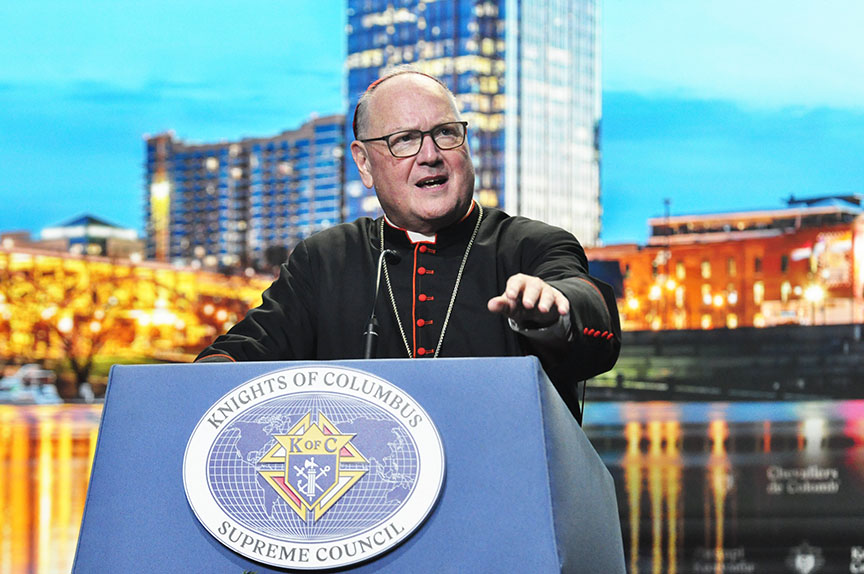 Cardinal Timothy Dolan of New York, chair of the U.S. Conference of Catholic Bishops' Committee on Religious Freedom, thanked the Knights of Columbus "for your historic defense of this our first and most cherished liberty."
"Our country prospers when in God we trust. Our faith flourishes when our freedom to exercise it is guaranteed," Cardinal Dolan said in his keynote address during the States Dinner during the 140th Knights of Columbus Supreme Convention held Aug. 2-4 in Nashville.
"For my brother bishops I say to you it sure is an honor and consolation to have you at our side as we defend that liberty," he added.
People of faith today and throughout history have always been considered a threat to "those who seek total dominion over us," Cardinal Dolan said. He noted that the Missionaries of Charity, the religious order founded by St. Teresa of Kolkata, has been expelled from Nicaragua and India, the nation where the Missionaries were founded, has restricted the order's ability to receive funds from groups outside country.
"Now folks, why on God's green earth would the simple, serving, humble, loving Missionaries of Charity be considered a threat to any government," Cardinal Dolan said. "We know why, don't we? The same reason the first Christians were deemed enemies of Caesar. The same reason priests in Mexico are being hounded and executed as I speak. The same reason Blessed Cardinal József Mindszenty of Hungary, Blessed Cardinal Stefan Wyszyński of Poland were arrested in the 1950s.
"Because these brave martyrs and confessors of the faith were convinced that absolute allegiance could only be given to the Lord," he said. "They held close to their hearts the very first of the Ten Commandments — I am the Lord thy God, thou shalt not have strange gods before me — and that any government that would demand total subservience was in fact a pagan idol.
"Because they clung to the notion totus tuus, all yours, was a vow one could only make to an almighty God, not to an earthly system," Cardinal Dolan said. "Because they insisted that no temporal rule could intrude on the most crucial sanctuary around their soul, their conscience.
"No earthly power, money, government, a nation, a presumed right, a drive, or a cause can claim our complete trust," he said. "Only God can."
People of faith "preserve an important acre of their identity for the Lord alone. And they're willing to be harassed, exiled or even persecuted to protect that value," Cardinal Dolan said. "That causes totalitarians to seethe, to threaten, to go after these treacherous folks who will not be completely subservient to what Dorothy Day called Holy Mother State.
"And thus, the first assault these regimes make is upon people of faith," he said. "The first right inherent in the human person they punch is religious freedom."
The Knights of Columbus, since its founding in 1882, has defended religious freedom, Cardinal Dolan said.
"From the start our founder, Blessed Michael McGivney, believed firmly in the American foundational principle that every person of whatever faith had the right to hold his head high in this republic, to freely and confidently exercise his religion," he said. "His Knights professed God and country, believing … that a Good Catholic was also a loyal patriot."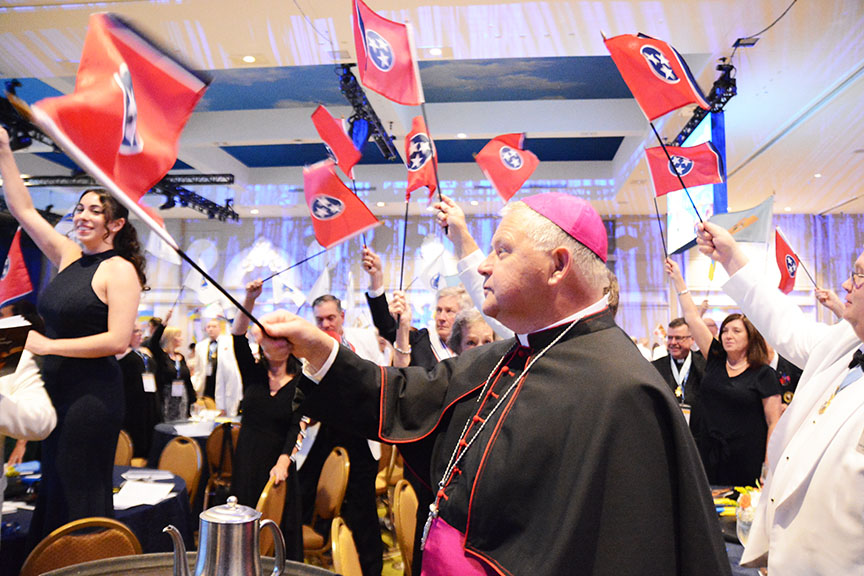 "We held with our founding fathers that our fundamental liberties flow from and are not compromised by our number one freedom, that of religion, to worship and publicly exercise that faith in the public square," Cardinal Dolan said.
The Founding Fathers "insisted that this freedom of religion is precisely what makes our other freedoms secure. Why? Because it guarantees all those other assured rights are not gifts from a government but from God and thus cannot be tampered with or chipped away by any earthly force, government or bureaucratic hounding," Cardinal Dolan said.
Many of the movements of social progress in American history, including those to abolish slavery, secure civil rights for all Americans, win labor rights, and to defend freedom threatened abroad, "have been sparked and sustained by people of faith, who saw, as did the Rev. Martin Luther King that such public witness was only possible because our religious liberty was assured," Cardinal Dolan said.
The Knights, throughout their history, have fought religious bigotry in America and abroad, including the persecution of the Church in Mexico and by Communist regimes in Central and Eastern Europe, as well as the totalitarianism of the Nazis and Fascists during World War II, Cardinal Dolan said.
They also have strengthened "the Church here at home especially in service to the poor, the oppressed, the racially segregated, the suffering in Haiti, and now as I recently saw first hand, those brave refugees from Ukraine," Cardinal Dolan said.
Honoring Carl Anderson
The States Dinner is always one of the highlights of the Supreme Convention. This year's States Dinner, the first one held since before the COVID-19 pandemic forced the last two conventions to be held virtually, gave the order the opportunity to pay tribute to Past Supreme Knight Carl Anderson, who retired in 2021 after more than two decades leading the largest Catholic fraternal service organization in the world.
"Tonight, we'll make it right and honor Carl for his years of service to the order and to the Church," said Patrick Kelly, Anderson's successor as Supreme Knight.
"Simply put, Carl Anderson is a man of virtue who puts his faith into action," Kelly said. "I saw how committed Carl is to deep and lasting change in our society."
During his tenure leading the Knights, Anderson increased membership, introduced the order to Poland, Ukraine, Lithuania, France and South Korea, while launching numerous initiatives, including providing ultrasound machines to pregnancy resource centers, raising awareness of the persecution of Christians in the Middle East, and many others.
"You are a disciple of the Lord, a man of faith, and wisdom and insight born of the Holy Spirit," Archbishop William Lori of Baltimore, the Supreme Chaplain of the order, said of Anderson. "A man with a capacious mind and even more a capacious heart."
"The greatest privilege of my life was to be entrusted by you my fellow Knights for more than two decades with the office of Supreme Knight," Anderson said. "And words cannot fully express my gratitude to you."
"To my mind the spiritual genius of Blessed Michael McGivney has always consisted of the way he found for Catholic laymen to transform their friends into fraternal brothers," Anderson said. "I have found this to be very true in my own Columbian life."
Anderson became Supreme Knight in 2000 and the attacks of 9/11, which claimed the lives of many Knights, occurred during his first year in the office.
After visiting Ground Zero, he said, "I quietly resolved that the Knights of Columbus would always be an organization worthy of their sacrifice and worthy of the trust their families placed in us. And so tonight I want to thank you, my brother Knights, for keeping that promise."