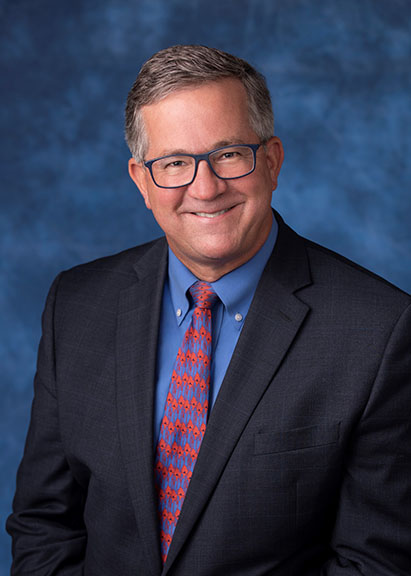 In 2008, as Holy Family parishioner Greg Mays was networking to find a new job, he noticed that a lot of the people he was meeting were Catholic like him.
Those experiences inspired him to enlist fellow Holy Family congregants Betty Lou Burnett and Jeremy Bisceglia in helping him lay the groundwork for what is now the Catholic Business League.
The League, which meets once a month at the Cathedral of the Incarnation, seeks to bring working Catholics together for fellowship, networking, and exploring how to share the faith in their workplaces and local communities. Recently, it honored Mays with its Catholic Professional of the Year Award.
Mays, Burnett and Bisceglia agreed that monthly breakfast meetings would be the best way to bring people together, so attendees could go to work directly afterward. They would also have speakers who could share their testimonies about honoring God in their work lives. And they wanted it to be open to the whole diocese, so they spread the word to other priests and church congregations in Middle Tennessee.
Their first meeting was held Oct. 9, 2008, at the Martin Center in Brentwood, with Deacon John Krenson as the first speaker. At the beginning, their meetings averaged 50-75 people in attendance.
Two years later, upon hearing about the good work Mays and his team were doing through the League, Bishop David Choby asked for a meeting with him.
"He gave me his blessing and asked if we could move the League's meetings to the Cathedral of the Incarnation," Mays said. "That ended up being great for us because it's a more central location and it gives us the added advantage of beginning our meetings with daily Mass."
Since its beginning, the League has continued to grow in membership and to offer more opportunities to its members. It currently has more than 200 official members and averages more than 100 people at its monthly meetings.
Since 2017, it has also offered the Leadership Catholic program to its younger members who are looking for leadership formation opportunities. It has a jobs ministry to directly connect employers with people who are looking for work. And it has hosted many noteworthy speakers over the years, including Tennessee Titans coach Mike Vrabel, Nashville Predators Chief Executive Officer Sean Henry, Bishop J. Mark Spalding, Bishop David Choby, diocesan Schools Superintendent Rebecca Hamel, and the diocese's seminarians.
Mays feels blessed to have been a part of the League for so long. "Personally, I just love having the opportunity to connect with other Catholics around the diocese," he said. "Until I helped start this League, I didn't know there were so many Catholic business leaders in Nashville. It helps reinforce my faith and reminds me that I'm not alone."
In 2009, the organization started giving out its Catholic Professional of the Year Award to local Catholic businessmen and women who best exemplify the League's commitment to catechesis, service, and philanthropy.
Mays is honored and humbled to be its newest recipient. "I started this organization because I enjoy networking and helping others through networking," he said. "I never thought I would receive an award for doing something that I love, but it happened and I'm thankful."