The Catholic Charities' Sewing Training Academy workspace at the McGruder Family Resource Center in North Nashville should be bustling with daily activity right now, filled with a group of students learning about all aspects of sewing and working in the industry.
But group classes have been postponed and Sewing Training Academy coordinator and instructor Trishawna Quincy, along with a handful of student volunteers, are only present on a limited basis.
Instead of teaching her students how to work on an industrial sewing machine, Quincy is now leading the Sewing Training Academy's efforts to sew medical masks to provide to local hospitals and healthcare facilities.
The shortage of personal protective equipment, which includes masks, gowns and gloves, has emerged as a major issue worldwide, and is something that doctors and nurses absolutely need to stay safe during the COVID-19 pandemic.
Quincy never envisioned she would have a role to play in responding to a medical crisis, but, she said, "it is nice that I have a way to help right now."
Quincy and some of her current and former Sewing Training Academy students have joined a regional grassroots effort with other local sewers to make as many masks as quickly as possible. "We would love to have everybody here sewing together, but not at this time," Quincy said.
Instead, she and her student Elliott Martinez spent hours this week cutting the more than 1,000 yards of medical grade material donated by Adelca Systems into the right size for each mask, and creating kits that individual sewers can pick up and complete at home. Quincy was hopeful that by April 3 they would be able to get 3,000 completed masks into the hands of healthcare workers who need them.
At least 100 of the masks will go to the Diocese of Nashville's assisted living facility Mary, Queen of Angels so they can be prepared to respond if residents become ill with any sort of infectious disease.
"Efforts are happening all across the country, and we are sharing information on patterns and best practices," Quincy said. "We are all learning as we go, so it's helpful to learn from cities who are ahead of Nashville in this effort."
Students and families from Pope John Paul II High School and several parishes around the diocese are also sewing masks to help people through the pandemic.
The Sewing Training Academy is part of Catholic Charities' Workforce Development Program, which includes job readiness programs for the sewing, hospitality and food service industries. All those programs, which are run out of the McGruder Center, are on hold right now as Catholic Charities responds to the coronavirus pandemic.
'A really devesting scenario'
While hands-on job training programs are paused at McGruder, requests for food, material and cash assistance are up as many local residents have been laid off from their jobs.
"Food has really emerged as the most pressing need," said Judy Orr, executive director of Catholic Charities of Tennessee. In recent weeks Catholic Charites social workers at McGruder have reported "a significant uptick in requests for help," Orr said.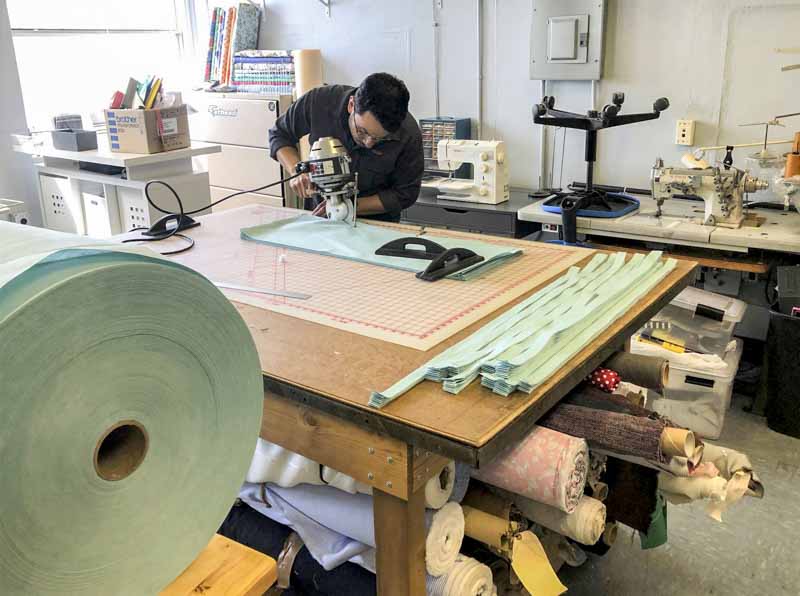 "These are people in their 40s and 50s who have worked hourly jobs their whole life, and have always had somewhere else to go," if they lost a job or got laid off, Orr said. But now with so many restaurants and businesses closed or operating with only a few employees, "they have nowhere else to go. It's a really devastating scenario."
As one of five local social service agencies chosen to disburse funds from the City of Nashville's COVID-19 relief fund, Catholic Charities has added an intake form to its website to help screen people and get them cash assistance as soon as possible.
Visit www.cctenn.org for more information.
The food box distribution plan has been modified at McGruder to minimize people coming into the building, but Second Harvest Food Bank keeps the food pantry there stocked, Orr said.
Second Harvest also helps stock the food boxes for senior citizens that are distributed out of the Catholic Pastoral Center, and the Loaves and Fishes Community Meal program that operates at the Holy Name Parish Center in East Nashville.
To comply with coronavirus precautions, Loaves and Fishes has stopped hosting volunteer groups to prepare meals in the parish center kitchen, stopped serving breakfast, and stopped serving meals inside the building. Instead, Loaves and Fishes Director Wendy Overlock and a handful of volunteers make one meal a day and distribute box lunches to go.
"They served 70 people for lunch like that," Orr said. "It's amazing."