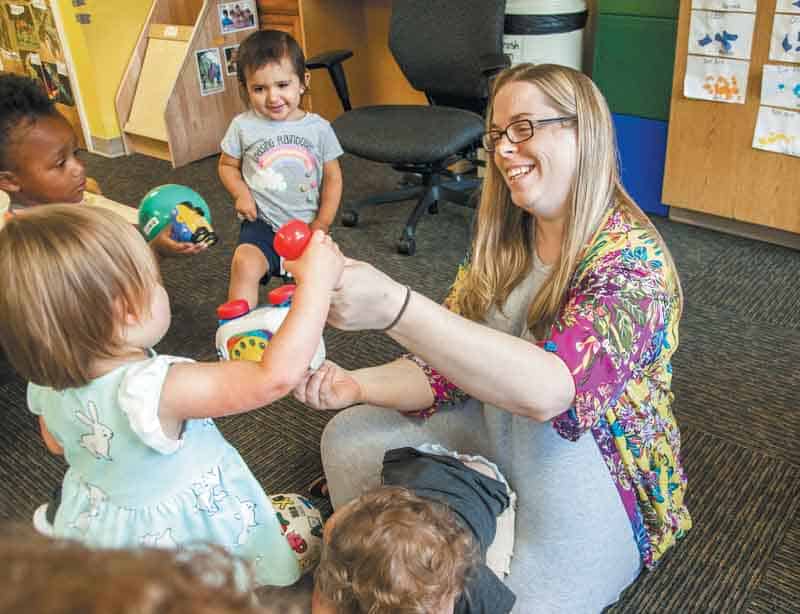 Even though a number of childcare facilities in the area and across the country have suspended operations in the wake of the COVID-19 pandemic, St. Mary Villa Child Development Center remains open. 
"Lots of families depend on us," said Director Alyssa Garnett. "They need as much help and love as we can possibly give them at this time."
However, Garnett has encouraged St. Mary's families to keep their children at home if possible, and the majority are doing so. Only about 25 percent of the children enrolled continue to attend, from families of "essential workers," primarily in the healthcare and food service industries, said Garnett.
"We have a number of precautions in the building to prevent the spread of germs," Garnett said, including "excessively washing hands, sanitizing," and modifying drop off and pick up procedures.
With only about 30 children coming on a daily basis, and a smaller number of people in the building every day, class sizes are lower, and staff members are rotating shifts and only working a few days a week, Garnett said. At this point, staff members continue to be paid at their regular rate, but "from a financial standpoint, this is a little scary," said Garnett.
St. Mary Villa's tuition is determined by a sliding-scale fee based on a family's household income, which allows the center to serve families with a variety of income levels. It also receives funding through United Way and private donations.
Operated by the Diocese of Nashville under the auspices of Catholic Charities, St. Mary Villa has enjoyed an excellent reputation among daycares in Nashville for more than 40 years, in a large part because of its dedicated staff. "The staff is the most important part of our operation," Garnett said. "That's what makes St. Mary Villa special."
Garnett will do everything she can to keep her long-tenured staff on the job, some of whom have worked there 20-30 years. Just as the childcare center remains open to serve its enrolled families in need, "we need to take care of the whole 'family' here," Garnett said.
March 2020 has been a most challenging month for St. Mary Villa, located inside the old St. Vincent de Paul School building in North Nashville, a neighborhood that was hit hard by the deadly March 3 tornado. Power was out in the area for eight days, so St. Mary Villa had to close at that time.
The building's HVAC unit came off the roof in the storm and landed in the playground and has still not been fully repaired. The building's internet service was also out for weeks after the tornado. "We closed for eight days for the tornado and re-opened as the virus was on an uphill swing," Garnett said.
Despite it all, St. Mary Villa continues to operate. But, Garnett said, if there is a suspected case of the virus among the staff or families, they will have to respond accordingly. "It's a day-to-day decision," she said.