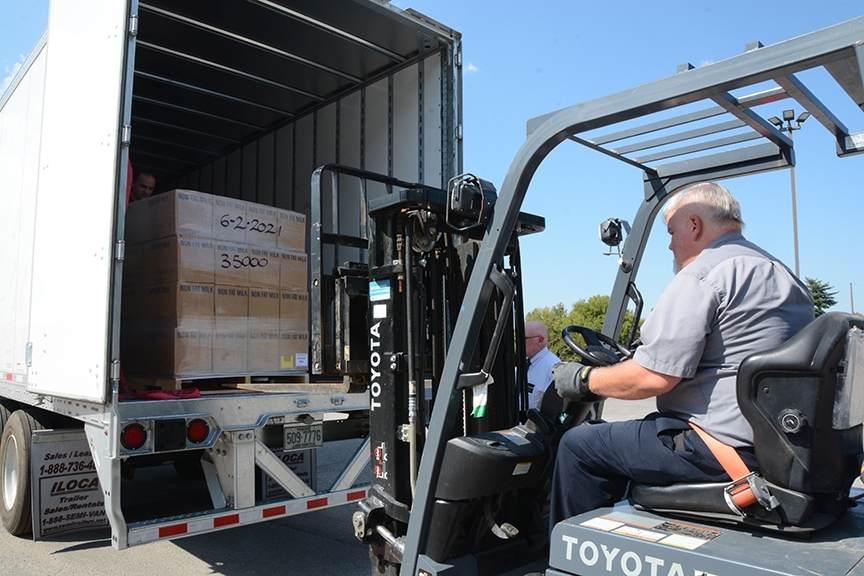 The Church of Jesus Christ of Latter-Day Saints and Catholic Charities, Diocese of Nashville are working together to feed the hungry.
A truck-load of more than 36,000 pounds of food and household items from the Church of Jesus Christ of Latter-Day Saints was delivered to Catholic Charities at the Catholic Pastoral Center on Wednesday, Sept. 21. Those items were used to build more than 1,000 food boxes to be distributed to the hungry through Catholic Charities' Hunger Relief program.
"It's the mission of the Church of Jesus Christ of Latter-Day Saints to take care of the needy," said Elder Steve Woolsteuhulme, who with his wife Marilyn leads the Welfare Self Reliance Mission for the church's Tennessee-Nashville Mission.
Church members participate in a fast, Woolsteuhulme explained, giving up two meals a month and donating the money they would have spent on those meals to the church to feed the hungry.
Some of the people who participate in the fast live in countries where the donated food is most needed, noted Carla Parker, communications director for Justserve.org in the Tennessee-Nashville Mission, which connects community volunteer needs with volunteers.
Last year, the church provided 80 million pounds of food worldwide, Woolsteuhulme said.
The food is first distributed through food pantries at Church of Jesus Christ of Latter-Saints congregations. The church shares the surplus with other agencies that feed the hungry, such as Catholic Charities, said Parker.
"We help a lot of nonprofits like Catholic Charities that distribute food to the needy," Parker said. "We knew they could get the food into the hands of people who need it."
The truck, which the Church of Jesus Christ of Latter-Day Saints calls a Humanitarian Surplus Truck, included macaroni and cheese, beef stew, rice, flour, laundry detergent, dish soap, cake mix, peanut butter, diced tomatoes, non-fat milk, pears, spaghetti sauce, green beans, rolled oats, macaroni, ribbon pasta, rice, salsa, strawberry jam, black beans and white beans.
Volunteers gathered at the Catholic Pastoral Center on Saturday, Sept. 24, to fill individual food boxes that contained: two containers of beef stew and one package each of black beans, Great Northern beans, green beans, diced tomatoes, pears, peanut butter, jelly, spaghetti sauce, pasta, pancake mix, flour, macaroni and cheese, rice, cake mix, oats, powdered milk and salsa, said Heather Heffner, hunger relief coordinator for Catholic Charities.
The food boxes will be distributed through Catholic Charities' food pantries, she said, including those at the Catholic Pastoral Center, the McGruder Family Resource Center in North Nashville, Catholic Charities at Casa Azafran, and the Tennessee Serves Neighbors locations in Shelbyville, Tullahoma, Tracy City, Lewisburg, Columbia and Clarksville.
"This donation helps supply hundreds of food boxes to each of our locations, to then distribute to our neighbors in need," Heffner said. "These are shelf-stable, pantry items, where people can then spend their money elsewhere on other important needs, such as keeping their electricity on or helping to pay their rent or mortgage."
For more information about the food pantries, visit cctenn.org.