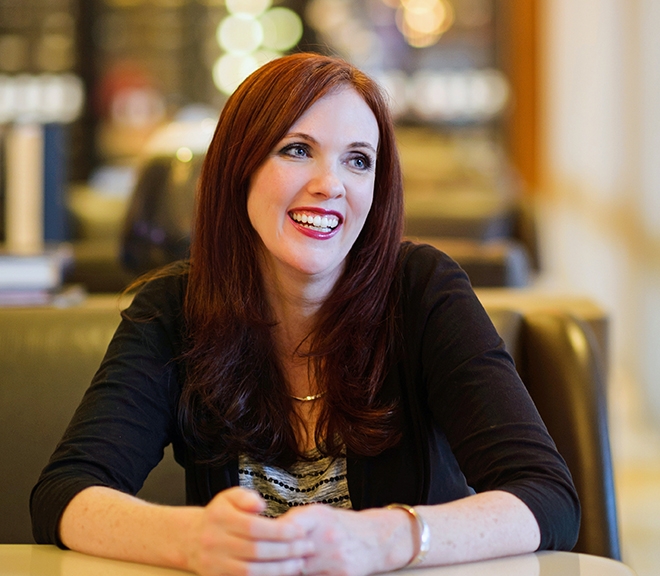 For years, atheist-to-Catholic convert Jennifer Fulwiler has been a sought-after speaker for Catholic conferences and events. Additionally, she also spent five years as a radio host for the Sirius XM Catholic Channel. And she found that her listeners enjoyed her presentations and radio show more when she used humor.
Four years ago, she felt God calling her to bring her humor to the standup comedy world. On May 3, she is bringing her comedy tour to Zanies Comedy Club in Nashville.
Fulwiler started dabbling in standup in 2018, doing open mic gigs at clubs in and around Austin, Texas, where she lives. In 2020, she started pursuing it full time.
"I quit my radio job right around the time the pandemic started and people thought I was crazy," she said. "How was I supposed to perform standup shows when I couldn't even tour? But sometimes following God's plan for your life means doing whatever he asks of you, even when it seems crazy at the time."
Her Catholic faith and her station in life help her bring a unique perspective to the comedy scene, she said.
"A lot of mainstream comedians nowadays are in their 20s and 30s, and many of them are not religious. And I have nothing against that. I actually enjoy a lot of their work," she said. "But I'm in my 40s, and I'm a Catholic homeschooling mom to six kids. Plus, my shows are clean and not profane at all. There aren't a lot of comedians who share my perspective, and I feel like I can reach audiences who feel like they can't relate to other comics."
"Also, comedy is found where there's a tension between the ideal and the real," she explained. "It's all about relieving that tension between the two.
"I would describe my style of comedy as observational, offering my take on contemporary life in the suburbs, feeling like you're stuck there while wanting a different life from what you have," Fulwiler said. "And as Catholics, we have extremely high standards for loving God and other people and doing the right thing. But we're still fallen. And when we fail to live up to those high standards Jesus gave us, it makes for a lot of comical moments."
Although Fulwiler is a seasoned speaker and radio host, she still says doing standup comedy is different.
"First and foremost, my talks and radio show were geared more towards a Catholic audience, whereas my standup shows have a much more diverse crowd," she said. "Secondly, my talks and my radio show had a much more conversational feel. In those settings, I don't have to think about what I'm saying quite as much. But comedy is much more precise, and I have to be a lot more careful in how I phrase things.
"The people who come to my standup shows know that I am in charge of making them laugh, and I can tell when my jokes don't work because I'm not getting the laughs I was hoping for," Fulwiler said.
In addition to her standup shows, Fulwiler also shares her humor through her social media outlets, with hundreds of thousands of followers on Facebook, Instagram, YouTube, and TikTok.
One of her most popular TikTok posts was a PSA urging airline passengers to be kinder and more considerate to parents traveling with young children. "You know, in a lot of cultures, the sound of fussing babies is seen as a sign of abundance and God's blessing. Instead, our dumb postmodern culture sees babies as a burden. … If my babies start melting down on this flight, please know that I'm way more stressed than you are and maybe give me a kind smile that says: 'Hey girl, you're doing a great job. Your babies are welcome on this flight and we're all in this together,'" Fulwiler said.  
It went viral on the video streaming platform this past June, with nearly 90,000 views.
But no matter how she reaches her audiences, Fulwiler always aims to relate to their everyday struggles. "I have a friend who's a mom to two kids with special needs, and she once told me that my comedy brought her to tears because she felt better about her life after listening to me," she said. "This type of feedback is what makes it all worthwhile."
She invited anyone interested to come to her show. "Come out for a night where you can bring your friends from all walks of life and have a good time. It doesn't matter whether they're super Catholic and lead Bible studies at their churches or they're atheists. Come out and leave behind the stresses of your everyday life for a fun night out."
All Zanies patrons must be at least 18 years old to attend shows. Tickets and more information about the show can be found at jenniferfulwiler.com/tour. Those wanting to follow Fulwiler on social media can do so on YouTube, TikTok, Instagram and Facebook.