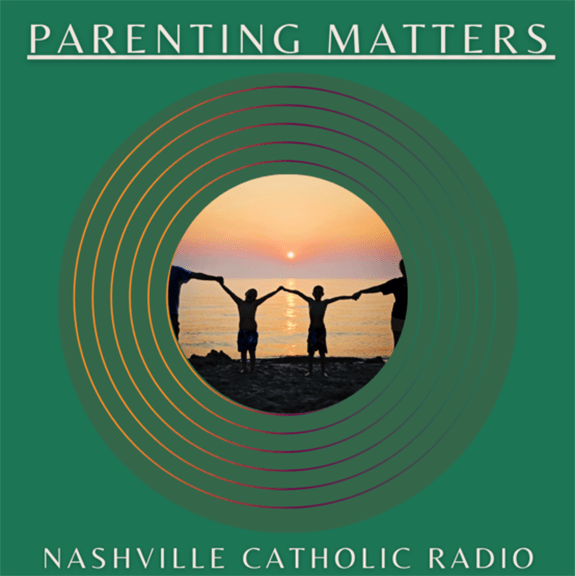 Current events are sometimes a hot topic of discussion for Dr. Parnell Donahue's "Parenting Matters" show on Nashville Catholic Radio. Lately, he's been talking and writing about the importance of parents talking to their children about the war in Ukraine.
"Kids need to know that good and evil exist in the world, and it's not in a vacuum," Donahue said. "We're all capable of doing great good and great evil. It's important for kids to be able to discriminate – not in a bigoted way – between good and evil and discern the difference between the two."
Donahue strongly encourages parents to discuss politics and current events with their children when they're old enough for it.
"One of the most important things parents can do for their children is share their values and beliefs with them," Donahue said. "It gives the kids a good foundation so that they will hopefully have similar beliefs to their parents when they're older.
"To say that kids should be able to believe whatever they want about politics is almost like saying they should only be baptized if they want to," he said. "If kids won't learn about politics from Mom and Dad, they'll learn about it from everyone else."
For the past three and a half years, Donahue, a parishioner at Holy Family Church in Brentwood, has been the host of "Parenting Matters" show on Nashville Catholic Radio. In it, Donahue shares parenting advice, drawing on his several decades of experience raising his own four children and his time as a pediatrician and physician practicing adolescent medicine.
The show, which airs on Tuesdays and Thursdays from 11:30 a.m. to noon, usually features one or more special guests to discuss the topic of the day. Topics of conversation have ranged from faith to Donahue's personal experiences to current events. Lately, the war between Russia and Ukraine has been a prominent subject on the show. 
Though he is retired from his medical practice, his time spent as a doctor and published author played a huge role in leading him to his current position as a radio host.
"I first became a pediatrician in Wisconsin, and at one point was the only pediatrician across a five-county radius there. In the 1970s, I was treating a little girl for bronchitis, and she was really curious to know how she became sick. I was trying to explain it to her in ways she could understand.
"I happened to know a mother in town who published the local newspaper. She and I ended up collaborating on a book together called 'Germs Make Me Sick,'" Donahue said. "In it, I answered medical questions that young children have. Later, I started practicing adolescent medicine and became the doctor for a local high school football team. I learned a lot of important lessons from working with teenage boys. I eventually wrote another book about that called 'Messengers in Denim.'"
After moving to Nashville, Donahue met John Bosio, a columnist for the Tennessee Register and a marriage and family therapist.
"He and I connected and got to know each other, and in 2018 he personally asked me if I could do a parenting segment for the new Nashville Catholic Radio channel," Donahue said. "I agreed and it's been great ever since."
Donahue gets inspiration for his show from his own personal life, current events, and personal stories from his friends, who are sometimes his guests.
"One time my wife and I went out to dinner, and a family sitting near us was glued to their phones almost the whole time, except when they were interacting with the wait staff. I saw that as an opportunity to discuss the importance of family dinners and quality time on an episode of the show," he said.
"Another time I had a friend on the show who's a Baptist minister. He and his wife have a son who was born very prematurely and suffered some handicaps because of that, and he talked about his faith journey as they've been raising their son," Donahue added. "He shared how God speaks to him through the life of their son. That was a very memorable episode."
People can listen to Nashville Catholic Radio at 100.5 FM or online at nashvillecr.com. Listeners can also download the free Nashville Catholic Radio app from the App Store or Google Play. For more information about the Nashville Catholic Radio and its programs visit nashvillecr.com.