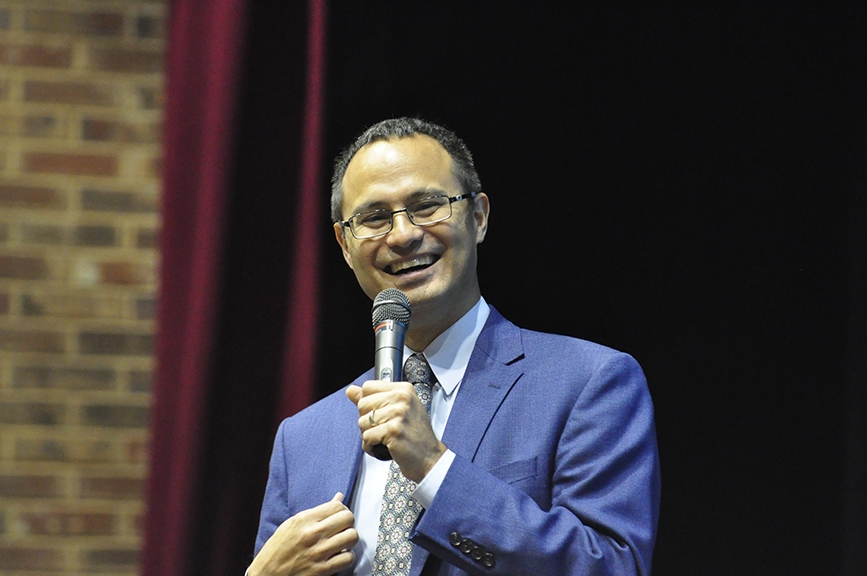 Catholic schools must give their students and their families the tools to transform the culture.
That was the message for more than 150 Catholic school administrators, teachers and campus ministers from across the country who gathered at St. Cecilia Academy Oct. 20-22 for the seventh annual Duc In Altum Summit.
The goal of Catholic schools should be to ground their students "in the Truth who is the person of Jesus Christ. If we fail at doing that, what use are Catholic schools," said Charles Martinez, the chair of the science department at St. Cecilia Academy and the liaison between the school and the Duc In Altum Collaborative, which sponsored the summit.
"The people attending the summit get that, and they want Truth for their students, classrooms, schools, and families," Martinez said. "Not only does that help distinguish Catholic education from that of other private and college-preparatory schools, it also makes authentic the day-to-day missionary work we seek to accomplish."
Duc In Altum – which means "put out into the deep" in Latin – is an organization of Catholic schools dedicated to "the betterment of each institution, the growth and support of passionately Catholic education at-large, and the transformation of the culture of our society," according to its website. "We are schools who maintain that the ongoing spiritual formation of students, parents, faculty and staff alike is at the heart of the work we are called to do as Catholic Schools."
The Summit included keynote speeches and breakout sessions for administrators, teachers and campus ministers. The topics were chosen to help schools strengthen their Catholic identity, Martinez said, "to be deep and authentically Catholic in such a confused world."
Young Catholics, even those who graduate from Catholic schools, often begin to fall away from the faith when they go to college, noted Dr. Edward Sri, an author, teacher and speaker who gave one of the keynote talks: ""Who Am I to Judge? Responding to Relativism with Logic and Love."
"It's not enough to pass on the faith. … We have to do a lot more," Sri said. "We have to prepare them for what they are going to encounter."
Secularism is its own ideology, Sri said. "Our culture is not neutral."
"If you are living and breathing in the United States, you are taking in weeds that will choke out faith," Sri said. "Are we inoculating our children on the spiritual level … preparing them for the battles they'll face in the society today?"
In the broader culture, people embrace moral relativism, which allows each individual to decide truth for themselves, Sri said, while the Catholic Church teaches there are objective truths.
Those who embrace moral relativism are quick to dismiss Catholic teaching as random rules that the Church is trying to impose on others, Sri said. The answer, he said, is that the law equals love.
"Everything we believe as Catholics … is all about love," Sri said. "We need to emphasize that. Everything we believe is from the God who is love."
Most young people today don't recognize the distinction between making a judgment and judging someone's soul, Sri said.
"Someone's spiritual status before God is their own story. I don't know their situation," Sri said.
But people can assess an issue and make a judgment about whether it is good or bad, Sri said. "God wants you to use your mind."
Living a virtuous life is important not just for ourselves, Sri said, but for all the people around us. If we lash out in anger, or are selfish, that not only hurts ourselves but our families, friends and co-workers, Sri said.
Moral relativism in not neutral, Sri said. "We've allowed the secular relativistic society to silence us," he said. "Indifference is not love and the relativistic culture around us is getting us to be indifferent."
The Summit made clear for Martinez that Catholic school educators are not alone in trying to transform the culture. "We have some of the same struggles."
That sense of solidarity and friendship is what prompted Sister Anna Laura, O.P., the principal of St. Cecilia Academy, to bring the Summit to her school.
She attended the Summit two years ago in Minneapolis, Minnesota, and had the "feeling that you're among friends," Sister Anna Laura said. "I had that experience right away."
Those attending the Summit had the same goal, she said. "How can we bring the Gospel to our school communities? It was thrilling to me to be a part of that." 
St. Cecilia was already engaged in that mission, reaching out beyond its students to their families. The school hosts the Dominican Dads group, which meets weekly for adoration, a reflection and fellowship. The school also hosts retreats for the students' mothers and fathers, and spiritual reading book group for mothers that meets weekly.
"That faith sharing and the building of friendships are so important," Sister Anna Laura said. "The Lord works through friendships to help us go the distance."
Duc In Altum asked Sister Anna Laura to join its board, and St. Cecilia was scheduled to host the Summit in 2020. Those plans were changed because of the COVID-19 pandemic, and the Summit at St. Cecilia was pushed to this year.
"To host the conference, I thought that would be a dream," Sister Anna Laura said. "It would mean all of our faculty and staff could experience the great speakers. What I really wanted them to experience was the friendships that are ignited, people learning from each other and building each other up."