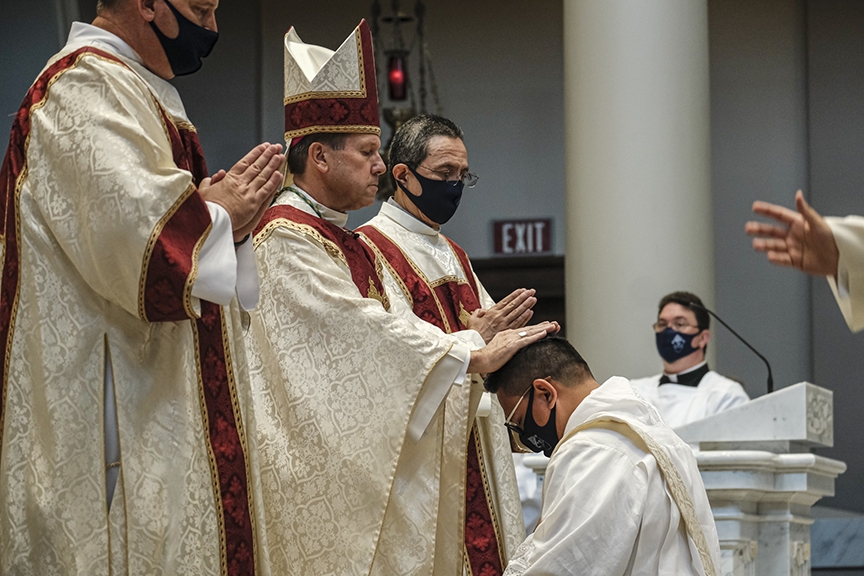 A special collection will be held at Masses throughout the Diocese of Nashville the weekend of Nov. 6-7 for Priesthood Sunday.
The proceeds from the collection will help pay for the education of the seminarians of the diocese, said Ashley Linville, development director for the diocese.
The money raised on Priesthood Sunday supplements the revenue for seminarian education from the Bishop's Annual Appeal for Ministries and the annual Seminarian Education Dinner and Auction, Linville said.
All money raised remains with the diocese, he added.
"Our priests are an invaluable gift from our Lord," Father Austin Gilstrap, director of vocations for the diocese wrote in a message about Priesthood Sunday. "They live as one with the Lord in their hearts, their thoughts, and their will. We are blessed to prepare our seminarians for the priesthood and your renewed support makes it all possible."
The diocese has 19 seminarians in various stages of formation. They are studying at: the Pontifical North American College in Rome; St. Meinrad Seminary in St. Meinrad, Indiana; Notre Dame Seminary in New Orleans; St. Joseph Abbey and Seminary College in Covington, Louisiana; and Holy Trinity Seminary in Irving, Texas. And several are in a pastoral year.
Two seminarians, Deacon Nonso Ohanaka and Deacon Brent Thayer, are scheduled to be ordained as priests on May 28, 2022, at the Cathedral of the Incarnation in Nashville.
"I encourage you to join us in celebrating the vocation to the priesthood in your parish on Priesthood Sunday Weekend, Nov. 6 and 7," Father Gilstrap wrote. "Your steadfast support will help meet the educational needs of our seminarians for the upcoming year and beyond."
For more information about the Priesthood Sunday collection, visit dioceseofnashville.com/priesthood-sunday/.
For more information about making a donation to the Bishop's Annual Appeal for Ministries, visit dioceseofnashville.com/appeal/.