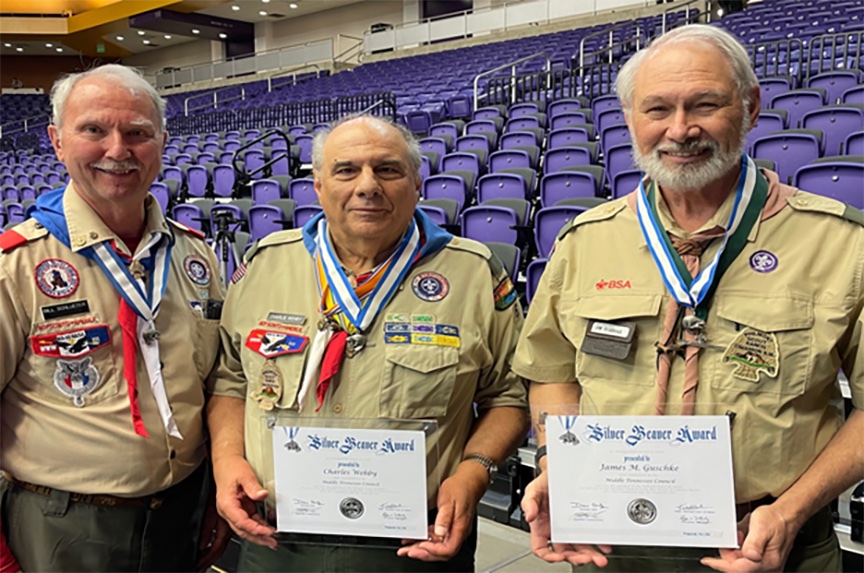 Jim Guschke and Charlie Wehby were among those honored at the Middle Tennessee Council of Boy Scouts of America's annual Eagle Scout and Volunteer Recognition Reception.
Both Guschke and Wehby received the Silver Beaver Award, which recognizes registered Scouters of exceptional character who have provided distinguished service with a council.
Wehby is a member of the Catholic Committee on Scouting for the Diocese of Nashville and serves as the Religious Emblems Committee Chair for the Committee. He has served as a registered adult volunteer in the Middle Tennessee Council and the James West District for more than 30 years.
During that time, under his leadership of Troop 6, which is chartered to St. Henry Church, 20 Scouts have earned the rank of Eagle. Troop 6 has never missed a summer at Boxwell Reservation,
Wehby's sponsor was Bill Schlueter, a Silver Beaver recipient in 2017.
Guschke has been involved in Scouting for 30 years and currently serves as chairman of the Catholic Committee on Scouting for the diocese.
He has volunteered with Troop 30 in Donelson as Assistant Scoutmaster, Committee Chair, and Scoutmaster as well as volunteering at the district level as District and Unit Commissioner, Merit Badge Counselor, roundtable commissioner and at-large committee member for Hermitage and Percy Priest Districts.
Guschke, who has one son who has earned the rank of Eagle Scout, recently joined the Summer Camp staff as the Skills Trades Director and has been selected to serve as quartermaster for a 2024 National Catholic Committee on Scouting Wood Badge Course. This course will be held at the Philmont Scout Ranch in New Mexico.