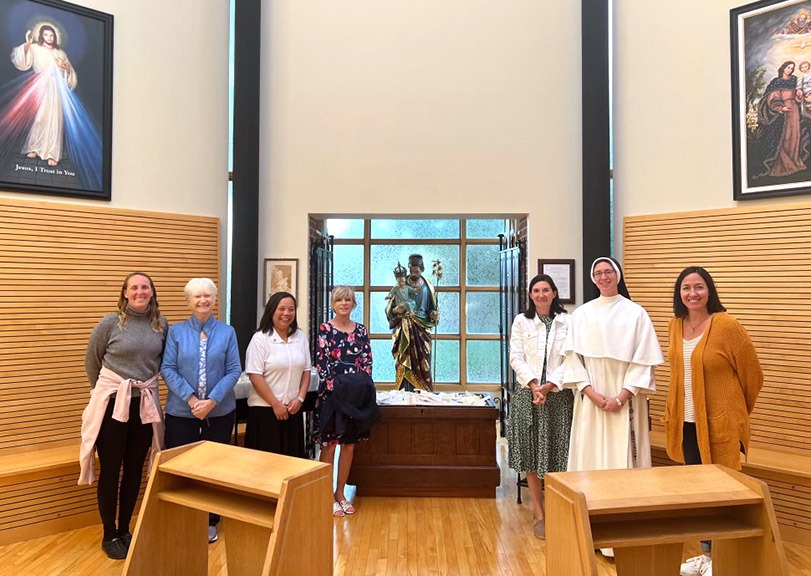 Several women representing Tennessee, Alabama, Minnesota, and Wisconsin recently participated in a pilgrimage organized by Yana Ancell, a parishioner at Mother Teresa Church in Nolensville, as they honored the Blessed Mother. The trip began with a prayer at St. Mary Church in Menasha, Wisconsin, where the women were able to pray the Divine Mercy Chaplet and venerate the relics of 59 saints.
The trip was organized around the Blessed Mother's birthday, which is on Sept. 8.
On that day, pilgrims were able to visit the first and only Marian Apparition site in the United States called Our Lady of Champion, in Champion, Wisconsin. That day, the National Shrine of Our Lady of Champion in New Franken, Wisconsin, had several events, including a presentation on "The History of the Shrine and the Apparition Approval," praying at the Apparition oratory where Mary appeared to Adele Brise and a visit to her grave, Mass, confession, adoration, the praying of the Divine Mercy Chaplet, and quiet time to walk the grounds, pray the Stations of the Cross, and visit the café and gift shop. The day was complete with a birthday cake for Our Lady.
The pilgrims also visited the National Shrine of St. Joseph in De Pere, Wisconsin, which is very simple but very special. By a solemn decree on Sept. 25, 1891, by Pope Leo XIII, the statue there is one of only 17 St. Joseph statues in the world, with only one in the United States, crowned by papal decree.
On Sept. 9, the women traveled to the Basilica and National Shrine of Mary Help of Christians at Holy Hill in Hubertus, Wisconsin. Hidden away in the rolling hills of Southeastern Wisconsin, this shrine is quiet, peaceful, and beautifully located. With a guest house on site, the women stayed there and had the opportunity to attend Mass, go to confession, and pray the Stations of the Cross.
Accompanying the women on retreat was Sister Maria Caeli, O.P., of the Dominican Sisters of St. Cecilia Congregation. Each night of the pilgrimage, Sister Maria Caeli gave a presentation and led a discussion, offering insights, prayers, and Scripture passages for the women to reflect on throughout the retreat. It was a graced time for each woman who attended, and a gift to have this time away with the Lord and Our Lady.