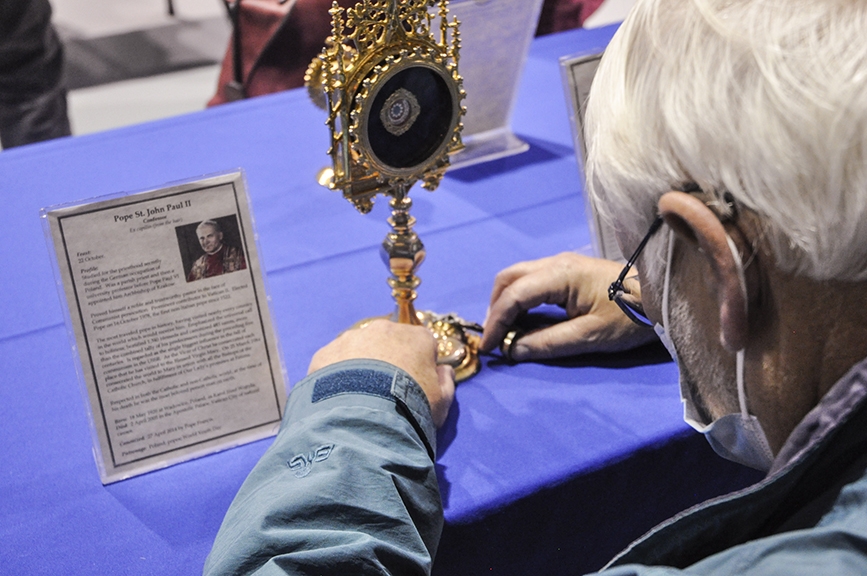 The power of mercy and forgiveness is what Ed Reisinger, parishioner of St. Matthew Church in Franklin, said he is walking away with after attending the "Sacred Relics of the Saints: Treasures of the Church" exposition.
"There are so many saints that relate to us in so many ways, so personally, and have gone through things that we've gone through, who have given up worldly possessions to pursue a calling to serve," Reisinger said. "To be able to come and to actually show our children and see for ourselves how real all this is, is amazing. It's beautiful.
"The saints are like unopened presents," he said. "God is waiting for us to open them up. We just have to pull off the bow."
The Treasures of the Church exposition was seen at three Middle Tennessee churches March 25-28: Immaculate Conception in Clarksville, St. Ignatius of Antioch, St. Philip Church in Franklin, and St. Rose of Lima Church in Murfreesboro, respectively.  
The exposition featured more than 150 first-class relics, including those of St. John Paul II, St. Teresa of Kolkata, and the 12 apostles, and six second-class relics including the veil of Mother Mary, fragments of the Holy Crown of Thorns, and the wood fragments from the True Cross of Christ. Attendees of the exposition were given the opportunity to touch various objects including rosaries, holy cards, medals and more to the relics, which allowed them to be classified as third-class relics.
A first-class relic comes from the body of a saint, be it a bone, flesh or blood.
A second-class relic is the entirety or fragment of an object the saint personally owned.
A third-class relic are items that were touched by a saint or were touched by another relic of any class.
But, before viewing the relics, attendees heard a presentation by Father Carlos Martins of the Companions of the Cross, during which he told stories of healings that have come from the exposition of relics, scriptural references to relics, how relics are preserved and more.
"God is a perfect gentleman," Father Martins said. "He enters the heart where he has been invited."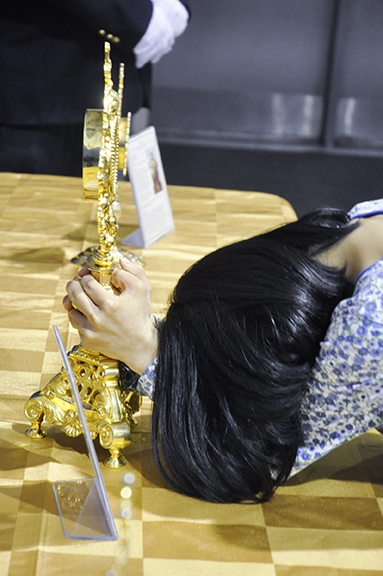 But, through his years of priesthood, Father Martins said, he has recognized four primary handcuffs that keep God from entering into the hearts of his people. They include the refusal to attend Sunday Mass, the refusal to confess sins through the sacrament of Reconciliation, the refusal to make a complete disclosure of sins in the sacrament of Reconciliation, and the refusal to forgive those who have hurt and wounded us.
To demonstrate the power that can come from changing the latter, Father Martins told the story of St. Maria Goretti, whose forgiveness of the man who murdered her not only led to his conversion, but the healing of many. It was a story that Reisinger said stood out to him.
"I had heard the name Maria Goretti, but never knew the entire story, and it is the second profound story of mercy I've heard this week," Reisinger said. "Hearing that story of Maria Goretti and her mercy is just so powerful, and for me, it reminds me to make sure I'm letting go of anything I'm holding onto."
And the story resonated with his youngest daughter, Charlotte, too, which is why they returned to the presentation at St. Rose of Lima on Monday, March 28.
"My youngest daughter wasn't able to attend the exposition with us at St. Ignatius … but when we came home, it was unbelievable how attached she was to hearing about Maria, and she kept picking up the book I bought and looking through it," he said. "It was beautiful."
And Reisinger said his youngest son, Andrew, didn't hesitate to attend again.
"The kids are so moved by being able to see and touch these relics, and this will be something they remember forever. I know it will," Reisinger said. "It will be something that moves them and that will draw them closer to the cross. Down the road, they're going to need something like this to be able to draw on and fall back on at different points in their life to strengthen them."
According to Church teaching, the honoring and venerating of relics is not directed at the object itself but the saint they commemorate.
Plenary indulgences
The opportunity to simply touch the relics of the saints wasn't the only opportunity attendees had, Father Martins said.
As decreed by Pope Francis, all who attended the exposition were eligible for receiving a plenary indulgence once they complete four tasks – praying for the Pope and his intentions with one Our Father and one Hail Mary; attending the sacrament of Reconciliation within 20 days of the exposition; receiving the Eucharist within 20 days of the exposition, but after receiving Reconciliation; and removing an ongoing attachment to sin.
"When we sin, two things occur. We incur guilt and our soul incurs deformity," Father Martins said. "Sacramental confession removes the guilt, but the deformity remains. … A heart that sins is a sinful heart. The heart is changed by the sin it is deformed by. That deformed heart has to be reformed in God's image and likeness before we can ever enter into God's presence in heaven."
That is what purgatory is for, Father Martins said, but with a plenary indulgence "the terms of purgatory for you are set back to zero and you begin your life from this point forward with a blank slate."
One does not have to keep a plenary indulgence for themselves, either. Instead, one can offer it to a soul in purgatory, something that Shannon Konkel, a parishioner of Church of the Assumption, said she was going to utilize.
"I have a great aunt who, may have now even at this moment, is passing away, and so to know that I can offer a plenary indulgence for her soul was just really comforting," Konkel said. "It's powerful to just realize how blessed we are to have the truths of the Church, to be able to live out our Baptismal calling of being priest and prophet as the laity.
"There is a really great importance in reverencing what is sacred, and there is power in the relics," she said. "Honoring what Christ gave us is a beautiful part of our Catholic faith that really helps us lift our own souls and our own devotion to emulate the saints."
For more about the Treasures of the Church exposition, visit treasuresofthechurch.com.