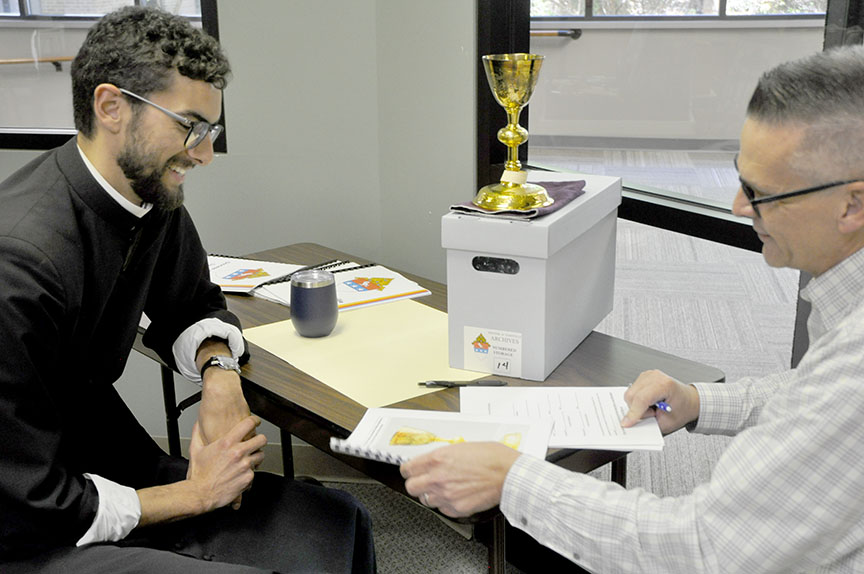 For Bishop J. Mark Spalding, the word "legacy" comes to mind as the historic sacred vessels stored in the Diocese of Nashville archives are dusted off and brought out for use once again.
"Pope Francis is always concerned about the Church becoming just a museum piece," Bishop Spalding said. "When I was told about these chalices, that's what I thought about.
"If we can use them as they were intended, mindful of the legacy of the priests who celebrated Mass before with these chalices, then let's go for it," he added. "Now, as we celebrate 185 years of this diocese, it is good for me as bishop to know that our priests appreciate the wonderful history of this diocese and are open to celebrating Mass with these sacred vessels of our ancestors in faith."
More than 40 chalices, ciboriums, and patens from the archives have been made available for the diocese's priests to borrow and use; just over a dozen have already been loaned out or reserved for use by the priests.
Rediscovering the past
In October 2019, Brent Wiebe, diocese archives coordinator, found dozens of sacred vessels – some small, others large, some simple, others ornate – and immediately became curious.
"I found all these boxes in a closet in what I used to term 'the forbidden room' because that's where all the other things are that might have never been touched," Wiebe explained. "I started finding these chalices and I began pulling them out a little bit here and there."
As he unpacked them, he also found previous photographs of each and even some history of where they came from, and the pieces slowly started to come together.
Fast forward to August 2021, when then-Deacons Brent Thayer and Nonso Ohanaka spent a day shadowing Wiebe as part of their final formation year as seminarians, and they saw the chalices that the latter had already put out on display. As their curiosity overtook them, they joined Wiebe in "the forbidden room" to unpack the rest.
"At that point, I was starting to think about the chalice I would use upon my ordination," said Father Ohanaka, who was ordained with Father Thayer in May of this year. "When Brent showed us the chalices, I asked him if they were possible to borrow.
"The idea behind that for me was part of becoming a priest and getting connected into the diocese and being part of that legacy, part of that family, that tradition, and that succession," he continued. By bringing the chalices out and using them, "it's a continuation of that tradition."
Seeing the young deacons' interest in possibly using the vessels, Wiebe said, he knew they had to figure something out.
"When you see a seminarian, who has now reached the level of the diaconate, pick that thing up and literally pick it up like it's a baby, and hold it up like he's the bishop and like he's holding it up to the heavens just examining it, that's where the fun is," Wiebe said. "That's where the fun of this job is when somebody like that, that you know has that calling to become a priest, and they've spent their life getting to this point, and they lift up that chalice … and say, 'May I borrow this,' that's the fun."
Thus, discussions began with the Office of Vocations about possibly loaning out the chalices. Then, when Bishop Spalding walked into archives one morning and began inquiring about the chalices and learned of the potential plans, Wiebe said his support put the final green light on the project. Wiebe and Julie Perrey, chief mission integration officer and vice chancellor of the diocese, led the charge.
"We are so grateful to Brent and Julie for all they've done," Bishop Spalding said. "We're thankful for their efforts around getting our archives even more organized. … I want to give due credit to both of them."
From there, the first chalices were chosen and reserved by current transitional Deacons Augustine Mang and Oscar Romero in June 2022 in preparation for their priestly ordination on May 27, 2023.
Preparing for the priesthood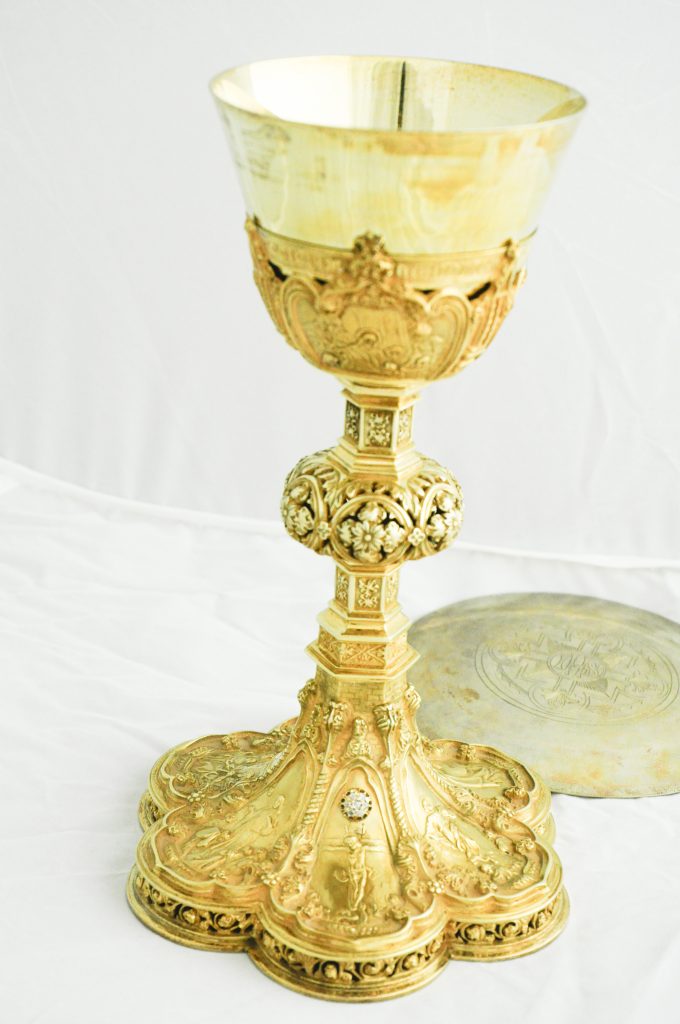 Deacon Mang said the DeWine Harris Memorial Chalice and Paten grabbed his attention as soon as he saw it.
"I love it. The beauty of it immediately drew me in," Deacon Mang said. "As soon as I saw it, I knew I wanted it."
The chalice is believed to be made of pure gold over sterling silver. The cup sits inside a heavily embossed design including raised relief of Latin or Greek words over the top of three scenes from Christ's life, which goes down the stem. The node of the chalice is pierced with a floral design, and the base is a raised relief of six scenes of Christ's life including the Crucifixion, which has a cluster of seven diamonds embedded above it.
The chalice, consecrated by Msgr. Bernard Moeller of Ohio on Nov. 11, 1927, was presented to the diocese by Lilian DeWine Harris in memory of her father, Daniel DeWine, who donated land for St. Mary's Hospital in Knoxville in the late 1920s. The hospital was run by the Sisters of Mercy for many years.
"Knowing the chalice was used by some priests in the past for the Precious Blood during the Holy Mass, for me, I felt like I made a connection with those priests before me and the history of this diocese," Deacon Mang said. "Then, when it's time for me to go, I'll leave it behind and maybe someone else will pick it up again, and that idea is beautiful in my mind."
Deacon Romero was drawn to the Father James T. Lorigan Irish Chalice because of its simplicity and its accompanying story.
Father Lorigan was an immigrant from Dunmore, County Clare, Ireland, who settled in Nashville as a young man. For several years, he served as a reporter on the old Nashville American before he established the first Catholic newspaper in the diocese, The Catholic Herald.
He was ordained to the priesthood on July 16, 1905, and he celebrated his first Mass in his birthplace of Dunmore, on his great-grandfather's kitchen table after receiving special permission to do so. This Mass eventually led to his great-grandfather's execution because of the persecution of Catholics in Ireland at the time.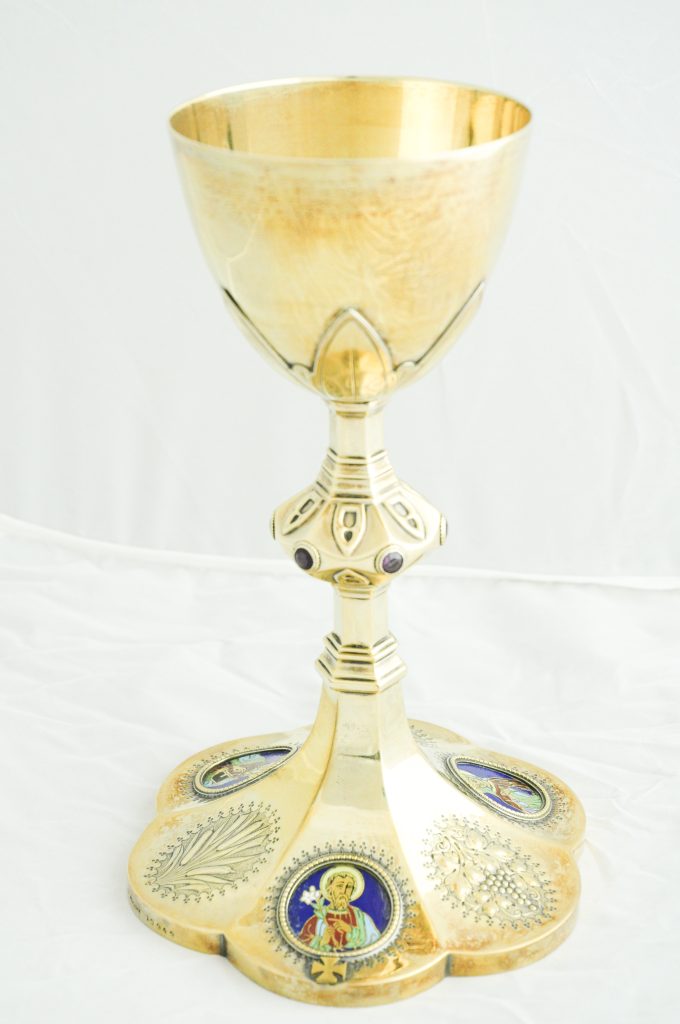 Later that year, Father Lorigan returned to America where he was appointed assistant pastor at St. Mary Cathedral, now St. Mary of the Seven Sorrows Church in downtown Nashville. He continued to serve at various appointments in the diocese until his death on Sept. 24, 1935, following a brief illness.
Reading Father Lorigan's story, "brought me back to when Bishop (David) Choby consecrated Sagrado Corazon Church," said Deacon Romero, who is a parishioner of the church. "If you look at the main altar piece at Sagrado Corazon, his idea was the Irish immigrants who came to Nashville were the ones who brought the Church to Middle Tennessee. … So to be able to connect with that priest who was an immigrant from Ireland, as an immigrant myself, was special. It shows we're always welcoming the priests and welcoming the faithful … from all around the world."
The chalice is believed to be made of gold with an Eastern Orthodox design, featuring six amethyst stones on the node, and three raised designs and three baked enamel icon paintings on the base.
The chalice was donated to the diocese archives by Mary Slattery in memory of Walter Slattery.
Finding new homes
Since Deacon Mang and Deacon Romero reserved their chalices, a dozen more have been loaned out and already put to use by the current priests of the diocese. Several were chosen during the monthly Priests' Assembly in September after Bishop Spalding's announcement of the program.
Father Rhodes Bolster, chaplain of University Catholic/Nashville, said he was initially drawn to the Brew Family Chalice because of its look.
"I saw it, and it was pretty," Father Bolster said. "It has some lovely tracing and imagery on there that is very simple but beautiful."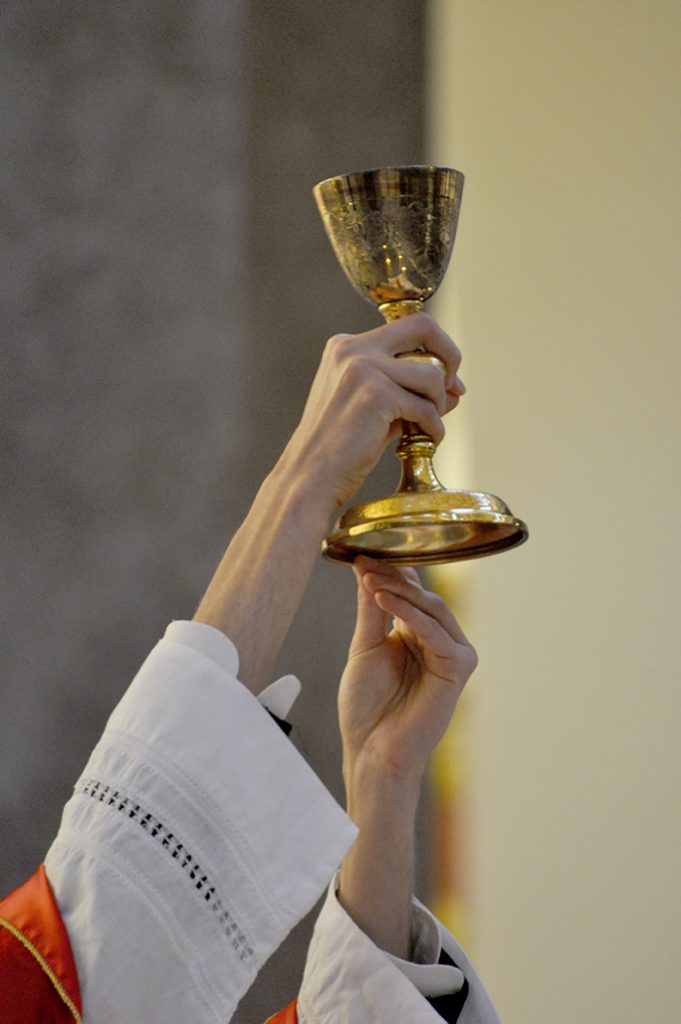 But then, when he learned of the connection with the Brew family, he wanted it even more.
The chalice was presented to Bishop Alphonse J. Smith, the sixth bishop of Nashville, by Dora Quinlin "Mamie" Brew Grimes in memory of her brother, Charles Driscoll Brew. Charles Brew was a seminarian of the diocese studying in Rome when he unexpectedly died during an appendicitis surgery on Dec. 2, 1906. He would've been ordained a priest the following spring.
He is currently buried in the mausoleum owned by the North American College in Rome. Father Bolster, who studied in Rome from 2015-2020, said he and his fellow seminarians visited the mausoleum every All Souls Day where Mass was celebrated.
"When I saw the connection with the Brew family, I thought that was very meaningful because I studied in Rome, and I visited his tomb and prayed for him there every All Souls Day, and now I can do so every time I use this chalice," Father Bolster said. "I can pray for him and for Bishop Smith and his whole family for the repose of their souls.
"It's like I'm coming in on his behalf as a priest," he added, knowing Brew never got the chance to celebrate Mass.
The chalice is one of two donated in memory of Brew. The second chalice, which features many stones and etchings and was brought to the archives by Bishop Choby in January 2008, is currently on display and is unavailable for loan.
Father Benjamin Butler chose the Wessel Family German Catholic Memorial Chalice, having been drawn in by its Gothic design, which matched the interior of St. Martha Church in Ashland City where he is the pastor. Donated by Mary Wessel Eldell in 1956, it replaced the original 1860 chalice taken from Assumption Church when it was occupied by the Union Army during the Civil War.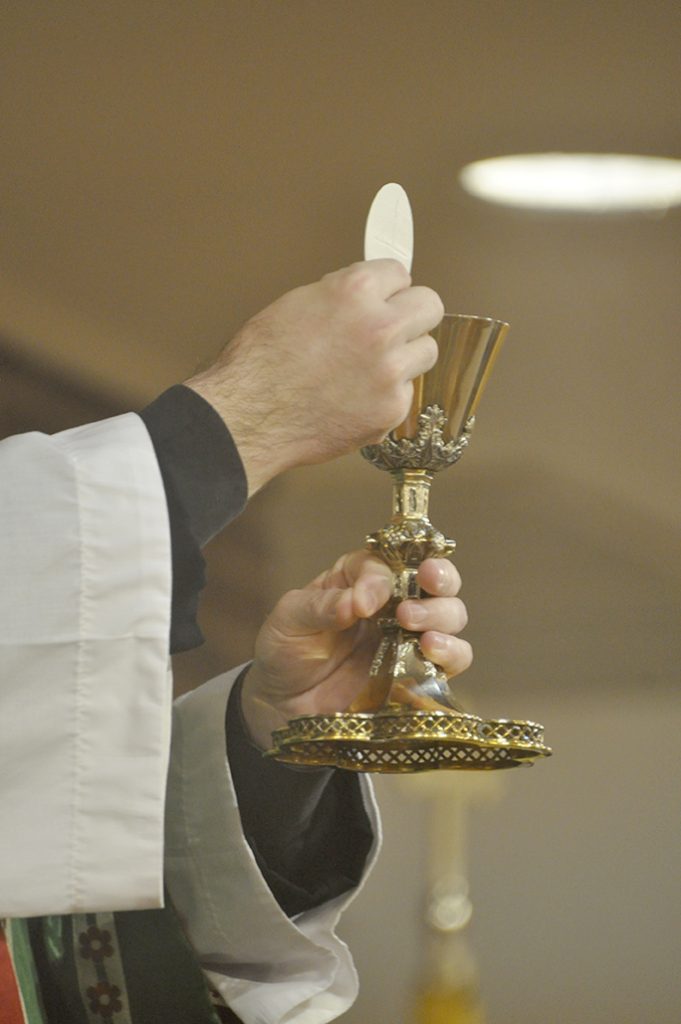 "With it being a Gothic chalice, that style helps facilitate and blend together with everything else that we use, so it's the same theme in a certain way," Father Butler said. "It doesn't look out of place but instead is part of the puzzle of the whole interior of the church."
The chalice is believed to be gold plated with a sterling smooth finish. It has a raised gothic design in sterling silver on the stem and the node. There is a sterling bud cross on the center front base, which is spread wide and smooth. The bottom rim is topped with open-lattice work.
One chalice, thanks to Perrey, has found its way back to its original home of St. Matthew Church in Franklin, as it belonged to Father Luzerne "Lu" Adrian Schnupp, who served as pastor from July 1987 to September 2002.
Father Schnupp was responsible for several projects in St. Matthew's history including beginning the capital campaign to build the current church in October 1990, as well as the building and opening of St. Matthew School in 2001. Father Schnupp passed away on Feb. 1, 2003.
Father Schnupp's chalice was presented to him by his grandmother, Josephine Schnupp, in memory of his grandfather, Casper Schnupp, on the occasion of his ordination on May 23, 1957. He was ordained at the Cathedral of the Incarnation by Bishop William L. Adrian, the seventh bishop of Nashville.
The chalice has a large shallow golden cup with no embellishments; a tall, slender polished silver node embellished with three tall, slender golden crosses; and a large, simple base.
"When I looked at the chalice … it just made me think of Father Lu because, to me, he was a really strong pastor who just had a special presence," said Perrey, who is a long-time parishioner of St. Matthew. "I remember him as a big guy, but he was very welcoming. You just loved to be around Father Lu."
Father Justin Raines, pastor of St. Matthew, said the plan is to display the chalice at the school because of Father Schnupp's role in its founding, and then use it during special Masses such as the anniversary of his death.
"It's really a great thing to have something of Father Lu's back here. He certainly did a lot for our parish and for the diocese," Father Raines said. "He was well loved by many of our people, many of whom are still here, so it's really important to connect with our past traditions and the chalice is a great way for us to do that.
"Also, my understanding is that we have never had a priest come from St. Matthew, certainly the school, but I don't think the parish at all," he added, "so I think it could be a good thing as we display it in the school to be an encouragement for our students to consider vocations, especially to the priesthood."
Continuing the legacy
As the priests of the diocese allow the chalices to fulfill the purpose for which they were intended, they said it makes them feel as though they are part of the history now, too.
These chalices "were consecrated for the glory of God and to be used during Holy Mass, not to sit on shelves," Father Bolster said. "Many of them are very lovely and beautiful, and they also have historical connections, such a beautiful point of tradition that connects us with the many priests who have gone before us, who have held these same chalices and used the same ciboriums. It's a cool part of the priesthood.
"That's the beauty of the Church and the beauty of the priesthood," he continued. "We're continuing to hand on what was handed down to us, and that chain keeps going back all the way to the apostles.
"We just continue to teach and to preach and to celebrate the sacraments as our brothers in the priesthood have done for 185 years in this diocese and centuries before that all over the world," Father Bolster added. "No one quite understands a priest like a priest … so hopefully they're up there praying for me as I, too, pray for them."
By allowing the chalices to reclaim their intended use, Father Butler said, it shows the beauty of the Catholic Church.
"One thing that makes the Catholic Church unique is that we don't come up with a new way to worship every year and just wipe the slate clean," he said. "We have actually received from past generations these items like chalices and ciboriums for us to use and to worship with presently and, in the same way, give honor and glory to God.
"It continues the purpose for which they were made," Father Butler added. "They're made to worship God with, and, particularly the ciboriums and chalices, they are receptacles of the Eucharist; the body, blood, soul, and divinity of Christ, so they're sacred and they're unique, and they should be used for that purpose."
Deacon Mang said the opportunity to use these chalices brings history and tradition to the forefront.
As a priest, "I'll be an instrument of God," he said. "I will come, and I will go, but God will always provide grace through the Church and through the priests. Letting these chalices out into the world and to the churches is a beautiful thing, and I'm very happy that I will be part of this beautiful history of the diocese."
'The Holy Spirit at work'
Seeing so many of the chalices active once again, Wiebe feels like the Holy Spirit has led the initiative from the get-go, starting with him being hired in 2019.
"My inherent knowledge is that the Holy Spirit sent me over to find these things out," Wiebe said. "Then the Holy Spirit sent these deacons over here, and then the bishop and everyone in between.
"I see the Holy Spirit in this whole thing telling us that there is so much more in our 185-year mission field that needs to be part of our story, that needs to be told," he said. "Even if we don't know the exact tale behind each chalice, we inherently know by the Holy Spirit that there is a story behind each one, and there is a story in how we ended up with each one, and that's the Holy Spirit at work."