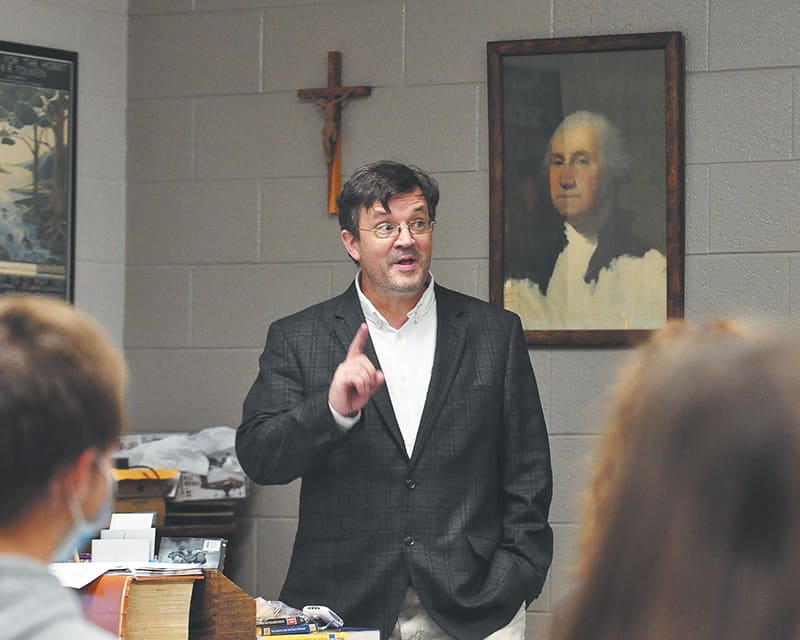 Randy Lancaster wasn't planning on being a teacher. 
"It took a lot of trial and error with a lot of different jobs," including work as a professional musician and actor and a job with the American Red Cross in Washington, D.C.
He eventually found a home in the classroom, where he is the chair of the English Department at his alma mater, Father Ryan High School.
While working for the Red Cross, he heard President George H.W. Bush say that people are looking for meaning and adventure in life. "That stuck with me," Lancaster said. "In the classroom, it's an adventure every day. It's absolutely meaningful to help these kids find their voices … and learn to be original thinkers."
Lancaster's excellence as a teacher for more than two decades has earned him the 2020 Christ the Teacher Award, which is given by the Diocese of Nashville's Schools Office to recognize an outstanding Catholic school educator.
The award is "a nice surprise," Lancaster said. "I was surprised even to be nominated. … It feels more like a goal I should always endeavor to strive for and be worthy of."
Lancaster graduated from Holy Rosary Academy and then from Father Ryan in 1983 as the class salutatorian.
"I was more of a math and science kid," Lancaster said. "Sometimes God will throw you a cosmic curveball."
It was Robert Kent's English class at Father Ryan that first started turning Lancaster toward the humanities.
"My goal was to never have to read another book for school again," he said. Instead, "Mr. Kent's class really changed my attitude about reading. … When he would give us these passages to analyze, I found myself, I didn't want to miss anything."
After high school, Lancaster started at Vanderbilt University as a chemistry major. But after a year, he transferred to the University of the South at Sewanee where he ended up majoring in English.
Although starting at Sewanee as a sophomore, he was required to take a freshman English class. "That's probably the thing that really moved me in the direction of story and poetry and theater as a means by which you could communicate both moral and intellectual thoughtfulness and practice it," Lancaster said.
And it was at Sewanee that he got his first taste of teaching. One of his English professors, whose wife taught at the nearby St. Andrew's Sewanee School, encouraged him to apply for an opening for an English and humanities teacher. He spent a year teaching at St. Andrew's.
When he left, "I didn't think I would ever teach again," Lancaster said. "St. Andrew's helped me discover (teaching) was something I could do. I don't know that it hit me as a calling there."
From there he took a job on the national staff at the Red Cross in Washington for three years. "Red Cross was a dream job. I just wasn't fulfilled," Lancaster said.
He decided it was now or never to pursue a career as a professional musician and moved to Atlanta, where he played in a band for the next four years.
Teaching with 'those who lit the path'
Then he returned to Nashville and landed a job at Harpeth Hall School teaching theater and speech.
"That put me in a position to apply for other teaching jobs," said Lancaster, who took a job at Father Ryan and has been there for 26 years working alongside many of the men and women who taught him when he was a student there.
"The greatest surprise for me as a teacher is … to be colleagues and friends with those people who lit the path for me, who were my mentors and heroes for me when I was growing up," Lancaster said. "A few of them are still in my department."
Teaching in a Catholic school allows Lancaster to address not only the content but the moral and religious aspects of literature, he said. "I can refer to all those biblical allusions in British literature especially in Shakespeare, in Milton, in Old and Middle English. You can't get your head around what those authors were trying to accomplish without understanding Christianity before the Protestant Reformation."
"Education is not just about intellectual thoughtfulness, it's about moral thoughtfulness too," he added.
The curriculum for his department at Father Ryan is writing based, Lancaster said. It was while he was still in college that he began to think "mastery of the written and spoken word was important in any endeavor," he said. "It intersected all walks of life. … Everyone needs good writers and communicators."
But mastery of the written and spoken word is in decline in American society, Lancaster said. "It's important kids learn specific mastery of language so they can say what they mean and mean what they say. … If you can master language, it can open up a great many doors."
Lancaster likes to use his experiences outside the classroom to inform his work inside the classroom. His songwriting helps him teach poetry, and he will draw on his experience as a professional actor to help his students "see Beowulf defeat Grendel before their eyes."
Literature of the World Wars
One of his most important projects as a teacher has been his creation of the Military Literature of the World Wars class and, through it, the school's involvement in the annual Veterans of Foreign Wars Voice of Democracy Essay Contest.
Early in his teaching career, on Veterans Day each November he would ask his students what day it was, "and nobody would know."
He decided to teach a class that would look at World Wars I and II through the lens of the writing of those "who strove to secure the freedoms (the students) now enjoy," Lancaster said. "I don't want them to forget it."
While serving on a committee to organize Father Ryan's annual Veterans Day commemoration, Lancaster met John Furgess, a Father Ryan graduate who served as the Commander-in-Chief of the VFW.
Furgess encouraged him to have his students enter the Voice of Democracy contest and over the years it has become a major project for the school.
"I just processed 80 essays for this year," said Lancaster, who has to narrow the number to five to enter the contest sponsored by Post 1970 in Nashville.
For the past 14 years, a Father Ryan student as won first place at the Post level 13 times, and four of those years, the Ryan students swept first, second and third place. The school has produced six district champions and at least four have finished in the top three at the state level.
"I love doing it every year," Lancaster said.
This year's theme is "Is This the Country Our Founders Envisioned."
"I give them the theme and they run with it.," Lancaster said of his students. "I really think that it's an important application of writing skills, our thinking skills, giving the students a sense of civic duty and social responsibility. They take it very seriously every year."
The success his students have had in the Voice of Democracy contest over the years has helped make teaching so fulfilling for Lancaster. "It's been a wonderful career. It is a vocation," he said.
"I have found teaching for the edification of young hearts and minds to be a most fulfilling way to exert utmost effort for the utmost blessing of others," Lancaster said.