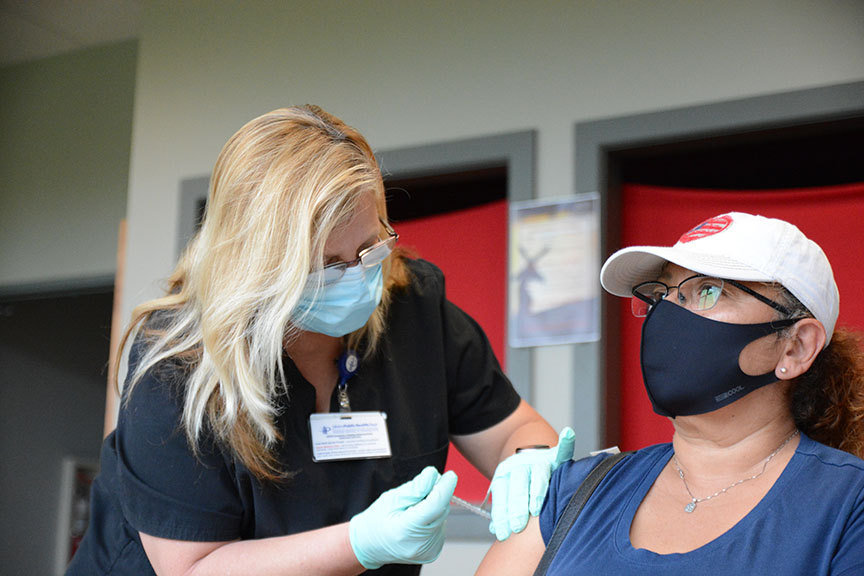 University Catholic, the Cathedral of the Incarnation and Sagrado Corazon Church are reaching out to help people in the community by sponsoring COVID-19 vaccination clinics.
"I'm sick and tired of this whole pandemic thing. This is one thing we can do to help get back to normal as soon as we can," said Father Gervan Menezes, chaplain of University Catholic.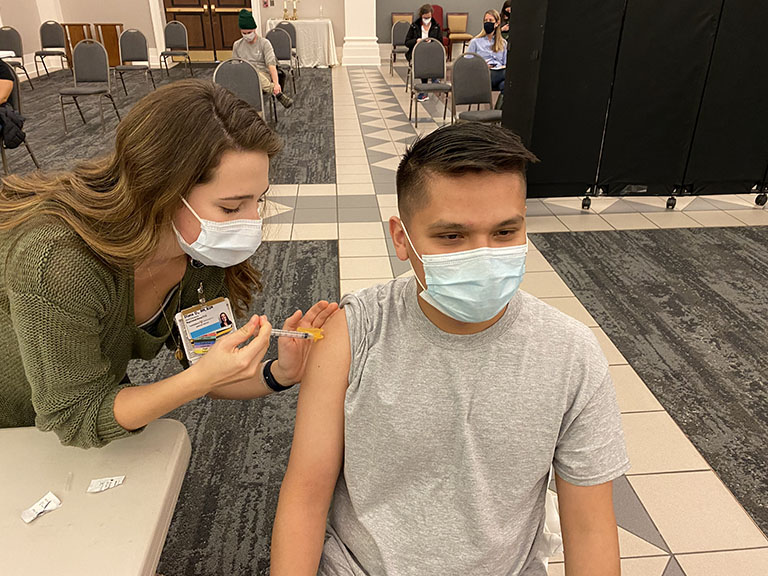 The Cathedral and University Catholic hosted its first visitation clinic on March 31 and will host a second one noon to 4 p.m. Thursday, April 22, in the Cathedral's Fleming Center. They will have 240 vaccines available.
The clinic is open to anyone 18 years old or older. To make an appointment, visit https://signup.com/go/HCyYahq.
The second dose of the Moderna vaccines for the March 31 vaccinations will be administered on Saturday, April 24, and for the April 22 vaccinations on Thursday, May 20.
Sagrado Corazon Church in the Catholic Pastoral Center hosted a vaccination clinic organized by the Tennessee Immigrant and Refugee Rights Coalition and the Metro Public Health Department of Nashville and Davidson County on Wednesday, April 7.
Imelda Alamilla of TIRRC visited Sagrado Corazon during the Holy Week liturgies to promote the clinic and register people.
The Metro Health Department has been offering vaccinations at the Music City Center in downtown Nashville, Alamilla noted. "Sometimes it's hard for people to go downtown," she said. So TIRRC and the Health Department are bringing the vaccinations to churches and other locations that are easier for people to get to.
Those attending the clinic at Sagrado Corazon were mostly from the Hispanic community, Alamilla said, but the vaccines were open to everyone.
Organizers reported that 315 people were vaccinated during the clinic at Sagrado Corazon.
The Health Department team will be back 3-7 p.m. Wednesday, April 28, to administer the second dose of the vaccine.
The Metro Health Department is now administering the vaccine to anyone 16 and older.
The Cathedral and University Catholic organized their vaccine clinics with the help of Dr. Bernard Sy, medical director of Charis Health Center in Mt. Juliet, which provides primary health care to the uninsured in Middle Tennessee, Father Menezes said.
Nurses are volunteering to administer the vaccines and do the paperwork, he said.
The people who attended the first clinic at the Cathedral came from several groups, Father Menezes said. "We had a little bit of everything. We had college students, we had Cathedral parishioners, and we had people who just heard about it," he said. "It's open to all."