From mid-February to mid-June, Bishop J. Mark Spalding's schedule is jam packed with confirmations.
In some cases, he travels across the Diocese of Nashville to parishes to minister the sacrament, and in other cases, he confirms students from several parishes and schools at the same time who gather at Sagrado Corazon Church in the Catholic Pastoral Center in Nashville.
This year, students from 47 parishes and schools will be confirmed by Bishop Spalding.
"In the moment, you're full of energy. Celebrating the confirmation itself, I feel the spirit at work, even in myself, and the energy that comes with that," Bishop Spalding said. "It's when you get back home after an hour and a half drive dealing with traffic, dealing with everything else, that you finally sit down and you are tired. But I want to say it's a good kind of tired.
"You know good things happened in the name of Jesus Christ, and that's what I've dedicated my whole life to," the bishop said. "Each Christian should really have that same kind of feel at the end of the day, whatever our vocation. … We worked hard, we did our best, we shared the gifts God gave us, and some way, somehow his kingdom we made come forth."
Seal of the Holy Spirit
Confirmation is one of the three sacraments of Christian initiation, along with baptism and the Eucharist, and is the completion of baptismal grace by more perfectly binding the baptized to the Church and enriching them with the spiritual strength of the Holy Spirit, according to the Catechism of the Catholic Church.
During the sacrament, the baptized is anointed with chrism oil, through which they receive the seal of the Holy Spirit, marking their total belonging to Christ.
"It fully initiates them into Christ and opens them up to the gifts of the Holy Spirit in a wonderful, wonderful way," Bishop Spalding said.
When we are baptized as infants, we are chosen first by Christ through our parents bringing us to that moment, Bishop Spalding noted. But when people are confirmed as teenagers, as is the custom in the Diocese of Nashville, they "say, 'Yes, I wish to respond to the call that has been given me in Christ Jesus, and I want to be open to that Holy Spirit.'"
Confirmation is an opportunity for young people "to take their first steps in the faith as young adults," said Father Andrew Bulso, pastor of St. Edward Church in Nashville, where the bishop confirmed a group of students from St. Edward School and the parish religious education program on Tuesday, March 8.
They were initiated in baptism by the choice of others, Father Bulso said, but with confirmation "they are accepting the faith, taking it up, and making it their own."
The apostles were commanded to take the gifts of the Spirit they received at Pentecost into the world, and people receive the same command at their confirmation, Bishop Spalding said.
"Take this Spirit and share it with others around you. The spirit of wisdom and understanding, of right judgment, and courage, and piety, and reverence and fear of the Lord. All these great gifts are received by a person who is open to the Holy Spirit," Bishop Spalding said.
When we receive this gift from God, he said, "it can't be kept just to ourselves. It must be shared with the world around us and especially in the Church."
In his homily during the confirmation at St. Edward, Bishop Spalding told the students their faith must be fed through regular attendance at Mass and reception of the Eucharist. "If you don't feed it … it weakens. It gets worn out," he said.
During Mass, the congregation calls for the Holy Spirit to come upon them, Bishop Spalding told the students at St. Edward. "Because in that Holy Spirit is the fire of God's love. … When we have that love in our hearts, we go out into the world and light it up in a way that it needs to be lit up."
'An important experience'
Confirmation is an opportunity for the bishop to go out into the diocese.
The bishop is the ordinary minister of the sacrament of confirmation. A bishop can delegate that responsibility to another at times, but Bishop Spalding prefers to do all of them.
"I see it as an important experience for me with each of the parishes," he said of confirmations. "It's just a great connection point between me and the young people, but also their parents and their grandparents and the wider parish."
Confirmations are "an opportunity for the bishop to share some of his hopes and dreams and enthusiasm about the faith, and also to allow people, young and old alike, to just see the bishop, hear the bishop, and for the bishop to bless them."
"We save this sacrament for after their baptism specifically so that the bishop can do it," Father Bulso said. "That communicates to them the importance of the moment. We tell them that it's important, but by the bishop's very presence it communicates that in a very strong way."
Expressing the community's love
Confirmation provides an important exchange between those being confirmed and their parish communities, Father Bulso said.
"It's an important moment for them to stand up before the Church" and to be recognized for the commitment they are making, he said, "and for them to know our support for them, which the bishop communicates so well."
"It's one of the precious times and precious moments in which we as the Church have the opportunity to say, 'We care for you, we love you, we want the best for you, and we also challenge you. Challenge you as we challenge ourselves whenever we come to Mass to be more like Christ in word and in deed,'" Bishop Spalding said.
"At every confirmation I have, I say to all the candidates, 'As your bishop, as leader of this Church, we love you,'" Bishop Spalding said. "And those words I think are life changing words.
"If we open ourselves to hear them, we are people who can go forth and share love with others … and really create the world Christ wanted to happen in his life, suffered and died for it," the bishop added. "Through his victory over sin and death through the resurrection and sending forth the Spirit, we now continue that great mission of his through the Church."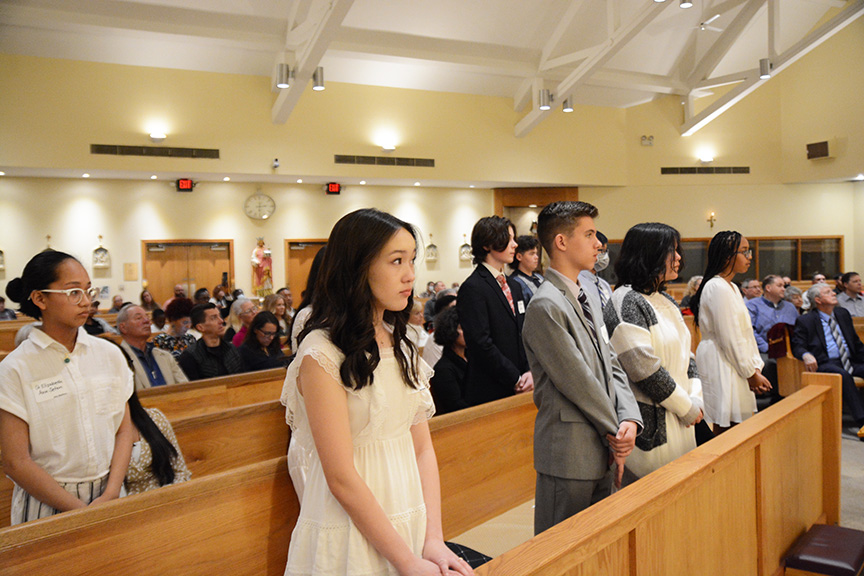 Commencement exercise
Confirmation is a commencement, which includes "some kind of closure and some kind of beginning," Bishop Spalding said.
"The closure moment is really you're completing the sacraments of initiation," Bishop Spalding said. "But the beginning is a new moment of proclamation. A new moment of being committed to Christ and to the good news of Jesus Christ … and beginning in a more adult manner living and sharing the faith."
Remaining confirmations
The remaining schedule of confirmations this year are as follows:
Confirmations at Sagrado Corazon Church in the Catholic Pastoral Center:
March 27, 3:30 p.m., St. Matthew in Franklin.
April 23, at 10 a.m., St. Mary of the Seven Sorrows, St. Bernard Academy, St. Philip in Franklin, St. Patrick in McEwen, and St. Vincent de Paul.
April 24, 3:30 p.m., Overbrook School, St. Francis of Assisi in Dover, Our Lady of the Lake in Hendersonville, Pope John Paul II Preparatory School in Hendersonville, St. Paul the Apostle in Tullahoma, St. Mark in Manchester, and St. Martha in Ashland City.
May 1, 3:30 p.m., Holy Family in Lafayette, St. Christopher in Dickson, St. Anthony in Fayetteville, St. Frances Cabrini in Lebanon, St. Gregory in Smithville, St. Peter the Apostle in Carthage, St. John the Evangelist in Lewisburg, the Vietnamese Community at St. Pius X, and St. Lawrence in Joelton.
June 11, 10 a.m., Our Lady of Guadalupe.
Confirmations in parishes:
April 19, 6 p.m., Holy Rosary.
April 20, 7 p.m., St. Joseph in Madison.
April 21, 7 p.m., Our Lady of Lourdes in Springfield.
April 22, 6:30 p.m., St. Thomas Aquinas in Cookeville.
April 23, 5 p.m., Cathedral of the Incarnation.
April 28, 6:30 p.m., Christ the King.
April 29, 7 p.m., St. Stephen in Old Hickory.
April 30, 11 a.m. at Sacred Heart in Lawrenceburg, and 2 p.m. at Sacred Heart in Loretto.
May 3, 6:30 p.m., Church of the Nativity in Thompson's Station.
May 10, 6 p.m., St. John Vianney in Gallatin.
May 17, 6 p.m., St. Ann.
May 20, 6 p.m., Immaculate Conception in Clarksville.
May 21, 10 a.m., Sagrado Corazon
May 26, 6:30 p.m. St. Ignatius in Antioch
June 5, 11 a.m., St. Catherine in McMinnville.
June 9, 6 p.m., Church of the Assumption.