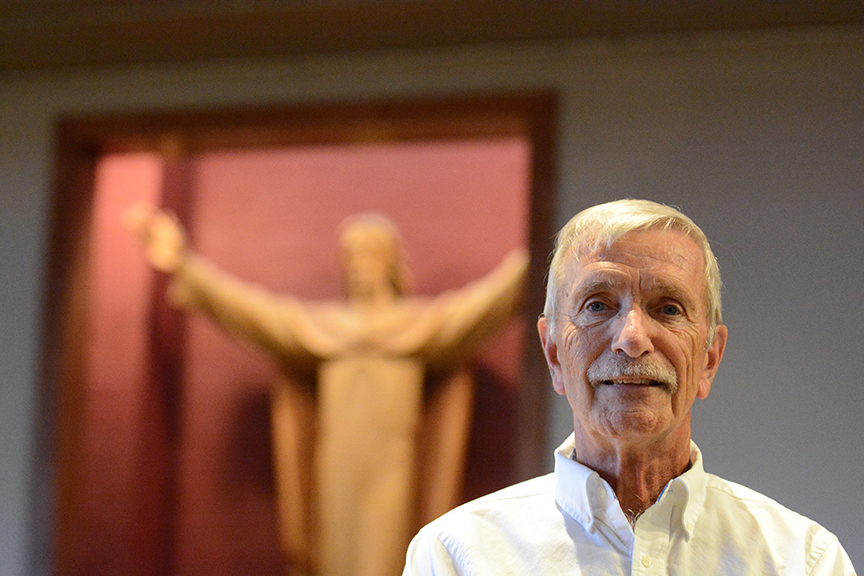 Deacon Tom Samoray has been a familiar face in the diocesan Office of Family Life and Marriage for the past seven years as its director. He's also volunteered with the office and many other ministries for the diocese over the past 18 years.
He's helped countless engaged couples prepare for marriage, helped organize several World Day of Marriage Masses, counseled couples with difficult marriages, provided parenting resources to help couples raise their families in the faith, and much more. Additionally, he's also a permanent deacon at St. Stephen Catholic Community in Old Hickory.
But at the end of June, he'll be giving up some of those responsibilities when he retires as diocesan Director of Family Life and Marriage. Deacon Samoray is continuing in his role at St. Stephen.
The stress of balancing his role as Director of the Family Life and Marriage office and his full-time ministry as a deacon has taken away time that he could spend with his own wife and family. "I would like to spend more time with my wife who has been retired for several years and also have more opportunity to spend time with our four grandchildren," he said.
After a long career in radio as an on-air personality and program director, Deacon Samoray was ordained as a deacon in 2014, at the suggestion of the late Bishop David Choby.
"I was looking to become a certified Spiritual Director, but the bishop advised me to pursue the vocation of deacon and the rest is history," he said. "I considered the vocation of priesthood back in my grade school and early high school days. Being an altar server in close proximity with the altar has that effect. But now I have the best of both worlds, a marriage with my wife Barb and the gift of being a permanent deacon."
Deacons can proclaim the Gospel at Mass, preach, preside at prayer services, officiate at weddings and baptisms, and preside at funeral vigils, amongst many other things.
He appreciates the unique perspective that permanent deacons can offer the Church. "I was ordained with some 28 other men and if you asked each of them their role as a deacon, they would all have varying responses. But a real basic definition of a deacon is 'table waiter.'
"A deacon is to serve God, the people of God and the Church in both word and sacrament and charity. A deacon is the bridge between the altar and the people. Because he lives in the real, secular world, he is able to discern the needs of the people of God," he said.
Deacon Samoray counts his time working with the Family Life and Marriage Office and his time spent with the diocesan Vocations Office as the highlights of his ministry as a deacon.
"When I worked in helping promote vocations, I had the opportunity to visit our schools and parishes to help promote the understanding of 'vocation' as God's call to marriage, single life, consecrated religious life and priesthood," he said. "I worked closely with candidates discerning a call to priesthood. For the past 10 years, I organized the Engaged Couples Retreats and enjoyed working with married couples in the diocese who helped give presentations and helped facilitate in our retreats."
"The World Marriage Day celebrations that my office organized and presented was one of my most rewarding experiences," he added. "To see the witness of couples married 25 and 50 years is truly special. To celebrate this vocation publicly with our bishop was very rewarding.
"There were many rewards in my work here," Deacon Samoray said. "I experienced some wonderful guidance from my co-workers."
He is going to miss working alongside other diocesan staff members at the Catholic Pastoral Center.
"This opportunity to minister in our wonderful diocese gave me an opportunity to collaborate with three bishops along with so many gifted people here in the diocesan office," he said. "I will miss being a part of fellow co-workers in the vineyard who continue to give of their time and talent to help bring needed resources and direction to our parishes in the Nashville Diocese."