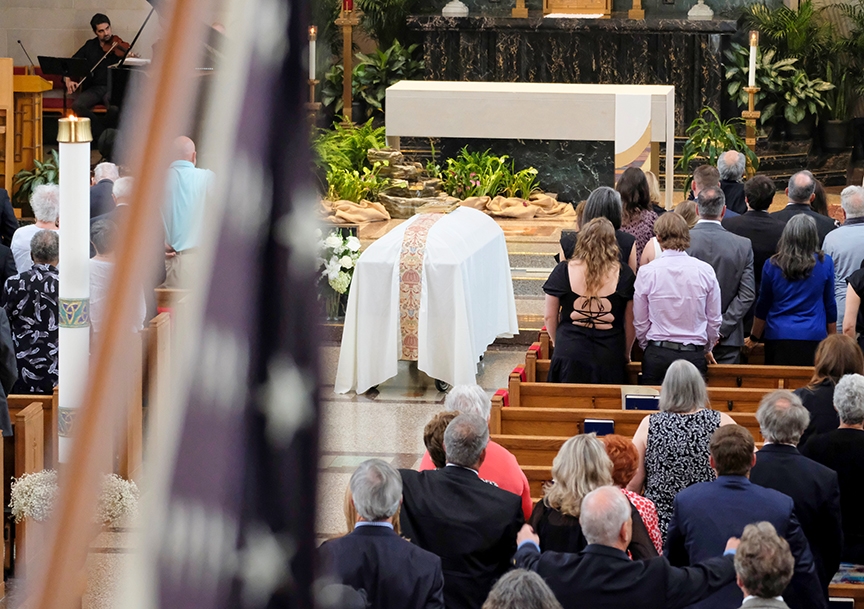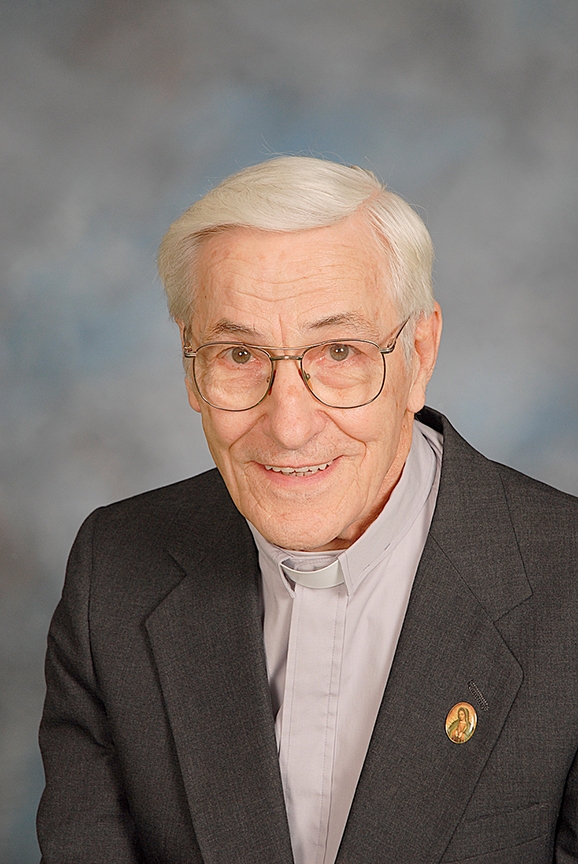 Deacon Samuel A. Francescon,  who served at St. Matthew Church in Franklin for several years, passed away on Saturday, May 13. He was 91. 
"I went to visit him at the hospital (the week before his death)," said Father Mark Beckman, former pastor of St. Matthew Church in Franklin. "He had the most beautiful expression of joy and peace on his face, and I thought, 'He is ready for the Lord.'"
A Mass of Christian Burial was celebrated by Bishop J. Mark Spalding, with several priests of the Diocese of Nashville concelebrating, on Thursday, May 25, at Christ the King Church.
His grandsons, Stephen Francescon, BJ Francescon, Buster Bateman, Ryan Francescon, Joseph Francescon, Isaiah Francescon, Jake Francescon, Daniel Francescon, and Wesley Francescon served as pallbearers.
Burial followed at the Middle Tennessee Veterans Cemetery in Nashville.
Before the funeral Mass, three of Deacon Francescon's eight children shared a few words about their dad.
"Samuel Anselm Francescon Sr. What a man. Some called him Mr. Francescon, some Coach, some Sam, Deacon, Uncle Sam, brother-in-law, father-in-law, Pop, and my favorite, by his parents and brothers, Junie. We called him Daddy. A loving father who loved God, family, and country," began his son Steve Francescon. "A man of character, Daddy lived a simple life as a devoted Catholic, a true embodiment of being Christ-like, praying daily while putting the needs of others before his own.
"There was never a time when Daddy did not answer a call to comply with a request by those of the parishes he attended, and always provided spiritual guidance to those in need," he continued. "He did those things out of love and service to Christ, not seeking recognition or platitudes."
Throughout his life, Steve Francescon noted, his father was devoted to family and love.
"Daddy taught us many things, chief among them was love of family. He did this not with mere words but how he led his daily life through Christ. He led by example," he said. "Daddy made sure our home was a welcoming home to all, not just family and friends, but neighbors as well.
"A friend of mine once told me there is no complete cure for grief but, in time, we will learn how to deal with it in our own way," Steve Francescon concluded. "We are in a lifelong journey, and we owe it to ourselves, family, and friends to do our best to follow in Daddy's footsteps. We love you, Daddy. May you rest in peace."
Margie Francescon Grover, Deacon Francescon's youngest daughter, echoed her brother's sentiments.
"Daddy, lovingly and affectionately known as Pop, was truly a special man," she said. "Honestly, there isn't enough time in a day to do his life justice. He not only touched our lives but the lives of everyone that was blessed to know him.
"His smile lit up a room, and touched your soul. I just wanted to bottle it up and keep it with me forever," she said through tears. "It was magical and warmed your heart as soon as you saw it. He had a twinkle in his eye, and, when around him, you could just feel his love."
Noting how she was in sixth grade when her father became a deacon, she continued, "As far back as I can remember, he devoted his life to the Church, and, in doing so, he touched the lives of people that we could not begin to count, many of which we will never meet or know.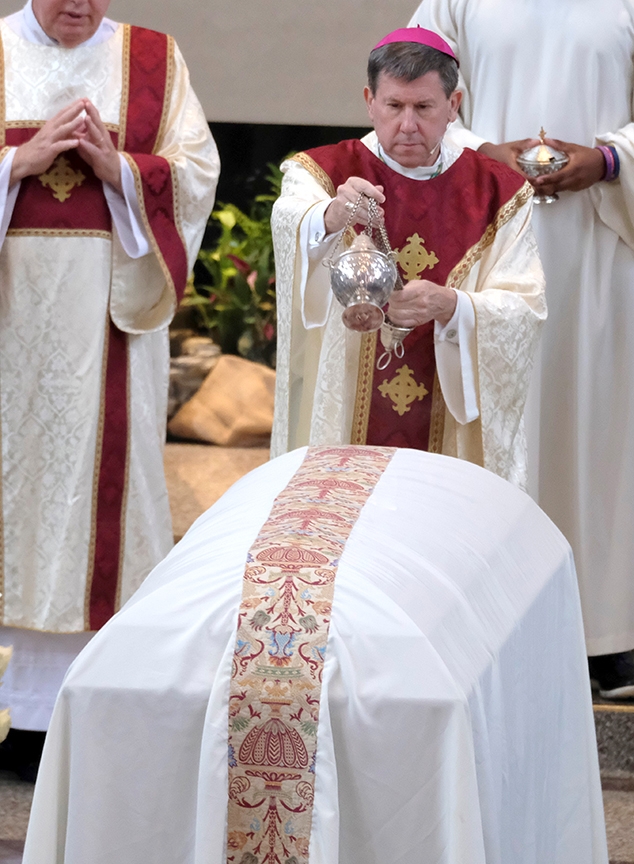 "That's how Pop lived his life – quietly giving all he could to others, never expecting or requesting any acknowledgement," she said. "I watched in awe as he worked hard all day to support our family and still found time to minister to those in need."
"If you knew Pop, and he showed you love then you didn't just know love, you felt it, and experienced an unconditional love like no other. His love came with acceptance that touched the soul," Margie Francescon Grover said. "So many of us want to change the world by convincing others to think and believe like we do, but Pop loved by example, just like Jesus did."
Susie Francescon Bateman ended the eulogies with a quote from the First Letter of St. Peter: "For to this you have been called, because Christ also suffered for you, leaving you an example, so that you may follow in his steps."
"My father was the greatest example you could ever have. He was an example for all of us," she added. "He was the leader of our band."
Echoing this final sentiment, cantor Danika Portz, sang Dan Fogelberg's "Leader of the Band," before the Mass began. Along with Bishop Spalding, Father Pat Kibby, senior priest at St. Henry Church, Father Andy Bulso, pastor of St. Edward Church, Father Mark Sappenfield, associate pastor of Christ the King and former pastor of St. Matthew, Father Beckman, and Father John O'Neill, pastor of Holy Trinity Church in Hohenwald, Christ the Redeemer Church in Centerville, and St. Cecilia Church in Waynesboro, and who served as homilist, concelebrated. Several of Deacon Francescon's brother deacons were in attendance as well.
Deacon Francescon was born on May 22, 1931. A native Nashvillian, Deacon Francescon was a veteran of the U.S. Navy, a loving husband, a father of eight, and loving grandfather and great grandfather.
He was ordained a permanent deacon for the diocese on Dec. 6, 1980, by the late Bishop James Niedergeses. Upon his ordination, he was assigned to St. Matthew, where he actively served for nearly 20 years before retiring on Sept. 1, 2000.
David Suchanick, Deacon Francescon's long-time friend of 26 years, shared a reflection with the Tennessee Register titled "A Man for All Ages and Seasons." In the reflection, he talked of Deacon Francescon's faith, and the impact he had on his own life, noting how their friendship began after Deacon Francescon baptized Suchanick's daughter.
"Sam saw something in me that I did not see in myself at the time – true purpose. He invited me to make the Cursillo 21 years ago, invited me to join his Cursillo group afterwards, became my spiritual director, and our friendship grew to where we discussed our lives and Catholic faith openly with one another, to a depth where I knew that I was blessed by God to have a second earthly father in my life," Suchanick wrote.
"One who cared deeply not only about the salvation of my soul, but the souls of all of his children and all people he met," he said. "Sam prayed with me when I experienced job loss and experienced financial stress, when my wife was diagnosed with cancer, and during many other times of trial and uncertainty, including our many years, working together as pro-life warriors when the spiritual attacks were the greatest."
"When my faith was tested, time and again, Sam was there to help lighten the weight of the cross that I was carrying," Suchanick continued. "He was also there to celebrate with me when I regained employment, when my wife survived cancer, and when a mother who scheduled the death of her baby at a local abortion mill decided to walk away and keep her baby. All of this Sam did 'under the radar,' out of the direct site of the public eye."
Deacon Francescon's devotion to serving the Church and its people never wavered. Even in his retirement, he remained active in the parish.
Father Beckman, pastor of St. Henry Church, said Deacon Francescon would still help in the sacristy, with communion services, and "once in a blue moon did a homily," he said.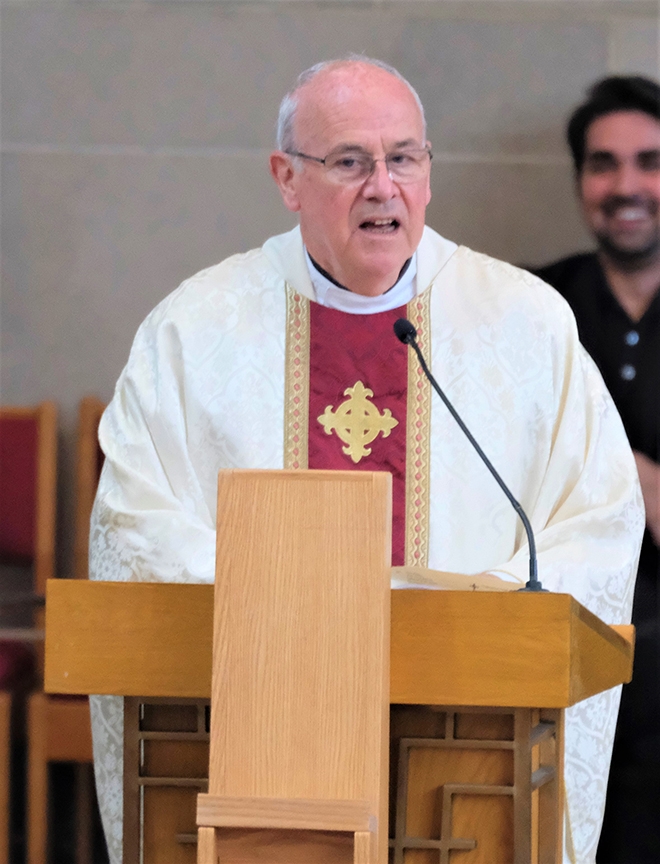 "Deacon Sam was a fine Christian gentleman and was helpful in so many ways that I can't even enumerate them. His love was one of the predominant features I saw in him. He was really a man of love, and a man of prayer and deep abiding faith," said Father Beckman, who served as pastor of St. Matthew from 2002 to 2015. "He had an authentic, genuine spirituality, and he had a great love for the Divine Mercy.
"He told me on numerous occasions, 'We only understand God's mercy if we treat each other mercifully,'" he recalled. "He was a quiet and gentle soul and really was genuinely concerned about everyone around him. He would come to me for spiritual direction and would end up giving me spiritual nuggets to think about, so it was a two-way street."
Mary Ann Dunn, a former long-time parishioner and lay pastoral minister for St. Matthew, who has known Deacon Francescon for more than 30 years, agreed with Father Beckman's sentiments.
"Anytime there was a time he needed to serve, he was always there and ready to serve," Dunn said. "Anytime father needed him, he would be there."
"If anybody would ask for anything, Deacon Sam would see what he could do to make it happen whether it was giving of himself or finding someone who could," she said. "He was just a kind, gentle, caring man who loved Jesus and the Blessed Mother immensely."
That love was made paramount in his devotion to the rosary, his role as spiritual director for the church's Legion of Mary praesidia, his devotion to the Divine Mercy, his love of Good Friday, his work with Cursillo, and more, Dunn noted.
"Sam was a man who loved his faith and the Church," added Joan McGranaghan, who has been a parishioner of St. Matthew since 1982. "He was a Christian who 'walked the talk.'
"I think he loved being a deacon and took his responsibilities very seriously," she added. "He liked nothing better than giving a homily. We joked that he had a hard time bringing those talks to a conclusion, but we knew it was only because he wanted to share his enthusiasm for the Lord."
Deacon Francescon was preceded in death by his wife, Margaret (Margie) Ann, who passed away on May 9, 2019.
"I know that he missed his wife, so I suspect that one of his greatest joys besides seeing the Lord will be to be reunited with Margie again," Father Beckman said. "Margie was a fireball of energy. If Sam was gentle and calm, she was full of life and humor, so they were a great pair."
"Sam and Margie opened their hearts to all they met. I am a witness to this, and I am an example of their generosity and love," Suchanick wrote. "Sam and Margie treated me as another son of their own."
Deacon Francescon will always be remembered, he said.
"Sam did not care about being recognized, unlike so many today who seek affirmation through their posts on social media in a fruitless attempt to be noticed and who are also quickly forgotten," Suchanick concluded. "Sam was known, and he will be remembered.
"A person's wealth, or job title, or carrier position had no value to Sam. Sam saw a person as Jesus would. The heart and character of a person is what mattered most to Sam, and he was truly a man for all ages and seasons," he wrote. "Two of Sam's favorite sayings were 'The more I know, the more I know that I don't know,' and especially when times were tough and uncertain, he would always lift you up with 'Keep on, keeping on.' Thanks Sam for being a true friend and a man that all men should strive to be like."
Along with Margie, Deacon Francescon was also preceded in death by his son-in-law Tommy Bateman; his parents, Samuel Sr. and Vincenza Francescon; and his brother, Pete Francescon Sr.
He is survived by his eight children: Steve Francescon (Pat), Bobby Francescon, David Francescon (Dawn), Susie Francescon Bateman, Sam Francescon (Judy), Danny Francescon (Ronnie), Chris Francescon (Kylee), and Margie Francescon Grover. He is also survived by 21 grandchildren, 22 great grandchildren, his twin brother, Victor Francescon, and numerous nieces and nephews.
Marshall-Donnelly-Combs Funeral Home was in charge of arrangements.