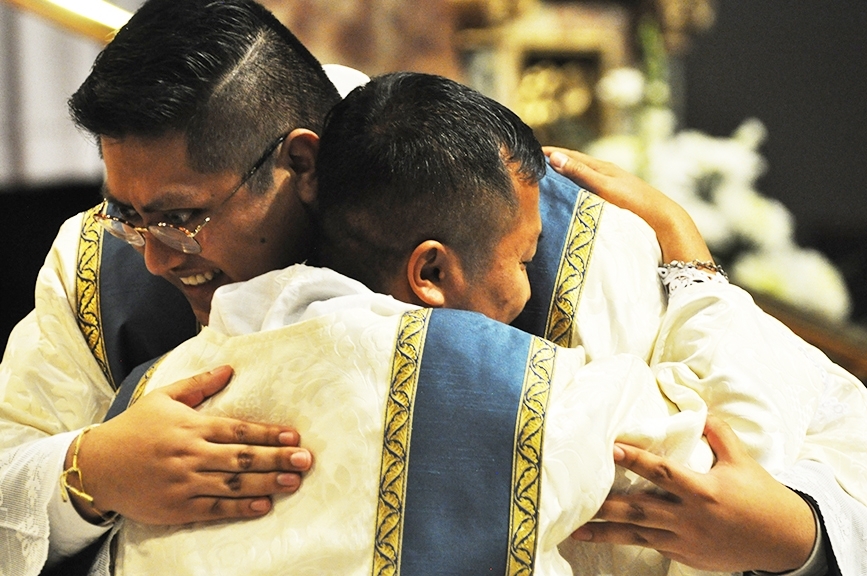 Bishop J. Mark Spalding will ordain two new priests of the Diocese of Nashville during a special Mass at 10 a.m. on Saturday, May 27, at the Cathedral of the Incarnation in downtown Nashville, and all are invited to witness the auspicious occasion.
Deacons Augustine Mang and Oscar Romero Avelino's priestly ordinations come after several years of formation through the Diocese of Nashville's Office of Vocations.
"Knowing there is only a few weeks left before my ordination to the priesthood can be a very emotional and intense experience," said Deacon Mang, who has been living at the Pontifical North American College in Rome and studying at the Pontifical University of St. Thomas Aquinas (the Angelicum). "It is very easy to get caught up with all the preparations for the first Mass, reception, and everything else that must be done.
"How easy it is to lose focus on Christ," he added. "I am very grateful to everyone who has supported me financially and with their prayers as I prepare these last few weeks for my ordination."
Deacon Romero Avelino is looking toward his ordination with a mixture of excitement and nerves.
"I feel very happy and full of enthusiasm looking forward to the ordination," he said. "Nervous of course, like everyone who had to go through ordination. But overall, I feel very happy."
Playing Mass as a child
Both men first felt the rumblings of a vocation to the priesthood as boys.
"My attraction to the priesthood began by going to daily Mass, serving at Mass, and the opportunities of getting to know many priests and religious sisters as a young boy," said Deacon Mang, who was born in Myanmar, formerly known as Burma.
"Growing up, I would often 'play' saying Mass and being a priest at home," he recalled.
"Becoming a priest has been my dream since I was very young," he continued. "I remember before playing Mass as a child, I would take my grandmother's big old towel and make a hole in the middle so I could put it on and use it as a chasuble. Now, I will truly get to do the real thing" when he and Deacon Romero Avelino are vested with the priestly stole and chasuble during the ordination Mass.
Deacon Romero Avelino had his sights set on the altar before he even started school. "The first time I told someone I wanted to become a priest was my mom and grandmother," he said. "When I was 4 years old, I told them 'I want to become a priest so I can forgive you of your sins.'
"Later I moved to the USA with my family, and when I was in high school, I decided to move forward with applying for the seminary," Deacon Romero Avelino said.
Deacon Mang said his desire to become a priest continued as a teenage boy when he attended an all-boys Catholic boarding school – St. John Bosco Seminary in Anisakhan, Myanmar. Although he stopped thinking about the priesthood for a time upon arriving in the United State in 2010 for high school and college, "my desire to become a priest never fully left me," he said.
"The Lord kept calling me from the depth of my heart with His silent and gentle voice, and I just needed to listen to that gentle, calling voice with a quiet and prayerful heart," Deacon Mang said.
"Hunger and longing for true peace and joy has helped me discern God's call in my life. I talked to the priests, did novenas, and prayed the rosary daily, which in particular, has really helped me in my discernment," Deacon Mang concluded. "It motivated and invited me to do the will of God as Mary did. I entered the seminary in 2016, and to this day, I continue to follow that same gentle voice of God each and every day."
Preparing through the diaconate
While Deacons Mang and Romero have been completing their final year of formation, they have also gotten a taste of what it means to serve the people through their role as deacons. They were ordained transitional deacons in April 2022.
"This past year has been a great year for me, but the thing that I love the most was to do the different sacraments," said Deacon Romero Avelino, including several baptisms and a wedding. "I remember those children in my prayer. Those names I will keep close to my heart, as I saw them coming into the Church and some of them growing so fast," he said of the children he baptized.
"I love every part of my diaconate ministry."
"It has been a great blessing to serve as a deacon this past year," Deacon Mang said.
"Out of all the things one can do as a deacon, what I love the most is being able to serve the Exposition and Benediction" of the Blessed Sacrament, he said. "Although I cannot say Mass as a deacon, it is truly special to bless the people with the Blessed Sacrament within the monstrance."
He is still anticipating that moment, however, of celebrating his first Mass, noting it's what "I am most looking forward to … as a priest, along with hearing confession for the first time," Deacon Mang said.
Deacon Romero Avelino is eager to experience the eucharistic prayer at his ordination. "This will be the first time that I will get to pronounce those sacred words of the institution," he explained. "I get to say them with my brother priests and the bishop. After many years , I look forward to that specific moment."
Goal of priestly life
As the anticipation mounts, Deacons Mang and Romero Avelino have their eyes set on the future as they officially begin their duties as priests of the diocese.
"My goal for priestly life is to live for the salvation of souls," Deacon Mang said. "I pray that the good Lord may give me the race of perseverance and all the necessary grace to remain as his faithful servant and an instrument of grace until the day I die."
"I look forward to working for the people of God, to be able to be present in the life of the church of Nashville, and of course after all those years of formation, to be able to be back at home," and share what he has learned as a seminarian, said Deacon Romero Avelino who is a graduate of St. Joseph Abbey and College seminary in Covington, Louisiana, and will receive his master's of divinity degree from St. Meinrad Seminary in St. Meinrad, Indiana, during commencement exercises on Saturday, May 13.
"I would like to ask for prayers as I am moving towards ordination, and prayers not just for me but also to the people under my pastoral care," Deacon Romero Avelino said. "I want to be able to be that witness of the love of God and be present in their lives. And thanks to those who have been with me throughout my formation, those who pray for me and my family, as those prayers help me move toward the upcoming day."
The full ordination Mass will be livestreamed on the Cathedral of the Incarnation and Diocese of Nashville Facebook pages.
Deacon Mang will celebrate his first Mass at 5:30 p.m. Saturday, May 27, at St. Ignatius of Antioch Church, which is his home parish. A reception will follow the Mass.
Deacon Romero Avelino will celebrate his first Mass at 10 a.m. Sunday, May 28, at Sagrado Corazón Church in the Catholic Pastoral Center, which is his home parish.
Andy Telli contributed to this report