(Editor's note: This story was first published in the Tennessee Register on June 12, 2020.)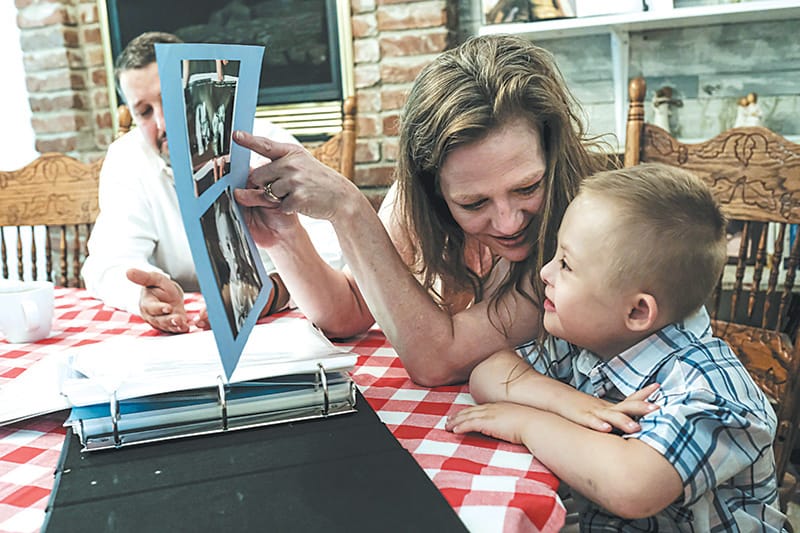 Mikey Schachle, 5 years old, climbs onto a stump in the yard of his family's home in Dickson, Tennessee. He carefully takes stock of the short distance to the trampoline buried in the ground below him, then slowly steps off the stump into space and falls happily onto the trampoline as some of his 12 brothers and sisters surround him with smiles and hugs.
It's a scene that would have been impossible for his parents, Dan and Michelle Schachle, to imagine five years ago when they sat in a doctor's office to hear that their still unborn son had zero chance of living more than a few days or weeks.
It took a miracle to save Mikey.
On Wednesday, May 27, Pope Francis approved the promulgation of a decree recognizing Mikey's cure from a deadly case of fetal hydrops while still in his mother's womb as a miracle attributed to the intercession of Venerable Father Michael J. McGivney, founder of the Knights of Columbus.
With the approval of the miracle, Father McGivney's cause for sainthood moves to the next step, beatification, when he will receive the title "Blessed."
"I think God had a plan for Father McGivney. I think God had a plan for Michael," Dan Schachle said of his son's miraculous cure. "You have to be open to God's grace, you have to be open to God's plan, because if you're not open to God's plan, he can't use you."
'Stewards of Father McGivney's vision'
The Schachles like to tell people they met in prison. Michelle was a single mother with twin daughters working in the office of the chief of security at South Central Correctional Facility in Clifton, Tennessee, and Dan was working as a guard.
Their friendship blossomed into a romance and they were married on Sept. 20, 1997. Michelle's daughters were 4 years old. "Dan married the three of us," she said. After marrying, Dan adopted the two girls.
Michelle converted to Catholicism and entered the Church on their wedding day.
"At first I kind of struggled with Mary, which is funny to me now," considering her family is consecrated to the Blessed Virgin, Michelle said.
Praying to saints was another feature of the Catholic faith that was difficult for her to accept at first. "It just seemed to be wrong to go through anybody but Jesus," she said.
One aspect of Catholic teaching that Michelle had no trouble accepting was respect for life. "When I became Catholic, right to life was something I could grab on to," she said.
With a little time, Michelle began to fully embrace all the teachings and devotions of the Catholic Church, and they became a lifeline when she needed them most.
As their family grew, Dan started looking for a new business opportunity and landed on the possibility of becoming a life insurance agent for the Knights of Columbus, one of the largest Catholic organizations in the world with 2 million members in North and Latin America, the Caribbean, Asia and Europe.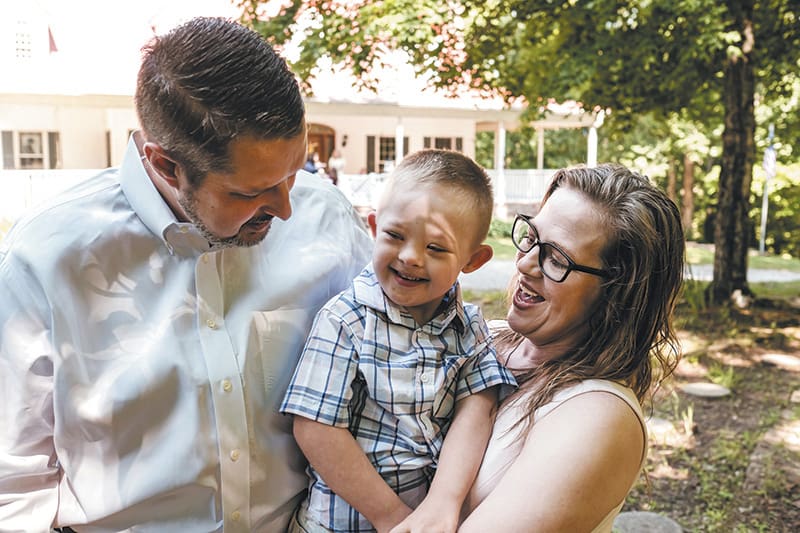 He had joined the Knights in 1994 and served as the Grand Knight of Council 8083 at his home parish, St. Mary Church in Savannah, Tennessee.
"The last thing I ever imagined myself being was a life insurance agent," said Dan, who is now the general agent for the Knights' insurance program in Tennessee, Kentucky and the eastern half of Arkansas, overseeing the work of 16 agents. "But once I read about Father McGivney and why he set us up, it was really eye opening to me. It was love of women and children that drove him to start the Knights of Columbus."
"I bought into what he wanted," he added. "We are the stewards of Father McGivney's vision. … I see it as a ministry."
'Said yes to God'
Late in 2014, Michelle became pregnant with Mikey, their 13th child. Dan and Michelle hadn't planned on having such a big family. "We said yes to God one at time," Michelle said.
Michelle's midwife at a practice associated with Vanderbilt University Medical Center referred her for an ultrasound. On the last day of 2014, she was undergoing the ultrasound when the doctors found markers indicating the child had Down syndrome, which is caused when a person has an extra chromosome.
"It didn't matter to us," Dan said. "It's actually a gift to our family."
"We've always thought they were God's special people," Dan said of those with intellectual and developmental delays. "That didn't stop when we had a child with Down syndrome."
But the doctors saw some other troubling signs and sent Michelle for more tests. On Feb. 25, 2015, the doctors delivered the news the Schachles feared most, that their child might not survive.
The baby had a severe case of fetal hydrops, a life-threatening condition of an abnormal buildup of fluids in the tissue around the lungs, heart or abdomen or under the skin.
"I had no idea what it was," Dan said.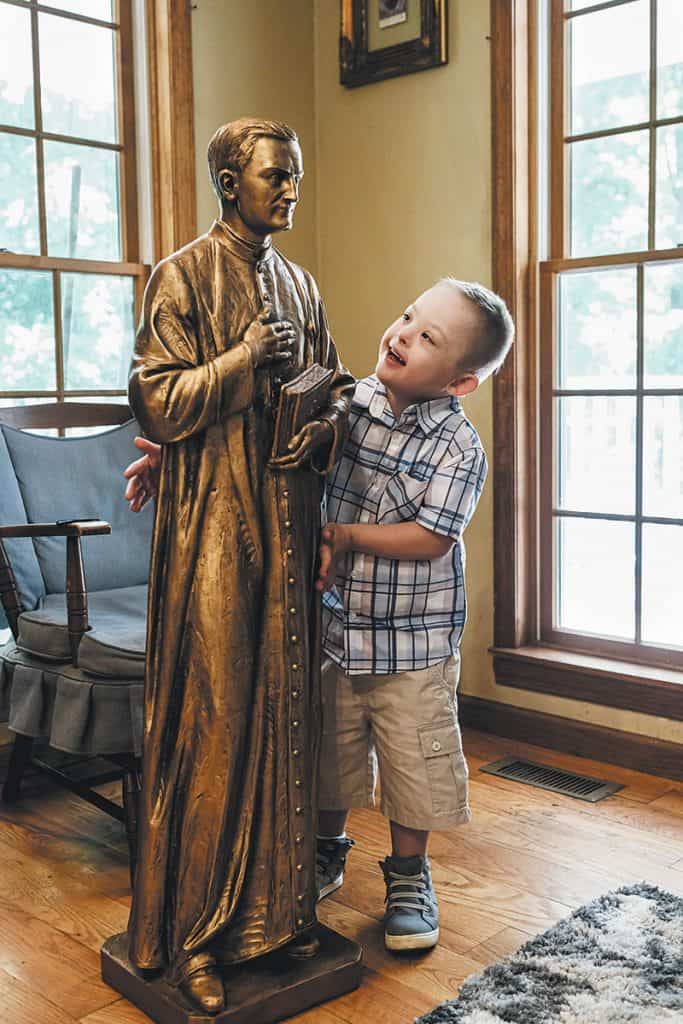 He pressed the doctor for a percentage on the chances their son would live. "She finally said, 'I've been doing this for 30 years and I've never seen anybody survive,'" he said.
The doctor told them "to have hydrops and a chromosomal diagnosis together, it's over," Michelle recalled.
The doctor tried to reassure them. There was no hope for their child, so they shouldn't feel guilty about terminating the pregnancy. The Schachles were told they could induce delivery now or "let nature take its course," Michelle said.
"I didn't like either one of those decisions," Dan said. "It made me mad. My job as a dad is to protect my children, not to kill them."
The condition was not only a threat to the baby but could also cause serious complications for Michelle, their doctor told them. "If you start getting sick, we're going to have a very serious talk," the doctor told Michelle.
For Michelle, the concern was delivering a child stillborn, something that had happened when she was younger. "I became so afraid of delivering another baby stillborn," she said.
There was a moment when she asked herself, is it really an abortion if there is no hope. She quickly told herself yes it would be. "It was only a spit second, and then it was gone."
"We can both understand parents falling into that decision," Dan said.
Turning to Father McGivney
Instead, Dan and Michelle turned to Father McGivney for help. The Knights of Columbus have been promoting his sainthood cause since 1997 and the Schachles were members of the Father McGivney Guild, an organization established to support the cause.
As they were alone contemplating the news they had just received, "Dan was quiet for a moment," Michelle remembered. "He looked at me and said, 'Father McGivney needs a miracle. I just prayed that if Father McGivney saves him, I'm naming him Michael.'"
Until then, the couple had planned to name the child Ben.
"What if God decides not to save him?" Michelle asked her husband. In his answer he looked to another opportunity coming just around the corner to offer a powerful prayer for Father McGivney to intercede to save their son's life.
"We've got a trip to Fatima in a couple of weeks," Dan answered.
Normally, the Knights send their top insurance agents and their families to a resort as a reward for their success. "This was the first time ever the Knights sales award trip was a pilgrimage," Dan said. The trip, from March 12 to 20 in 2015, included a visit to the Vatican in Rome, Madrid, Spain, and the shrine of Our Lady of Fatima in Portugal.
Before the trip, Dan and Michelle sent out emails to as many people as they could asking them to pray for the intercession of Father McGivney to save their son.
"I prayed, 'Please Father McGivney, let him be the miracle,'" Michelle said. "I went from 'How will I take care of a child with Down syndrome?' to 'Please God, I want a child with Down syndrome.' I had hope."
Throughout their pilgrimage, the Schachles were praying for Father McGivney's intercession to save their son. Priests offered Masses for them in Rome and back home at their parish in Dickson, St. Christopher.
But it was the gospel reading while attending a Mass in Fatima on March 16 with the rest of the more than 250 people on the pilgrimage that left the most powerful impression on Dan and Michelle. The reading for the day was from the Gospel of John 4:43-54, the story of the official who asked Jesus to heal his son. The gospel reads: "The royal official said to him, 'Sir, come down before my child dies.' Jesus said to him, 'You may go; your son will live.' The man believed what Jesus said to him and left."
"We both looked at each other with our mouths open," Dan said. "It was surreal."
While on the trip, Dan told one of the officials of the Knights insurance program what the family was going through. "He said, 'You never know. We're in Fatima.'"
'There's always hope'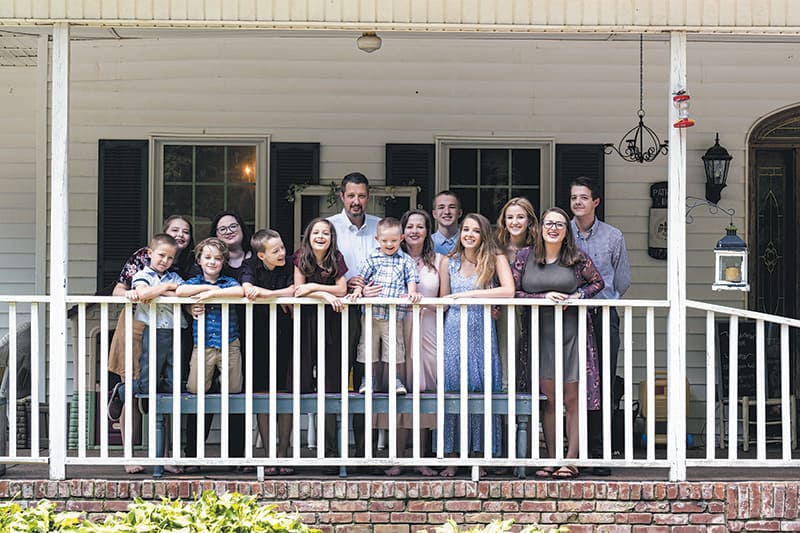 Four days after the Schachles returned home from the pilgrimage, Michelle went back to the doctor's office for another ultrasound to check the baby's fluid levels and the status of the hydrops.
"I was pretty scared," Michelle said. "The ultrasound technician, she kept looking and looking, she was taking a long time."
The technician eventually showed Michelle an ultrasound picture of the baby's face with none of the swelling and fluid buildup that was so apparent on the last ultrasound. "This is the prettiest baby I've ever seen," she told Michelle.
Dr. Mary Anne Carroll came into the room to talk to Michelle about the ultrasound. Michelle had never met Dr. Carroll before, having dealt with other doctors in the practice.
"She started talking about this and that, about what we're going to do when the baby is born," Michelle said. "I said what about the fluid in the lungs. She said, 'A lot of babies have a little fluid in the lungs. It's called wet lungs.'
"Wait a minute, I was told there's no hope," Michelle said.
Dr. Carroll then realized that Michelle and her baby were the patients she had heard about from the other doctors in the practice. "We would meet regularly to review the cases, so it would have been reviewed," she said.
She consulted with her colleagues who confirmed that the baby inexplicably was no longer showing any signs of fetal hydrops. "That was a very interesting and potentially unexplained finding," said Dr. Carroll, who now practices at the Texas Tech University Health Sciences Center in Lubbock, Texas. "It was an unexpected finding."
Without knowing the history of the case, "I would not have put together that this baby had hydrops," Dr. Carroll said.
"It was just there and then it was gone," Michelle said. "Then we were just pregnant with a baby with Down syndrome."
"There's a whole host of things that can lead to hydrops," Dr. Carroll said. "We went looking for the cause of the hydrops."
The condition can be caused by a virus passed from the mother, it can be genetic, or it can be caused by a problem with the heart that leads to a circulation failure, Dr. Carroll explained. "It can be a cause we never know."
If the cause of the hydrops is reversible, Dr. Carroll said, doctors can treat the cause in hopes of saving the child. "Michelle had testing to look for some of the reversible causes, which we didn't identify," Dr. Carroll said.
"Short of there being hydrops as a result of an identifiable, reversible cause, the classic teaching is that hydrops is irreversible," Dr. Carroll said.
When she heard that the hydrops had disappeared, "Michelle was overwhelmed because she had prayed over this," Dr. Carroll recalled. "She really felt this was an answer to prayers."
"Wearing a medical hat, you have to look for other reasons," Dr. Carroll said. "But I can't exclude that there was a miracle here because there was grave concern and disappearance of what we consider a terminal or not reversible endpoint."
But Mikey and Michelle weren't completely out of the woods. Doctors were worried that the blood flow through the umbilical cord was restricted and the baby was not receiving enough nutrients. When Michelle came to the doctor's office for another checkup on May 15, 2015, week 31 of her pregnancy, the doctors told her, "There's an issue. We have to do the C-section today."
"I felt completely at peace," Michelle said. "Let's not forget, (the doctors at Vanderbilt University Medical Center) saved my child too."
Dan was in San Antonio, Texas, for a business meeting. He caught the first available flight back to Nashville. "He was born when I was between Dallas and Nashville," Dan said.
Michael McGivney Schachle was born at 2:23 p.m. on May 15, 2015, more than two months premature, weighing 3 pounds 4 ounces.
"Michael was perfect just the way he was," Michelle said.
Mikey was still facing serious health issues. Like many babies born with Down syndrome, Mikey had a heart condition that required surgery, which was performed seven weeks after he was born. He spent a total of 71 days in the hospital.
At six months of age, he also nearly died because of a respiratory illness that kept him in the hospital for about six weeks more before he recovered.
Today, his health problems are under control and he is an active 5-year-old. "He's a healthy little boy," Dan said.
'Looked pretty promising'
When Dan told folks at the Knights' Supreme Council in New Haven, Connecticut, about Mikey's cure and birth, they asked if they could inform those working on Father McGivney's sainthood cause. Dan quickly agreed.
Word of Mikey's birth soon made it to Brian Caulfield, the vice postulator of Father McGivney's sainthood cause. Part of his job is to do an initial investigation into possible miracles attributed to Father McGivney's intercession.
"Basically, a miracle is defined as an extraordinary event that has no current medical or scientific explanation," Caulfield said.
Two previous healings had been presented to officials in Rome as possible miracles, but both had been rejected, Caulfield said. "It shows you the high standard they have" when evaluating whether an event is indeed a miracle, he added.
"It looked pretty promising," Caulfield said of Mikey's cure. "You never know until you start getting medical records and testimony of medical experts."
"This was such a severe case that it was distinguished from the others," Caulfield said of Mikey's medical prognosis. "This was considered by the doctors to be such a severe case, that they did not expect the child to survive."
The second hurdle in having Mikey's cure declared a miracle was determining that the prayers to save his life were specifically directed to Father McGivney, Caulfield said.
"It was pretty intentional" on the part of the Schachles, Caulfield said. "Once (Dan) saw the dire prognosis and that a miracle was going to be needed to save this child, he was clear he wanted to pray to Father McGivney."
On a trip to Tennessee to interview the Schachles, Caulfield asked them why the child was healed of hydrops but not of Down syndrome.
"We never prayed to have Down syndrome healed. That wasn't life threatening," they answered. "We thought a child with Down syndrome would be a blessing for our family."
"A tear came to my eye," Caulfield said. "I said I feel like I've got real people of faith here. To me, that said this is why God has chosen this family."
'Never had any doubts'
The next step was a tribunal held in the Diocese of Nashville to investigate the case. It was the first time since the diocese was founded in 1837 that a tribunal had been convened to investigate a possible miracle.
The tribunal serves as a fact-gathering body and interviewed the Schachles and all the doctors involved in the case. "It was like being deposed," Dan said of the process.
Just as Caulfield had asked, members of the tribunal wanted to know why the Schachles didn't pray their son would be cured of Down syndrome as well.
"Why would we have asked for that," Dan told the tribunal. "God made him that way. I'm good with that."
"To ask for him to not have Down syndrome is to ask that he not be the way God wanted him," Michelle added.
The tribunal also asked how they knew the cure was the result of Father McGivney's intercession and not that of Our Lady of Fatima.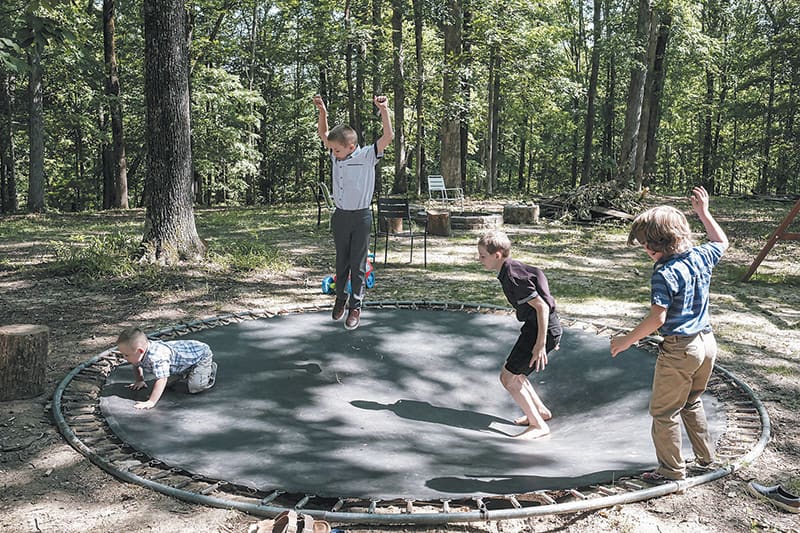 The Schachles recounted how they specifically prayed for the intercession of Father McGivney and asked so many others to do the same. At the same time, Knights of Columbus around the world have been offering up prayers for Father McGivney's canonization, which requires two miracles attributed to his intercession, Dan noted.
"There are so many coincidences, how can you look at this and not know it was Father McGivney," said Dan as he ticked off a list: Mikey was born on May, 15, the same date in 1882 that the first Knights of Columbus council was chartered; Michelle and Father McGivney share a birthday; Father McGivney was the oldest of 13 children and Mikey is the youngest of 13.
"I looked at Father McGivney and I looked at what the Knights of Columbus does for special needs children, for the pro-life cause," Dan said. "If there was ever a baby Father McGivney would want to help, this is who it would be."
"You couldn't write with a human brain a more perfect story," Dan said. "All these things we thought were coincidences, were not coincidences. It was God writing the story."
After the diocesan tribunal completed its report, it was sent to the postulator of the sainthood cause in Rome, who had it translated into Italian and submitted it to the Congregation for the Causes of Saints for its review.
A panel of physicians in Rome examined the medical record and a panel of theologians examined the spiritual record of the case before making a recommendation for the pope's approval, Caulfield said.
"We never had any doubts" Mikey's cure would be declared a miracle, Dan said.
'The happy beneficiaries'
And on May 27, it was.
"About 6 a.m. our phones started blowing up with text messages," Dan said.
"Everything that the Knights stand for … all of those things are in our story," Michelle said. Reflected in Mikey's miracle are the Knights' dedication to respecting life in all its stages, the order's support for people with intellectual and developmental delays, its support for families, and the example of Father McGivney for all parish priests, she said.
When Dr. Carroll, who is Catholic and whose father as a Knight, found out about the Vatican's decree that Mikey's cure was a miracle, "I told Michelle I was just in awe and dumbfounded and amazed."
"We know this isn't anything we've done," Dan said. "Millions of people have been praying for Father McGivney. We're the happy beneficiaries."
"We have Michael," Michelle said. "Michael's life has changed our life."
"It helped our family not take our faith for granted," Dan said. "It made me examine myself. I could never deserve what God has done for us."
"You believe in God, but when he shows up and it's undeniable that he's there, it's like a big light," Dan added. "How unworthy I was compared to God's holiness. We're completely unworthy."
"We're not perfect. All of us have issues, all families do," Michelle said. "I've seen really holy families, but we're just normal, I promise you."
She's wary of the attention that will be focused on her family now that Mikey's cure has been declared a miracle. "But his story is so important," she said of her son's cure and Father McGivney's powerful intercession for him, "I want it to get out."
"We've prayed a lot as a family the last month or two … that God keep us focused on the right thing," said Dan, to remember that it is God's love and mercy that is responsible for Mikey's miracle.