Seven years of hard work have come to a close for Dr. Rebecca Hammel, Superintendent of Schools for the Diocese of Nashville, who recently earned her doctorate in Catholic Education Leadership and Policy from Catholic University of America in Washington, D.C.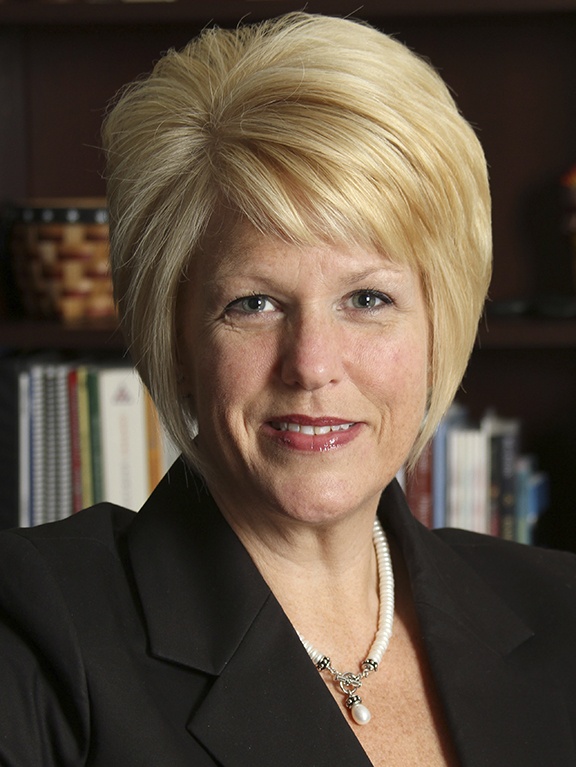 She will receive her doctorate during graduation ceremonies on Saturday, May 15, with Cardinal Wilton Gregory of Washington presiding. Cardinal Gregory was the Archbishop of Atlanta when Hammel, then associate superintendent of schools for the archdiocese, started her doctoral studies in 2014 and it's fitting that he will be there for the end, she said.
Brian Cooper, the diocese's Chancellor and Chief Operating Officer, praised Hammel for earning her doctorate. "Since joining the Diocese of Nashville, Rebecca's leadership and influence has been critical in lifting our school system, especially in times of crisis," he said. Earning the doctorate positions her for continued success, Cooper added.
"I think it's truly amazing that she continued her studies and her dissertation while guiding the school system through the pandemic," Cooper said. "It shows her remarkable commitment to both students and the schools."
The work Hammel did for her doctorate has already had an impact on her work as a school superintendent, she said, particularly the study of the history of Catholic education in America.
Hammel's studies helped her understand "the sacrifice so many of the early bishops and the first teachers made in light of anti-Catholic sentiment, and secondly to understand the parish school model, and third the willingness and vision of the people who built the Church to perpetuate its mission," Hammel said. "That's what inspires me to follow in their footsteps."
Earlier this year, Hammel completed work on her research project, "The Superintendent's Perceived Capacity to Deliver Faith Leadership and Mission Leadership to Diocesan School Communities," and defended her work before a panel of her university professors.
As fewer priests and religious have been available to serve as diocesan school superintendents over the years, diocesan leaders have turned to lay people with different life experiences and religious formation to fill that role, Hammel noted.
That evolution has prompted the question – as well as the subject of Hammel's research – of who will deliver that same kind of leadership for Catholic schools that religious men and women provided previously, she said.
The goal of Hammel's study, she said, was to give bishops and diocesan leaders who hire school superintendents a better understanding of the types of formation that the superintendents who participated in the study felt best prepared them to be good faith leaders and good mission leaders.
"A second component of my study was to distinguish between faith leadership and mission leadership," Hammel said.
"Behaviors associated with faith leadership are inward behaviors such as prayer, modeling the faith, and participating in the rites and rituals of the Church," according to an abstract of Hammel's research. "Mission leadership included outward behaviors focused on relationships and evangelization, purpose and mission" of Catholic education.
"Both are equally important in the success of a superintendent," Hammel said.
For her study, Hammel surveyed Catholic school superintendents from across the United States and its territories about their life experiences, such as whether they attended Catholic schools or colleges, their religious formation, work experience and leadership preparation. She also surveyed them about how they perceived their capacity to deliver faith and mission leadership.
"I was weighing (their life experiences) against faith leadership behaviors and mission leadership behaviors to understand how their life experiences may have impacted how they're able to deliver faith and mission leadership," Hammel said. "I was hoping to find clearer pathways that might equip superintendents to deliver those leaderships."
She sent surveys with 75 items to 170 superintendents and received responses from 115, or 68 percent, which Hammel said was "very good."
Among the things the survey revealed is that superintendents with master's degrees or doctoral degrees from a Catholic college or university were more likely to engage in certain faith and mission leadership activities, Hammel said. "For instance, people with master's degrees from a Catholic college felt more comfortable leading the community in prayer. People with doctorates more frequently would read Church documents and articulate Church teaching.
"And that's pretty core to the position," she said. "So, you can see how this information would be helpful to bishops looking for a superintendent."
Catholic colleges and universities might also be able to use Hammel's research to find ways to better prepare their students to provide faith leadership and mission leadership, she said.
Hammel started her coursework toward her doctorate in 2014, which continued over three summers. In the summer of 2018, she completed her comps, which are exams that test a student's mastery of a general subject area.
In January 2019, she completed the initial defense of her research topic. The work was delayed in 2020, first by the tornado in March that roared through her neighborhood, and later by the COVID-19 pandemic.
Hammel earned a bachelor's degree in elementary education from Indiana State University and a master's degree in Education Administration and Supervision from Butler University.