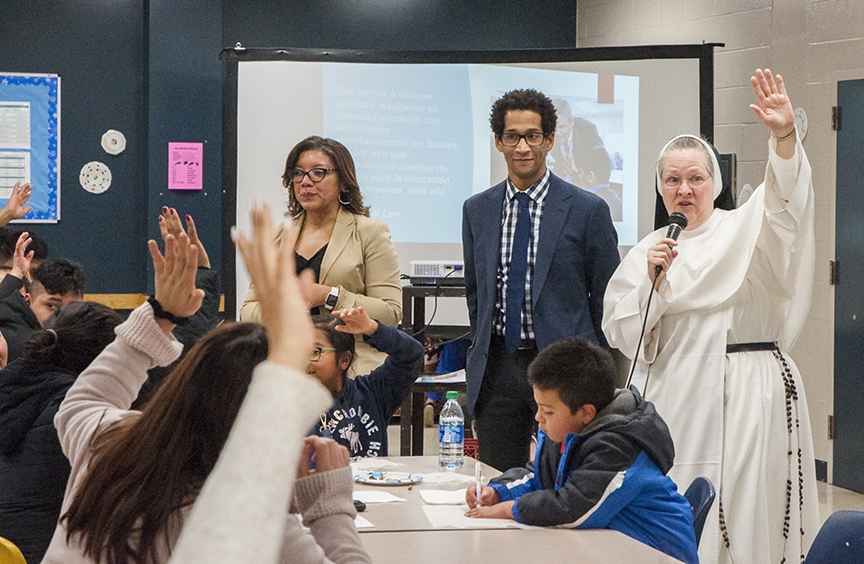 Catholic school leaders in the Diocese of Nashville are eager to participate in the state's Education Savings Account program now that a court order will allow it to move forward beginning this school year.
"We are actively working with state officials to determine the process which will guide the implementation of ESAs in our Catholic schools," said Dr. Rebecca Hammel, superintendent of schools for the diocese. "We have seen tremendous interest among parents seeking the many advantages of Catholic education for their children, and we look forward to welcoming new students through this program when classes begin in a few weeks."
Before the program was put on hold in 2020, diocesan and Catholic school officials were reaching out to families in Davidson County who might be eligible for the program and inviting them to apply. About 120 students were in the process of entering Catholic schools with the Education Savings Account when legal action blocked the program.
Under the program, which was approved by the Tennessee General Assembly in 2019, students in kindergarten through 12th grade who are zoned to attend Metro Nashville or Shelby County schools or the Achievement School District School can use state funds to attend participating private schools.
Families in Davidson and Shelby counties who meet income and eligibility requirements can apply to receive about $7,100 in state funds per student. Families can find more information about the program by visiting esa.tnedu.gov/.
Families must live in Davidson or Shelby counties to be eligible for the program, but they can use the Education Savings Account funds to attend schools in other counties.
According to an open letter from the Tennessee Education Savings Account Program to parents in Davidson and Shelby counties, the Catholic schools in the Diocese of Nashville that are participating in the program include: Christ the King, Father Ryan High School, Holy Rosary Academy, Overbrook, St. Ann, St. Cecilia Academy, St. Edward, St. Henry, St. Joseph, St. Pius X Classical Academy, and St. John Vianney.
The state was processing applications for families to use the Education Savings Accounts funds when the program was put on hold by a court order in 2020.
On Wednesday, July 13, the court injunction that was blocking implementation of the program was lifted and Gov. Bill Lee quickly announced the state would work to launch the program in time for the 2022-23 school year, which will start in August.
"Today, the court removed the final roadblock to getting Memphis and Nashville families additional options for high-quality education," Lee said in a statement issued after the injunction was lifted. "Starting today, we will work to help eligible parents enroll this school year, as we ensure Tennessee families have the opportunity to choose the school that they believe is best for their child."
The program will make a Catholic education more affordable and accessible for qualified families. The diocese's goal is to make a Catholic education available to every family that wants that for their children.
Education in a Catholic school can be transformative for a child, giving them an academic, social and spiritual foundation that will influence the trajectory of the rest of their lives.
Catholic schools in the diocese offer a well-balanced program combining academics, faith, service, fine arts, athletics and student activities that combine to build strong minds, kind hearts and confident leaders today and tomorrow.
A quality education in the Catholic tradition promotes a love for and knowledge of Christ, providing a unique opportunity for spiritual formation and faith development on a daily basis.
Academically, Catholic schools offer a rigorous and exceptional program of study that encourages critical thinking and analysis taught by certified and dedicated faculty and administrators.
Students of all religions, racial backgrounds and abilities are welcome at diocesan Catholic Schools, which are committed to diversity and inclusivity where everyone feels they belong.
Parents are the first teachers of their children, and Catholic schools partner with parents to offer their children the best education possible in a loving, nurturing environment where children thrive.