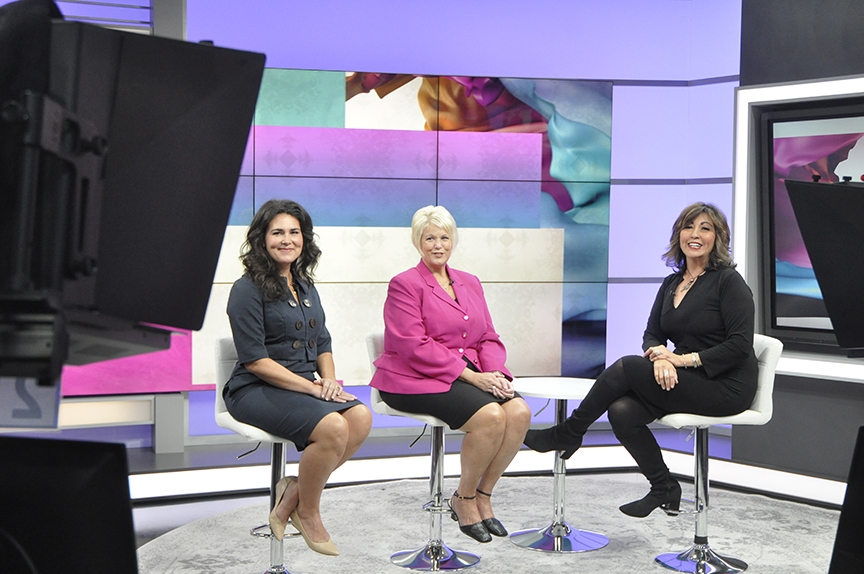 The Diocese of Nashville's mission, "Living and Proclaiming the Good News of Jesus Christ, Welcoming All" will be able to reach more and more households in Middle Tennessee through the Office of Media and Evangelization's newest partnership with News Channel 2 highlighting diocesan ministries during the television station's newest lifestyle segment "Local on 2."
"We continue to work to fulfill Bishop (J. Mark) Spalding's vision, which is to execute our mission, 'Living and Proclaiming the Good News of Jesus Christ, Welcoming All.' This is truly the core focus of our new team," said Gia Riney, diocesan chief marketing officer. "Implementation of a series of changes began in July 2022, the start of our fiscal year. We're now the Office of Media and Evangelization, and it's certainly more than a name change. It's more than a reconfiguration of existing staff.
"It's really looking at how we can change the way we work and evolve to be more effective in a modern media landscape," she said. "The Diocese of Nashville has a rich history of storytelling. The Tennessee Register, our official newspaper, has been operating since 1937. Today, we want to be more digitally savvy and do a better job communicating with Catholics and the broader community of Middle Tennessee.
"In the context of this new office, this new endeavor, we want to highlight the ministries of our Catholic diocese and make certain people know about the amazing goodness these ministries bring to local communities and parishes across 38 counties. We want to introduce the Diocese of Nashville to new audiences and welcome people to join us," Riney continued. "Essentially, our job is promoting the Catholic Church and Jesus Christ across Middle Tennessee."
While the diocese works with all the major news stations in Nashville, Bill Staley, diocesan director of new media evangelization, said this was just the newest opportunity that was presented to them.
"It's really important for us to meet people where they are, so whether people pick up a newspaper, a magazine or watch TV, this is just using another medium to reach folks and talk about the good news of Jesus Christ," Staley said.
The new partnership between the diocese and WKRN begins with 10 two-minute segments during the Local on 2 Show, which will air over the course of the next five months. And it begins by highlighting the 16 schools of the diocese.
"The Catholic schools are an important ministry within the Diocese of Nashville, so as part of our strategy, we're starting with the Catholic Schools Office and specifically supporting their work," Riney said. "It's a very timely opportunity because, over the past two years, enrollment at our elementary schools has grown by nearly 50 percent, so we want to first make sure we tell that story and that we communicate with prospective parents about why Catholic schools should be an option for them if they aren't already looking at this as a possible educational opportunity for their family."
The idea to start with highlighting Catholic schools also came about because of the Passport Program, which began last May. The program brings WKRN's chief meteorologist Danielle Breezy into the schools to talk about the weather, and then highlights the school visited on that evening's broadcast.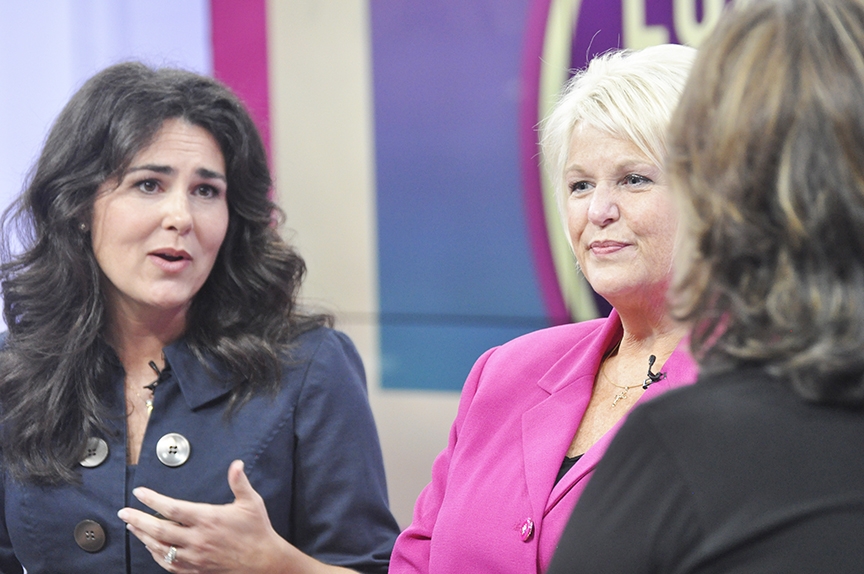 "WKRN's folks are great partners … and this is just a continuation of the relationship we've already developed, and we're really excited about it," Staley said. "One of our most important ministries that we put the most investment into is our Catholic schools, so we want to highlight that and let other folks know that it's an option and that private education is possible.
"We're different compared to our other larger Catholic populated areas like New York, Pittsburgh or New Orleans, so we just have a little bit more leg work to do down here in the South, but we're happy to do it," he added. "People, once they find Catholic education, are thrilled with it. We're really excited because this puts our Catholic schools on (the WKRN) platform that reaches southern Kentucky, northern Alabama, and all the diocesan counties in between."
The first of the 10 segments was filmed on Wednesday, Sept. 21, at the WKRN Studio in South Nashville. During the segment, Silvia Castañeda, WKRN News trendspotter, spoke with Dr. Rebecca Hammel, superintendent of schools, and diocesan Catholic school parent Franchelle Jaeger.
"This is a valuable partnership that enables us to more easily tell the good news of our Catholic schools to the Middle Tennessee community," Dr. Hammel said. "An indicator of success will be that people are more familiar with who we are as a Catholic school system; they realize the value that we bring to the community and know that we value our community, too. We serve in communities throughout Middle Tennessee, and we appreciate those relationships.
"We always welcome new students into our schools and invite parents who desire a Christ-centered education to visit us," she added.
Jaeger is a mom of four boys who all attend or have attended schools in the diocese. Her youngest son, Samuel, is a second-grade student at St. Matthew School in Franklin, and her second youngest son, Evan, is a junior at Father Ryan High School. Her two oldest boys, Ward and Alex, are 2019 and 2022 graduates of Father Ryan, respectively.
"I think that parents need to know that they have lots of good choices (for schools) and that Catholic schools rank at the top of those choices," Jaeger said. "I have a heart for Catholic education. I grew up in Catholic schools, and I know the benefits of being educated in an environment that is supportive of your faith, and how it prepares you for encountering the world from a particularly Catholic world view."
In the coming weeks, Castañeda will be visiting several of the schools to film more segments. She visited Pope John Paul II Preparatory School in Hendersonville, on Thursday, Sept. 29.
As the partnership develops, Staley said he hopes WKRN will also be part of promoting and broadcasting the annual Christmas at the Cathedral Concert and more. Additionally, the segments will be available for viewing on the WKRN website, and the diocese will also receive the finished product complete with WKRN packaging and professional quality filming and editing for its own promotional uses, he added.
"It's just finding whatever we can do to have the Catholic Church of Nashville be highlighted," Staley said. "It's awesome to be able to say we're a partner with WKRN, one of the top three news stations in Nashville."