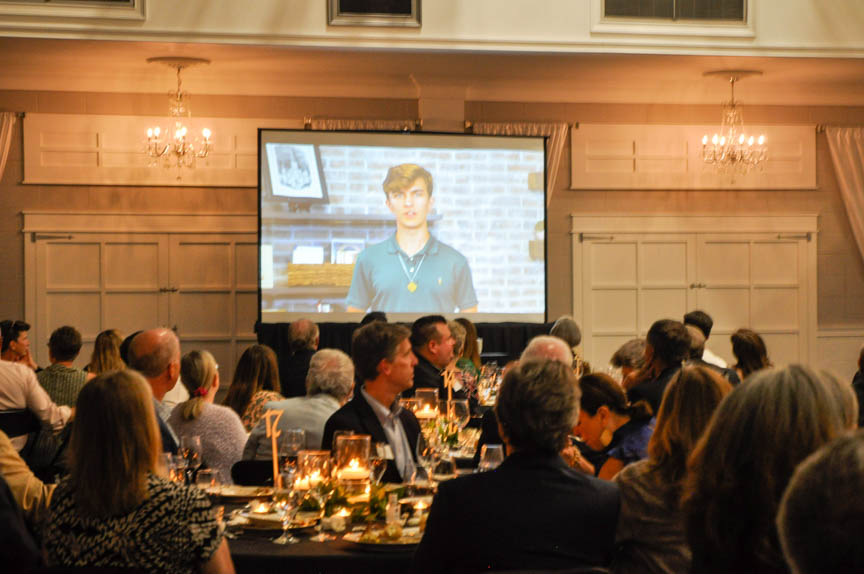 For the first time in three years, more than 200 members of the Diocese of Nashville and representatives of diocesan schools were able to come together in-person for the annual Advancement in Catholic Education (ACE) Awards Event on Thursday, Sept. 15, in Bishop's Hall at the Catholic Pastoral Center.
The in-person gathering came after two years of holding the event virtually due to the COVID-19 pandemic.
"It is good that we are here together. The last few years have weighed upon our gatherings, but what I want to say to you is enjoy this evening with and for each other," said Bishop J. Mark Spalding, as he welcomed attendees at the start of the event. "We're gathering to make sure that generations behind us ever grow in the faith, ever grow in formation, ever grow in education, and rejoice in the lessons."
The growth continues in the numbers at the 16 diocesan schools, too, according to Dr. Rebecca Hammel, superintendent of schools, noting the 5 percent growth in enrollment with inquiries for admission received daily, bringing the number of students throughout the schools to 5,192.
Additionally, 10 of the schools have applied and been approved for the state's Education Savings Account (ESA) program ensuring the opportunity for more families to benefit from a Catholic education who otherwise might not have.
Finally, she noted progress on the building of the newest diocesan school, St. Michael Academy in Nolensville, which will open its doors in August 2024.
"There is much to celebrate in our Catholic schools," Dr. Hammel said. "We are grateful to God and grateful to the administrators, teachers, staff and parents in our schools who so lovingly serve our students."
Following her opening remarks, Dr. Hammel introduced the recipients of five awards, which were presented by Bishop Spalding, including four that have been recognized in past years and one inaugural award.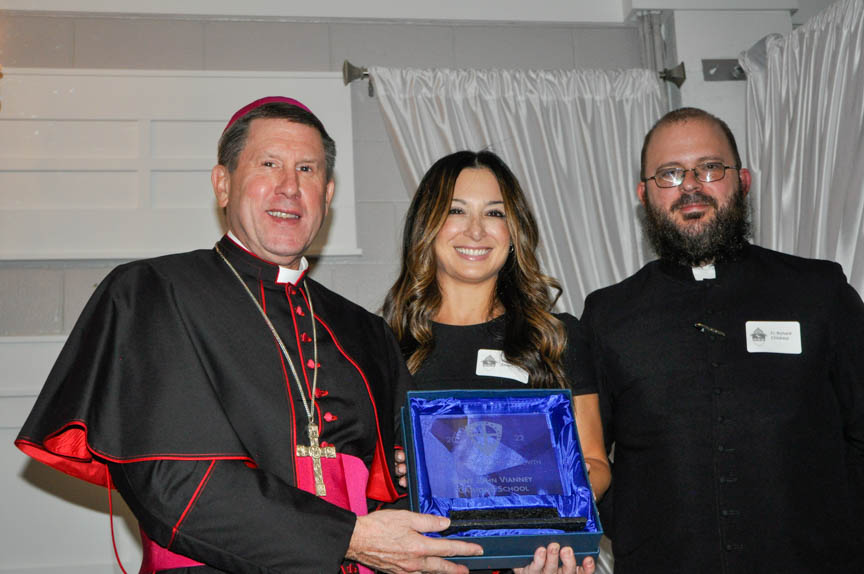 The first award recognized the school with the greatest enrollment growth over the past year. For the second consecutive year, St. John Vianney School in Gallatin was recognized following a 30 percent enrollment increase over the last year. It comes on the heels of a 34 percent increase the year prior. Father Richard Childress, pastor of St. John Vianney, and Natalie Eskert, principal of St. John Vianney, accepted the award on behalf of the school.
"We congratulate you and cheer you on as you continue to thrive in Gallatin," Dr. Hammel said, noting that they started the school year with 128 students enrolled in the school.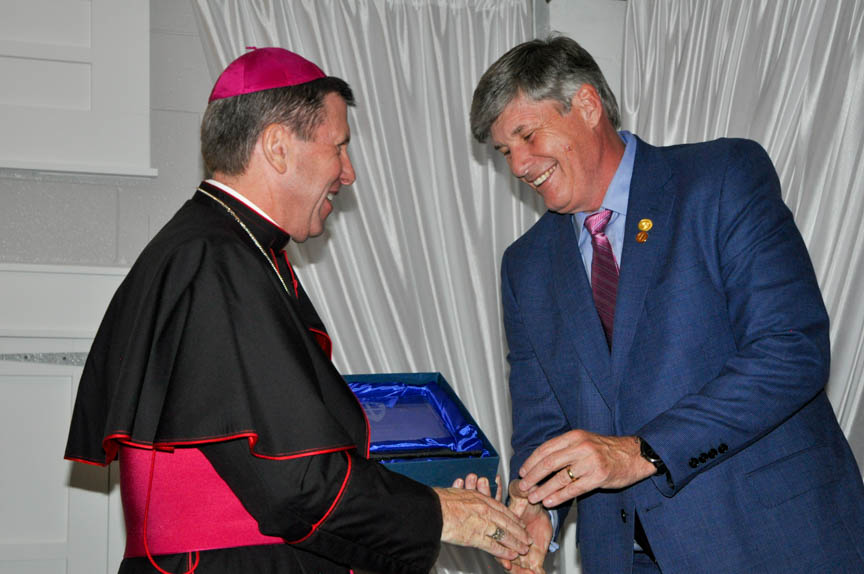 The second award, the Innovation in STREAM (Science, Technology, Religion, Engineering, Art and Math) Award, "is issued to a school that made intentional efforts to improve students' engagement in activities that challenge their problem-solving, real-world application, innovation, and higher-order thinking skills," Dr. Hammel said.
The award was presented to Father Ryan High School for its Irish SmartLab, which opened at the beginning of the 2021-2022 school year. Paul Davis, president of Father Ryan, accepted the award on behalf of the school.
"Our recipient school carved out a special room for its students to explore concepts of alternative and renewable energy, robotics and control technology, computer graphics, mechanics and structures, and so on," Dr. Hammel said, before announcing Father Ryan as the winner. "Having used this new space for a year now, administrators and teachers at the school report how impactful this new program has been for students."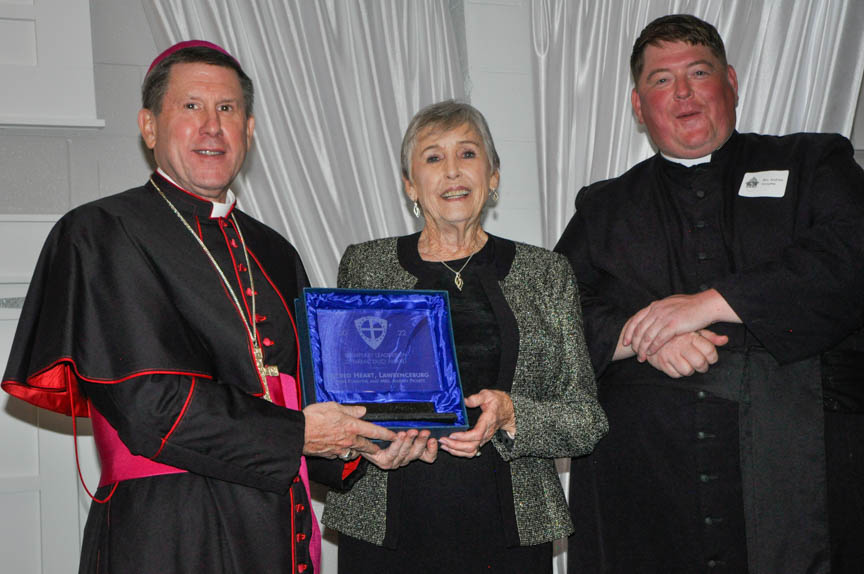 Two teams were recognized for the third award – the Exemplary Leadership Award – which identifies a pastor and principal team "who models true partnership in leading the school," Dr. Hammel said. "By working together, the school benefits from a shared vision, resulting in positive changes in culture, school spirit, and mission fulfillment."
The first recipient was the team of Father Andrew Forsythe and Marian Picket of Sacred Heart Church and School in Lawrenceburg. Over the last two years, their partnership has helped see an increase in enrollment, as well as enhanced student safety by relocating the school office and modifying several procedures "minimizing uncontrolled access to the school," Dr. Hammel explained.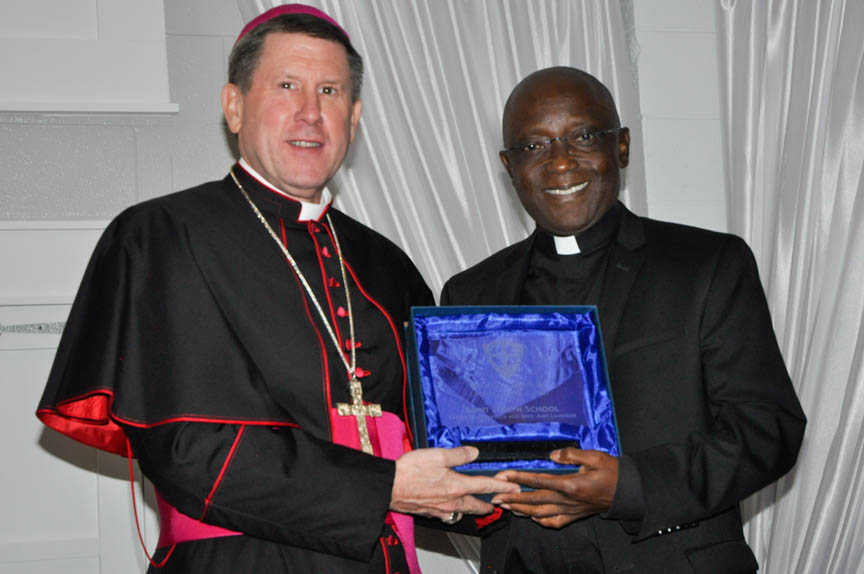 The second recipient was the team of Father Jean Baptiste Kyabuta and Amy Lavender of St. Joseph Church and School in Madison. During the presentation, Dr. Hammel noted the recent launch of the community's Together We Build Our Future to Greater Heights Capital Campaign, the 12 percent increase in enrollment this school year, and the redesigning of several programs to better meet the needs of students and their families.
The fourth award, the Christ the Teacher Award, is presented to a teacher who has taught in one of the schools for at least eight years, and "exhibits outstanding leadership, dedication, and commitment to Catholic education, and designed or implemented a program that serves not only the school but the community," Dr. Hammel explained. "This person is Christ-like."
The recipient of the 2022 Christ the Teacher Award was Jennifer Dye, dean of faculty and instruction at Pope John Paul II Preparatory School in Hendersonville.
Currently in her 20th year with the school, Dye was noted for the development of the Haiti 180 Mission Program, which takes Pope Prep students to Caribbean country's rural communities to serve the poor, her devotion to making and donating masks to frontline workers at the start of the COVID-19 pandemic, and more.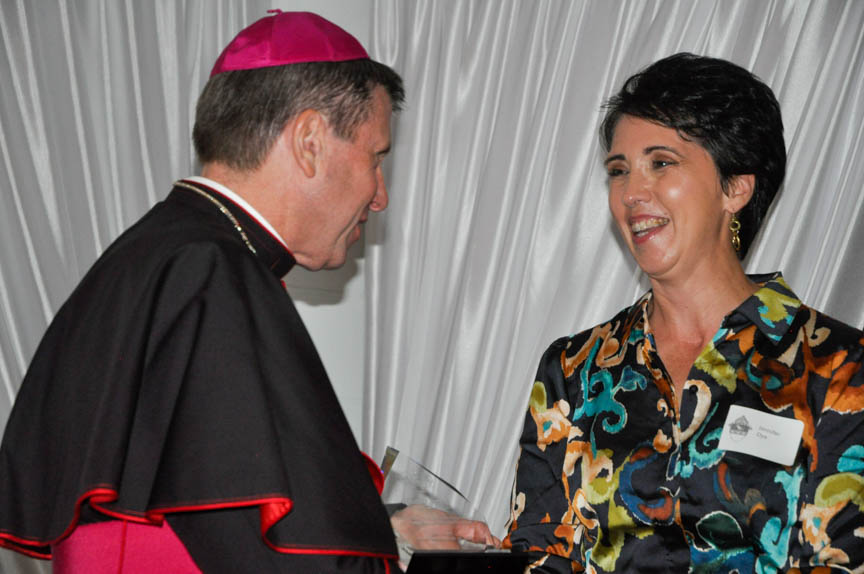 "(Dye) exercises compassion and sensitivity to others' needs when leading projects and initiatives and, even in frustrating times, exercises the patience and calm acceptance that reflects the prominence of faith in her life," Dr. Hammel said.
The final award, established for this year's event, was established to recognize someone who "serves as a role model in advocating for and building a more inclusive school environment where all learners belong; works to create an inclusive culture where students are valued and supported for who they are; takes steps to remove barriers that prevent children with disabilities and learning differences from reaching their full potential; champions schools that foster an educational experience that serves the learning needs of all students; and helps ensure students and families desiring a Catholic/Christian education have this opportunity," Hammel explained.
The award was established to recognize two women, Mollie Gavigan and Elise McMillan, who did that with the establishment of Hand in Hand Options at Pope Prep in 2004 to better serve students with intellectual and developmental disabilities, as well as other learning disabilities, who desire to receive a Catholic education. Since its beginning, the program has since expanded, providing resources to teachers throughout all the diocesan schools.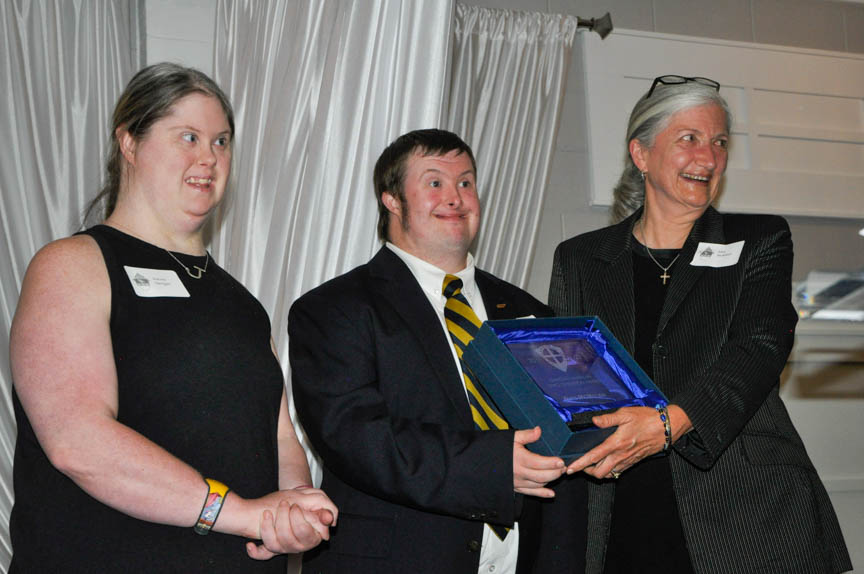 "Mollie and Elise, two strong, determined, and passionate parents who championed the needs of their children – and others with disabilities – to receive an excellent Catholic education and schooling experience," Dr. Hammel said. "The actions of these two loving mothers who simply wanted the same opportunities for their children have impacted not only the lives of the students needing support, but the entire school community. Our teachers, students and families alike, have been positively changed and spiritually moved because of Hand in Hand Options.
"While Mollie Gavigan is no longer with us on earth, her legacy lives on," she continued. "We can imagine the smile on her face as she sees all the good works happening because of her persistence and passion many years ago."
With that, Gavigan's daughter Jeanne, and McMillan's son Will, who both graduated from Pope Prep in 2008, presented Elise McMillan with the inaugural Gavigan McMillan HIHO Champion Award.
Following the awards ceremony, attendees heard from three alumni of diocesan Catholic schools. The first two speakers – Kate Barber and Stephen Strickland, who are both 2022 graduates of Pope Prep – were via video as they were unable to attend due to their continued studies at college.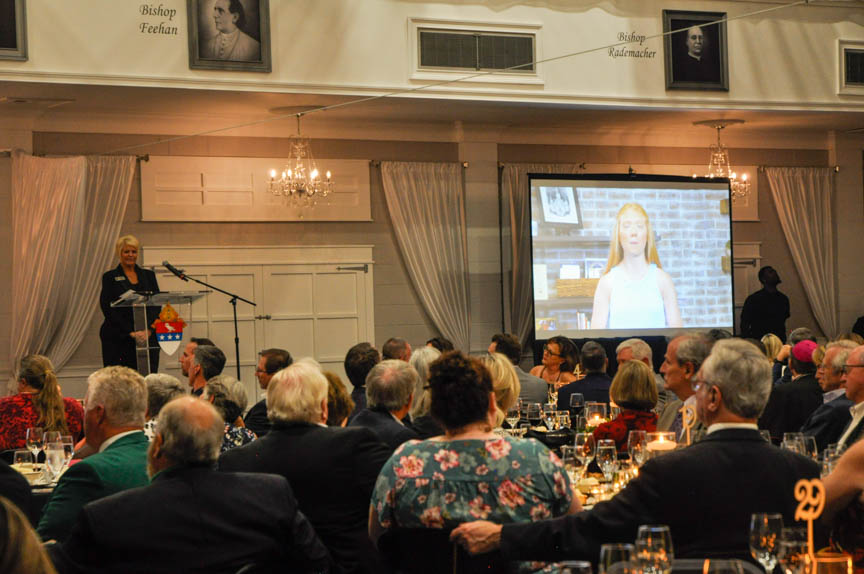 Barber, who is currently attending University of Tennessee in Knoxville, noted the impact of the words "Be Not Afraid", said by the school's namesake St. John Paul II, as she talked about challenges she and her classmates faced during their years at Pope Prep and how they persevered through those times.
"It is no accident that our school is named after Pope John Paul II. He had a strong affection for the youth of the world. Throughout his papacy, he often spoke to the youth, offering a framework for young people to grow in their love for Christ," Barber said. "Love is a major theme of our school. Every day as we enter school, we are welcomed with a sign that reads, 'because God is love.' The sign symbolizes as students of Christ, we are taught to love. When we are racking our minds to find answers to impossible questions, the sign relieves us with a simple answer: 'because God is love.'
"No matter where life takes me … I will remember my roots," she said. "As I (continue) this next step in my life, my initial reaction may be filled with fear, but as Pope John Paul II reminds me, 'Be not afraid.'"
Strickland, who currently attends Auburn University in Auburn, Alabama, noted how the receiving of a Catholic education comes with challenges, but can be overcome with Christian love and discipleship.
"For those like me who have taken part in Catholic education, our development as students, as disciples is far from complete. But this foundation that has been laid and these relationships formed cannot have been done anywhere else," Strickland said. "Catholic education is like no other. Our Catholic schools face challenges head on, and weather these challenges with a spirit of hope and in the name of love.
"It is in our Catholic schools that students learn they are disciples and are then able to take the message of the Gospel and the valuable lessons they have learned into the world and change it for the better," he said. "I can confidently say that I would not be who I am today without the formation and instruction of Catholic education, and, because of that, I wish for others to have that foundational experience as well."
Following Barber's and Strickland's video remarks, attendees heard from the keynote speaker, Jeremy Darvin, a Nashville native, a 2016 graduate of Father Ryan, and one of the newest faculty members serving as a full-time substitute teacher, and mathematics assistant with the Academic Support Program, as well as coaching football and wrestling.
Darvin is a recipient of tuition assistance, noting it was the reason he was able to attend Father Ryan.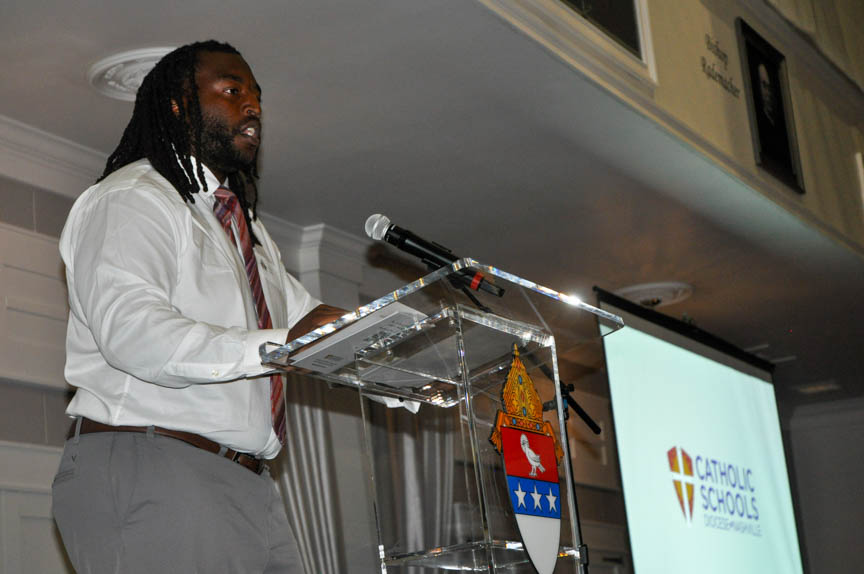 Explaining that he was the oldest of three to a single mother, living in East Nashville, "I didn't have the traditional family background that you see at Father Ryan, but that didn't mean anything because they welcomed me with open arms," Darvin said. "Unlike a lot of people that have attended Father Ryan, I had no prior connection to Father Ryan whatsoever. … Born and raised in Nashville, I lived 12 miles from the school, and literally had never heard of it."
But, drawing on the theme of community, he continued.
"My mom never did this alone. As great and amazing as she was, if it was just up to her, it would be a tough task. I really, strongly believe in the saying, 'it takes a village,' and that was no shortage coming and going to Father Ryan," Darvin said.
And although he was gifted athletically, Darvin said he appreciated that it wasn't the No. 1 priority at Father Ryan. "They weren't looking for superior athletes. They want, more importantly, good students and good people with character. I was blessed to have that opportunity and able to get that experience of a Father Ryan education."
And, in comparing his previous experience at public schools, he said, Father Ryan was "a complete culture shock and a good one at that."
Particularly, "the teachers really truly cared about you and tried their best to let you understand the curriculum and even willing to go outside school time," Darvin said. "That wasn't something I was used to. … If anything, the teachers were so warm and so loving."
And through it, he said he learned to not only push himself athletically but academically as well. It is the reason, upon graduating from Father Ryan, that Darvin went on to sign a full athletic scholarship with Western Kentucky University in Bowling Green, playing football as a student-athlete for the next six years. In the end, he graduated with his bachelor's degree in Interdisciplinary Studies with an emphasis in Secondary Education (Mathematics) in 2020, and then a master's degree in athletic administration and coaching in 2022.
Finally, he said, he learned the importance of talking about faith and religion as part of education, whether Catholic or not.
"It helped me tremendously," Darvin said. "Just taking the whole experience of the Catholic religion really opened me up to not only being a better Christian but opening me up about myself and understanding how to serve others and what my calling was in life."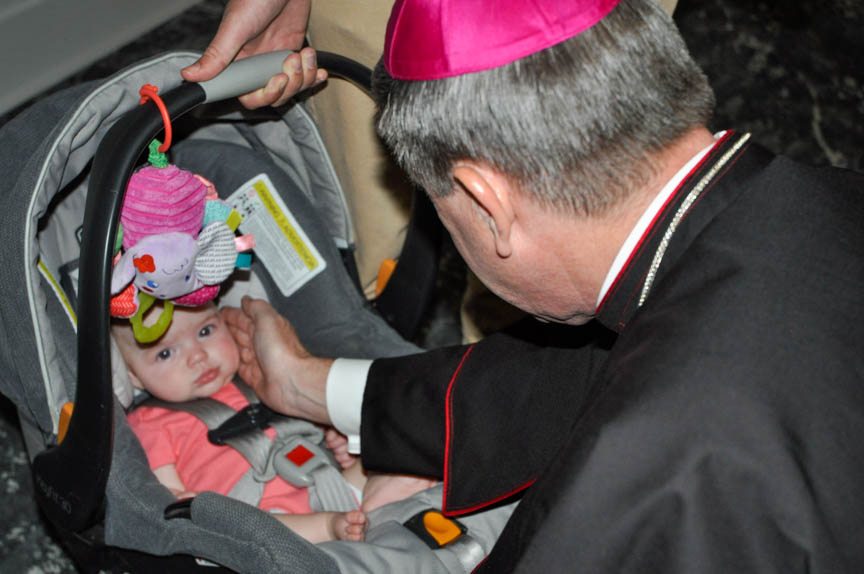 "I cannot thank Father Ryan and (the tuition assistance he received) any much more for what they have done for me in my life, and I really, really do hope that I can be that same spirit and arrow for students like myself in the same situations," he said. "Those kids that have maybe never had a Catholic education, who are not Catholic themselves, or coming from a different background, not being shy or not being scared of seeing something new and something different and going in full force and really trying to take full advantage of it and make their life better."
Bishop Spalding said Barber, Strickland and Darvin, as well as the award winners, are examples of the good things that happen when Catholic education is supported.
"I do ask you, continue to be generous," Bishop Spalding said. "God has blessed us all and whatever ways you can help, please know, it makes good things happen. It makes moments like we experienced here happen, and you can go home tonight and say, 'It was worth my time.'
"Thank you for the giving of your time because once that gift is given, it can never be taken back," he said. "Be generous, be kind, let us continue to make good things happen in this world, especially through our Catholic schools."
For more information about ACE and to contribute to the ACE endowment fund, visit dioceseofnashville.com/ace.