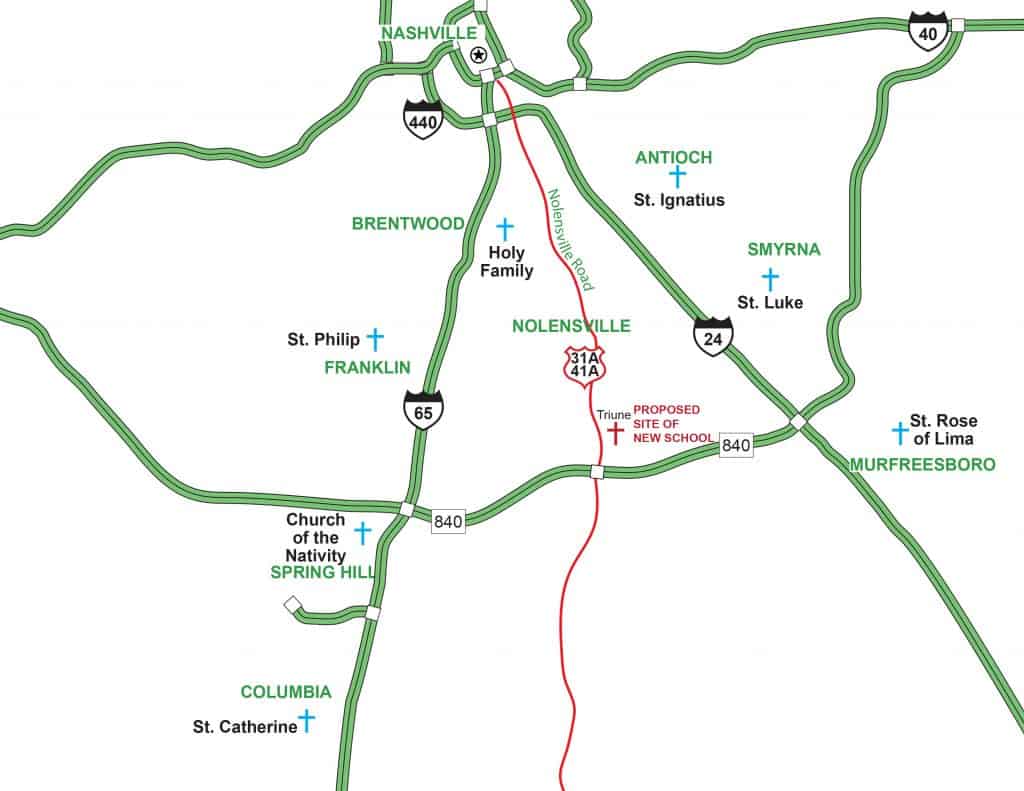 The Diocese of Nashville is reaching out to families to gauge interest in a new Catholic school proposed for the Nolensville area in southeast Williamson County. Families with children in the religious education programs at Holy Family Church in Brentwood, St. Philip Church in Franklin, Church of the Nativity in Spring Hill, St. Luke Church in Smyrna and St. Ignatius of Antioch Church in Antioch have been sent a link to an online survey about the new school.
The survey also will be distributed to the wider community, said Betty Lou Burnett, director of pastoral care at Holy Family Church and a member of the New School Steering Committee that is studying the potential for a new school. "Their goal is to get at least 400 surveys back," Burnett said.
The deadline for completing the survey has been extended until Monday, Jan. 18, Burnett said. The fill out the survey, visit https://survey.meitler.com/s3/SoutheastWilliamsonCounty. Other committee members include: Father Joe McMahon, pastor of Holy Family; Father Anthony Stewart, associate pastor of Holy Family; Rebecca Hammel, superintendent of schools for the diocese; Paul Davis, principal of Father Ryan High School; Jennifer Dye, director of innovation at Pope John Paul II High School; Sister Mary Elizabeth, O.P., principal of St. Henry School; and laypeople Robert Feduccia, Tod Fetherling, Bill Krueger, Jimmy Owens, Greg Sandfort, Mark Sharp and Julie West.
The committee has been working with the Meitler consulting firm of Milwaukee to gather information to determine the strength of the pool of potential students in areas from which the proposed school could draw enrollment and ensure sustainability for the future.
That research has included collecting information about community demographic statistics and parish and Catholic school enrollment trends in Williamson and Rutherford counties, as well as conducting meetings and interviews with a number of individuals and groups.
"We've talked to all the pastors and all the principals," Burnett said.
The next step is conducting the survey.
"Combined with a market research survey to be initiated at the start of the new year, the data findings and results will demonstrate if this new school program is feasible," said a letter the
committee sent to families in the area. "If there is sufficient interest and enrollment, this determination leads to the next phase, which includes developing a plan for the proposed school, estimating costs, creating a funding model, and establishing a timeline for next steps in planning." In January 2020, the diocese purchased a 166-acre site in Nolensville to build a new church and a school, that could eventually serve students from kindergarten through 12th grade. The Williamson County site is located on Nolensville Road, four miles south of Nolensville proper and three miles north of I-840.
The site sits in the midst of several existing parishes in Williamson and Rutherford counties – Holy Family, St. Philip and Church of the Nativity, St. Rose of Lima Church in Murfreesboro and St. Luke – and is close to three major highways, Interstate 65, Interstate 24 and I-840.
A parish at the site is expected to draw people from the Nolensville, Arrington, College Grove and Lennox Village areas of Williamson County, as well as northwest Rutherford County.
The area is already experiencing rapid growth, which is expected to continue.