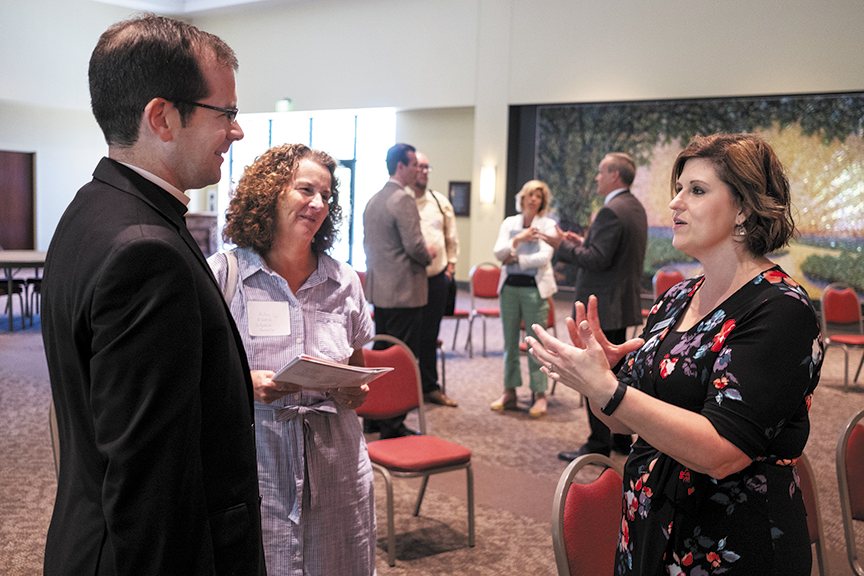 The Diocese of Nashville is launching a $50 million fundraising campaign, "A Legacy of Faith, Hope and Love," to allow it and its parishes, schools and ministries to meet their growing needs well into the future.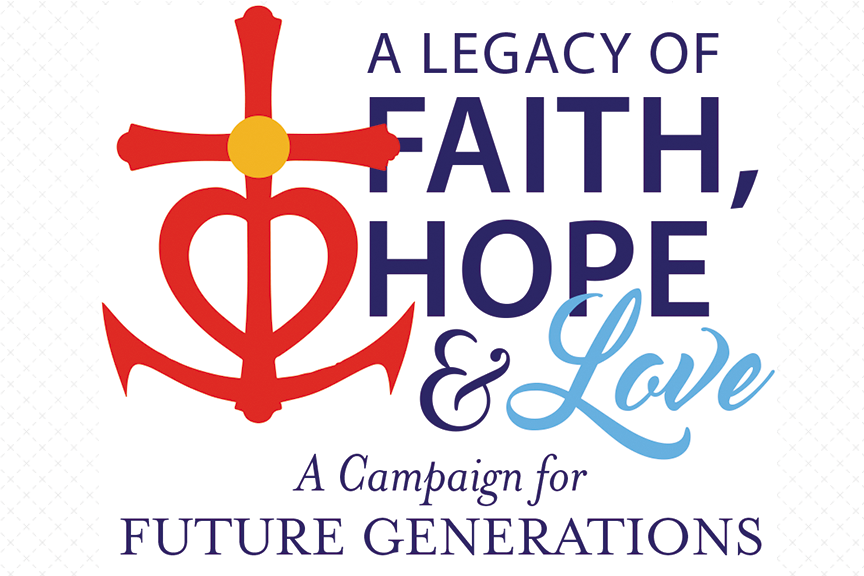 "The spread of an illness, a natural disaster, civil unrest, an economic downturn – these events are never easy. Yet, in a meaningful way, they do provide an opportunity for us to strengthen our mission to live and proclaim the good news of Jesus Christ, welcoming all," Bishop J. Mark Spalding has written in a letter to the faithful of the diocese. "Now, more than ever, embracing the shared mission of our diocese will help unite us. …
"Just as past generations have done, now is the time for our Catholic faithful to lift our entire diocese – both urban and rural," he continued. "Now is the time to pay it forward by leaving a legacy which will ensure a flourishing Catholic Church in Middle Tennessee, not just for today, but for generations to come."
The goal of the campaign is to serve the mission of the diocese, "Living and Proclaiming the Good News of Jesus Christ, Welcoming All," said Brian Cooper, the diocese's Chancellor and Chief Operating Officer. "It will provide permanent funding for the important ministries of the diocese," he said.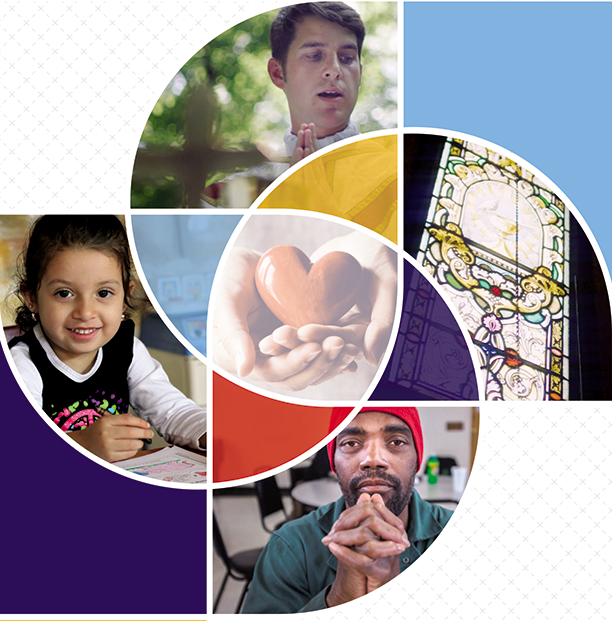 "People are showing a willingness to put their faith in us and what we're doing," Cooper said. "They want to generously share their blessings received with future generations."
The campaign will support five priorities that will strengthen parishes and vocations efforts as well as increase accessibility to the diocese's churches, schools and social services. The priorities are:
• Individual Parish Needs, $12.5 Million
"Each parish in the diocese has specific needs to address in order to grow and prosper," according to the diocesan Campaign Case Statement outlining the details of the campaign. "Therefore, the campaign will return 25 percent of donations identified with individual parishes back to them for the unique needs and projects each parish identifies."
Each parish will decide which projects to fund with the money it will receive from the campaign, including projects such as new and renovated facilities, new and enriched ministries, or enhanced missionary energy.
"The overarching hope is to increase vitality in each parish, promote participation in parish life, and evangelize and serve the faithful and the surrounding communities," the Case Statement said.
• Parish Growth and Expansion, $5 million
More and more people are moving to Middle Tennessee, but a growing number of Catholics live in areas without a Catholic church or school nearby, the Case Statement said.
"Our parishes and schools are the cornerstone of our Catholic lives and are the places where we encounter Christ most profoundly," according to the Case Statement. "This funding will help acquire land and buildings for additional churches and schools and will assist in expanding existing facilities that have become too small for growing communities. Doing so will improve access to worship and education, and thereby strengthen families in faith and discipleship.
"With enhanced resources and new facilities, we can begin a journey to double the current number of the registered Catholic faithful in our parishes throughout Middle Tennessee," the Case Statement added. Currently, there are 89,748 registered Catholics in the diocese.
• Vocations, $7.5 million.
The diocese, in the last decade, has seen an increase in the number of seminarians preparing for the priesthood. Currently, the diocese has 20 seminarians in formation, rivaling much larger dioceses.
"With population growth and many of our current priests nearing retirement, we are taking steps to further increase the number of our seminarians to ensure future needs of the Church are met," according to the Case Statement.
The diocese spends $75,000 a year for each seminarian in formation; with 20 seminarians, the total cost is $1.5 million. Money from the Bishop's Annual Appeal for Ministries covers $900,000 of that cost and another $300,000 comes from $6 million in current endowments. The annual Seminarian Education Dinner and Auction provides about $300,000 more.
However, the current funding model "does not provide a permanent and sustainable funding source for our seminarian education program to grow and increase the number of vocations," the Case Statement said.
Raising $7.5 million to add to the current endowment will generate an additional estimated $375,000 a year, allowing the diocese to educate at least five more seminarians per year.
"By significantly increasing the current endowment, the diocese will gain that permanent and sustainable source of income, allowing us to educate our seminarians, increase vocations and support priests into ministry," the Case Statement said.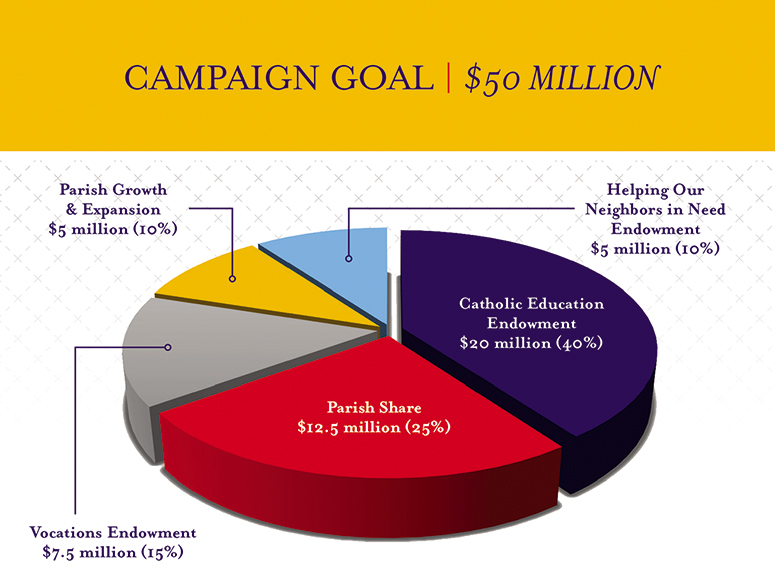 • Helping Our Neighbors in Need, $5 Million
"With its unrivaled expertise and outstanding programs, Catholic Charities, Diocese of Nashville supports the diocese's outreach activities as its social services arm," the Case Statement said. "It is one of the most respected faith-based nonprofits in Middle Tennessee.
"But the organization's current funding model – primarily local, state and federal contracts and grants, along with diocesan and community support – cannot keep pace with the increasing demand for services in our growing city and region. …
"It is imperative the diocese provide a large, permanent and sustainable funding source so Catholic Charities can be nimble when opportunities arise to expand or build new programs, such as response to disasters," the Case Statement said.
With the $5 million raised in the Legacy Campaign, the diocese will create an endowment that will provide an additional $250,000 annually for Catholic Charities to use to serve those in need.
• Catholic Education, $20 million
While the Advancement of Catholic Education (ACE) endowment funds Welcome Grants that cover a portion of tuition for students new to Cathoilc schools and other tuition assistance and academic enhancements, the current $5 million endowment is insufficient to meet the needs of all the families who desire a Catholic education, the Case Statement said.
"With an average diocesan elementary school's tuition at nearly $7,000 per student, a more robust endowment will enable the diocese to provide an exceptional educational experience for more children, strengthen academic programs, and help students and families alike grow on their transcendental journey of life," the Case Statement said.
Adding $20 million to the existing $5 million endowment for schools in the diocese will create approximately 500 additional scholarships per year, based on average amount awarded. "Increasing access to a Catholic education will also boost enrollment – an essential step for the long-term sustainability of our schools and our communities, developing devoted Catholic parishioners for the future," the Case Statement added.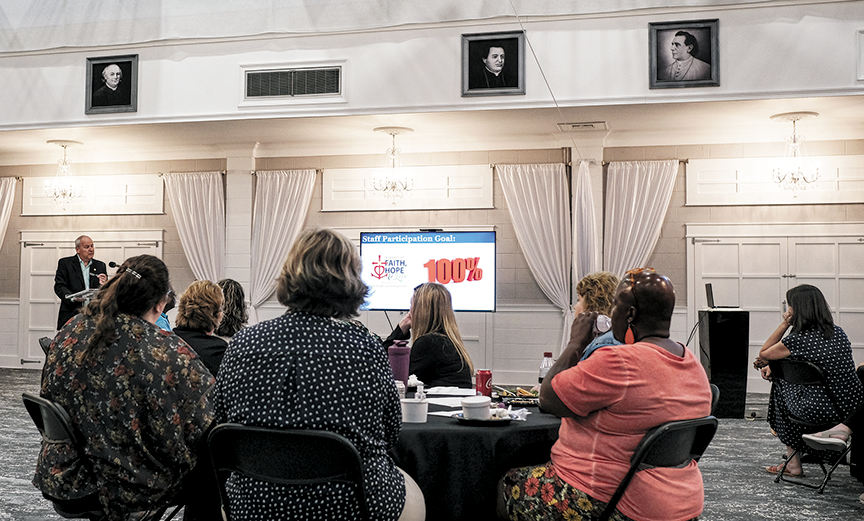 Careful study and planning
The diocese, with the help of the Steier Group, a national Catholic development consulting firm based in Omaha, Nebraska, has been preparing for the Legacy Campaign for more than a year, and completed a planning study in March 2020.[RM1] "The purpose of the study was gauging support for what we thought the priorities would be, identifying potential volunteer leaders, and to help determine a financial projection," said Jamie Kinnaird, associate vice president of the Steier Group.
"It was a very successful planning study," added Todd Bragg, Steier Group vice president.
But just as the planning study was completed, the COVID-19 pandemic hit the country, Kinnaird noted.
"Bishop Spalding took time to determine when would be the best time to move forward," Kinnaird said. "Now that we're coming out of the pandemic, this is the time."
"We've been working, preparing for the last six months, and we're ready to go forward in October," Bragg said.
The Legacy Campaign will be launched in three waves, the first to start in October 2021. A different set of parishes will be included in each wave, Bragg explained. Dividing the parishes into three groups will allow the Steier Group to work more closely with each pastor and parish to help them set their priorities for how to spend their share of the campaign proceeds, as well as prepare to conduct the campaign at the parish. 
"For some parishes, conducting the campaign in an early wave will allow them to get started on needed projects," the Case Statement said. "Other parishes will need more time to weigh what projects need to be a priority and to prepare for the campaign."
Each wave will have a preparation phase, a solicitation phase, and a follow-up phase "making sure everyone has multiple opportunities to make this a great success," Bragg said.
The three waves are scheduled to conclude in October 2022.
The parishes involved in the first wave will be: the Church of the Nativity in Thompson's Station; St. Matthew in Franklin; Holy Family in Brentwood; St. Patrick in Nashville; St. Ann in Nashville; St. Edward in Nashville; St. John Vianney in Gallatin; St. Stephen in Old Hickory; Holy Rosary in Donelson; Immaculate Conception in Clarksville; St. Patrick in McEwen; St. Christopher in Dickson; St. Elizabeth Ann Seton in Tennessee Ridge; St. Cecilia in Waynesboro; Holy Trinity in Hohenwald; and Christ the Redeemer in Centerville. Training for the churches in the first wave has already begun.
The churches in the other two waves will be announced later.
People can donate to the Legacy Campaign in several ways, among them: pledges that can be paid over a three-year period in monthly, quarterly, semi-annual or annual installments; gifts paid in cash or check; and gifts of securities such as stocks, bonds and mutual funds.
The diocese has received a corporate donation that will cover all campaign expenses, which means 100 percent of individual donations will directly support the campaign goals.
"All donated funds will be held in a specially created trust called the Legacy of Faith, Hope, and Love Trust, Inc.," according to the Case Statement. "All gifts are tax deductible as allowed by law. Donors' gifts and pledges will be held in trust for the ministries and parishes. The diocese will disburse the gifts to ministries and parishes during the campaign as goals are achieved."
Campaign leadership
Bishop Spalding has identified leaders to help with the Legacy Campaign, including the Campaign General Chairs Lucy and Marty Blair and Chris and Bubba Donnelly.
Assisting them will be:
Executive Committee: Diocesan Chancellor and Chief Operating Officer Brian Cooper, who will serve as the chair; Vocations Director Father Austin Gilstrap, who also is pastor of Our Lady of the Lake Church in Hendersonville; Superintendent of Schools Rebecca Hammel; Vicar General and Judicial Vicar Father John Hammond, who also is pastor of St. Patrick Church in Nashville; diocesan Director of Development Ashley Linville; Catholic Charities Executive Director Judy Orr; and diocesan Chief Financial Officer Bill Whalen.
Pastor Committee: Father Hammond, who will serve as chair; Father Eric Fowlkes, pastor of the Cathedral of the Incarnation and dean of the City Deanery; Father Gilstrap; Father Joseph McMahon, pastor of Holy Family Church in Brentwood and dean of the Central Deanery; Father Cristiano Nunes, pastor of St. Thomas Aquinas Church in Cookeville and dean of the Northeast Deanery; Father Justin Raines, pastor of St. Christopher Church in Dickson and dean of the Northwest Deanery; Father Daniel Reehil, pastor of St. Catherine Church in Columbia and dean of the South Deanery; and diocesan Director of Clergy and Pastoral Support Deacon Hans Toecker.
Legacy Leaders: Elizabeth and Lloyd Crockett; Anne Cunningham and Joseph Maddux; Margaret and Richard Manning; Teresa and Michael Nacarato Jr.; and Anita and Michael Shea.
Campaign Cabinet: Carolyn and Clark Baker; Sandy and Francis Bedard; Linda and David Bohan; Betty Lou and James Burnett, Valerie and Brian Cooper; Lynda Evjen; Elizabeth and John Gromos; Cathy and Mike Kelly; Lynn and William Krueger; Gino Marchetti; Rebekah and Greg Pope; Anita and Gregory Sandfort; Sally and Ed Stack; Jeanne and Bill Stejskal; Valarie and John Stockdale; and Carol and Bill Whalen.
'A path forward'
Bishop Spalding has been hosting online meetings with the leadership of each parish, including the pastor, parish council, finance council and school board if there is a parish school, to discuss the challenges of the last year and the upcoming campaign.
He has been greeted with support for the Legacy campaign, he said.
"While our current challenges are unique and unprecedented, we are truly blessed with pastors, priests, deacons, school administrators and parishioners who exhibit the character and heart of Christ," Bishop Spalding said in a statement.
"As the Church, we must always seek to do more and be more for the people of Middle Tennessee," he said. "Even now, the Holy Spirit presents us a path forward to accomplish something extraordinary for our future, a legacy powerful, inspiring and bold. We do not want to look back in the months and years ahead and conclude that we could have done more with our God-given opportunities. Rather, we should be sowing the seeds of prosperity for future generations living our mission in an inspired, prophetic way."