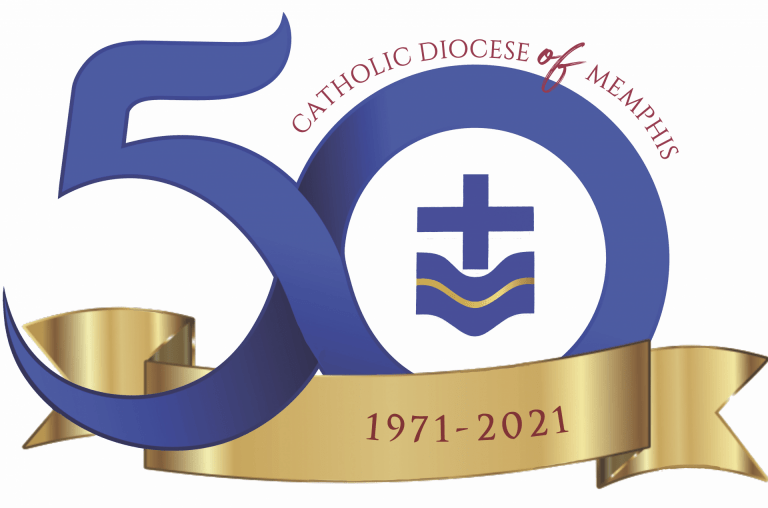 Long an important and vibrant center of Catholic life in Tennessee, Memphis was announced as the see of a new diocese by Pope Paul VI in November 1970.
On Jan. 6, 1971, the Diocese of Memphis was officially established and its first bishop, Carroll Dozier, was ordained and installed during a Mass at the Mid-South Coliseum, witnessed by nearly 9,000 people from across West Tennessee.
The diocese will celebrate the 50th anniversary of its creation with two Masses, one at the Cathedral of the Immaculate Conception in Memphis at 7 p.m. Wednesday, May 26, and the other at 7 p.m., Thursday, May 27, at St. Mary Church in Jackson. Bishop David Talley will be the celebrant and Bishop Emeritus Terry Steib will be the homilist.
Both 50th Anniversary Masses are open to the public. For those unable to attend, the Masses will be available to view via livestream on the Memphis Diocese's Facebook page (@CatholicDioceseofMemphis), YouTube channel (youtube.com/catholicdioceseofmemphis), or website (cdom.org).
The anniversary celebration was originally planned for January, but it was postponed because of the COVID-19 pandemic.
The new Diocese of Memphis, which included 21 counties in West Tennessee, was carved out of the Diocese of Nashville, which at the time covered the entire state.
In his address at the end of his installation Mass, Bishop Dozier welcomed the people to the new diocese with an eye on the future.
"As we look to the future – and we are future-bound – we may ask ourselves, what kind of a Church shall we be? What kind of a Church do we want to be?"
"One in union with the Vicar of Christ, one dispensing the grace of God to all men, one anointing sorrow with sympathy, one of love and human kindness, a good Samaritan on the banks of the Mississippi. Is this not what we, this new Diocese of Memphis, wish to be? By the grace of God, so shall it be."
The anniversary Masses are just part of the celebration. Other events include:
Four Days of Service, led by Catholic Charities of West Tennessee: at St. Louis Church in Memphis, 1-3 p.m. Saturday, June 5; at Holy Angels Church in Dyersburg, 3-5 p.m. Sunday, June 6; at St. Augustine Church in Memphis, 10 a.m.-noon Saturday, June 12; and at St. Mary Church in Jackson, 3-5 p.m. Sunday, June 13.
The focus will be on serving together to support those struggling with food insecurity, homelessness and literacy gaps. Those participating will pack snack bags, hygiene kits and literacy kits that will be distributed in areas most in need across West Tennessee.
The Diocese of Memphis' first-ever Eucharistic Congress will be held 6-9 p.m. Oct. 8 and 9 a.m.-6 p.m. Oct. 9 at the new Renasant Convention Center in downtown Memphis.
The Congress will celebrate the Lord's real presence in the Eucharist through Masses, speakers, discussions, confessions, adoration, music and more. All are invited.
Multicultural Festivals are planned for Aug. 28 at St. Louis Church in Memphis; Immaculate Conception Church in Union City and at St. Mary Church in Jackson, both on Sept. 11.
Special Anniversary Concerts will be held at St. Mary on Nov. 7 and the Cathedral of the Immaculate Conception in Memphis on Nov. 12.
The Jubilee Year will conclude with Masses during the Solemnity of Christ the King the weekend of Nov. 20-21 at the diocese's 47 parishes and missions.
A special 50th Anniversary Faith Magazine and Diocese Video will be sent out in late July or early August.
For more information about the anniversary celebration, visit the diocesan website: cdom.org.