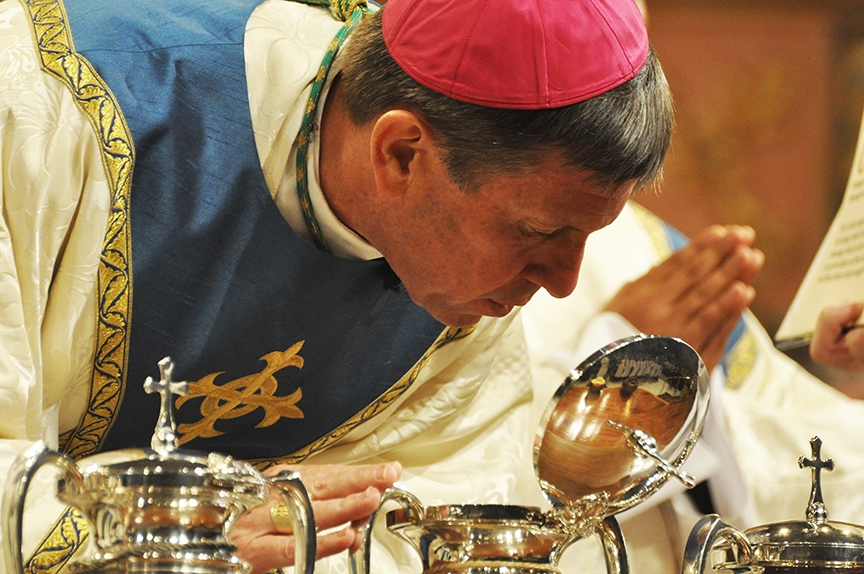 One bishop, dozens of priests, deacons, seminarians, religious and 2,000 laity gathered in Sagrado Corazon Church at the Catholic Pastoral Center for the annual Chrism Mass on Tuesday, April 12.
Totaling more than 2,500 people, it was the largest gathering of the Chrism Mass for the diocese, beating the pre-COVID-19 number of 2,100, said Bill Staley, director of New Media Evangelization for the Diocese of Nashville.
"This is an auspicious occasion," Staley said. "We love having it every year."
At the beginning of Mass, Fourth Degree Grand Knights stood at attention, swords raised, as the altar servers, Dames and Knights of the Holy Sepulchre, deacons, priests and Bishop J. Mark Spalding processed in for the Mass.
Then, following the opening prayer and the readings from the Prophet Isaiah, the Book of Revelations and the Gospel of Luke, Bishop Spalding stood at the altar and delivered his homily.
After sharing memories of family reunions with the Spalding family, he turned to the importance of the family reunion of the Church.
"It's a wonderful thing, family reunions, and we as a family must remember those kinds of gatherings," Bishop Spalding said. "Tonight, in the Chrism Mass, one of my hopes and dreams, which is very much coming true by your presence here tonight, is that each year, we have to get together and remember who we are around this table because we bring everything. … We bring our very selves, we bring our families with us, and then we unite in Christ Jesus.
"My dear people, my dear priests, deacons and wives, religious, seminarians, lay leaders, lay faithful, the whole of this diocese, we need to experience Christ and our world needs to experience him."
And it is even more important after two years of COVID, he said.
"It is not good for us to be alone. It is not good for us to be separated, as we found out the last few years," Bishop Spalding said.
But he noted the creativity and resiliency of the priests at their parishes and the schools. "I know it wasn't easy in the time, but we got through it, and we continue to get through it. But my dear people, priests, deacons, religious, everyone that is gathered here, we need to cry out, once we leave this night, 'get back together.' Our family needs a reunion. Our family needs to reunite."
And, just as reunions bring different foods to share, we all have our own gifts to share, he said.
"It's what we have to have as Church," Bishop Spalding said. "We bring the various gifts of all these priests and deacons and religious and seminarians and lay leadership and lay faithful and bring them all together, and we want to unite our Church and empower it. And we need to be taking Christ to others."
Bishop Spalding then spoke of three ways the Diocese of Nashville and the Church are working to accomplish that including the Synod on Synodality, the upcoming Eucharistic Revival, and the A Legacy of Faith, Hope and Love Campaign.
"There are some hopes and dreams we can work for, some hopes and dreams that may take a while longer. Sometimes we find out at the same table, in the same room that what she wants and what she wants are two very different things, but it's good that we gather around the table and at least hear one another and experience one another and dream with one another about a new and wonderful Church," he said.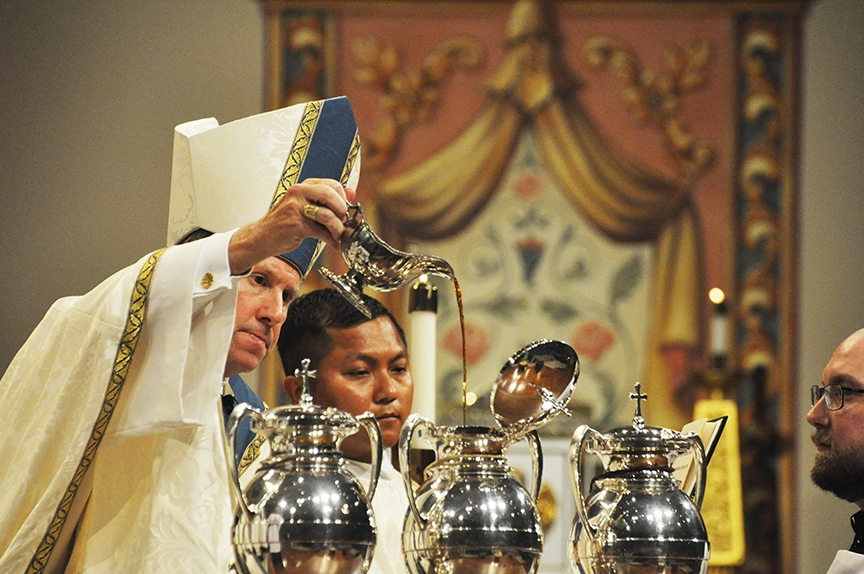 "Continue to keep dreaming, continue to be creative just like we were during COVID," Bishop Spalding added. "We bring our minds and hearts together, and we say, 'How do we serve in this situation that is challenging and difficult and bring Christ to others?' It's not just the job of these gentleman right here (the priests), to bring Christ to the world. It's all of ours in our Baptism in Christ!"
And one of the key things is to make sure we let others know of our belief, he said.
"Along with making sure your children and your grandchildren … those dear ones in your life know you love them, make sure they also know you are a believer," he said. "You want them to have the best and not only do you pass on your love to them, but you beg them to be open to the gift of faith as well because it gives us a great destiny."
And in that, everyone is called to a vocation culture, he said.
"We must constantly pray. Priests in my family, around my table, in my parish, these are my co-vocation directors right here around me. Every single priest is a co-vocation director," Bishop Spalding said. "Every single woman religious, you're co-vocation directors. Every seminarian, you work with me as a vocation director. But not only this group, every single person in this Church. We've got to work it, and we've got to make sure the resources are there for others to hear the call of God in their lives" whether it's through the education of the Catholic Schools, the work of Catholic Charities or the establishment of new parishes.
"The challenge that's in the Diocese of Nashville is the challenge of, "what do you do with all the blessings?'" he said. "Here is what we must understand. When God blesses us, he expects us to share his blessings – blessings of faith, blessings of family, blessings of our parishes, the blessing of this diocese – and we've got to help it grow and prosper together.
"We're coming out of the fog of COVID into a new and bright light, but we won't be the same as we were before. God wants us to be better. We've got to use the gifts that we have … and take Christ to others," he said.
"My dear priests, know I thank God for you. Dear deacons and your wives as well, I thank God for you. Consecrated religious, I thank God for you. Seminarians, I thank God for you. Lay leadership in this diocese, I thank God for you, and all the lay faithful, I thank God for you," he concluded. "That's how I do my morning and evening prayer. I think of all those people, that list, and I say, 'Thank you God and help me use these blessings to make Christ known this day in the world.'
"There is our mission, there is our vocation, and it's why we gather here dear family in this wonderful reunion tonight around this table and remember who and what we are together in Christ Jesus."
The renewal of priestly promises
Following the homily, Bishop Spalding led the more than 80 diocesan priests in attendance in the renewal of their priestly promises, a highlight for many who attended.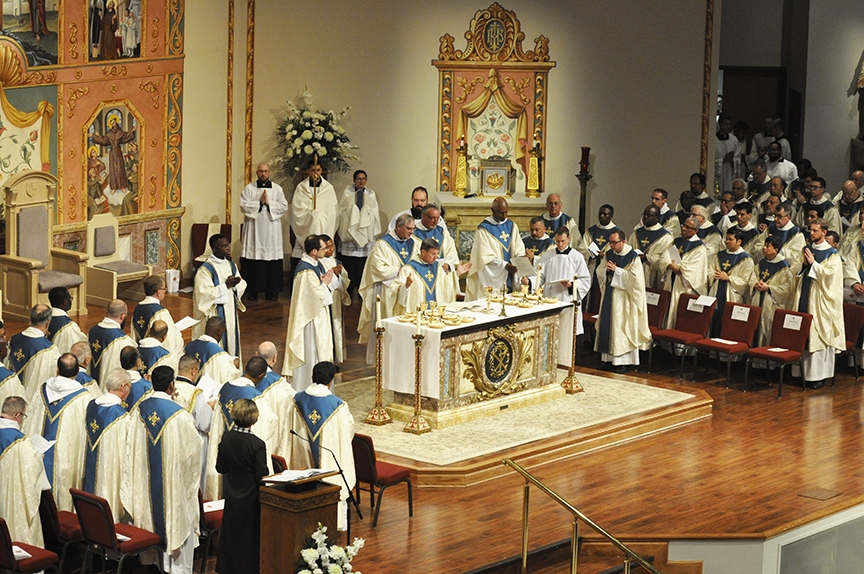 "To be able to witness that (renewal of promises) I think will be a very powerful experience for us as parishioners," said Jason Wu, a parishioner of Mother Theresa Church in Nolensville, who attended the Chrism Mass for the first time with his wife, Heather. Then, recalling a guest speaker he heard at a Lenten Mission at their Church, he said, "the priest needs to be clean for the parishioner and the parishioner needs to be clean for the priest. It's a two-way street, and we get to see that today."
"It's real special to see all the priests and the unity of the Catholic Church" during the Chrism Mass, added Corinne Moore, a parishioner of Holy Family Church in Brentwood. "I love when the priests all hold their hands up (during the Eucharistic Prayer), and you realize it's not just the bishop but all of them together are making the offering so that (the bread and wine) become the body and blood of Christ."
The blessing of the oils
Following the renewal of promises, the three oils were brought before Bishop Spalding for blessing and consecration.
It is this ritual of blessing the oils that Staley said he believed is another reason why the Chrism Mass draws such a large crowd.
"These are the oils that will be used for all the sacraments, whether you're being baptized, confirmed, ordained or anointed before you go see Jesus," he said. "This Mass is the kick-off for the next sacramental year."
The Oil of the Sick, which was presented by Deacon Joe Holzmer of the Cathedral of the Incarnation, is used during the celebration of the Anointing of the Sick.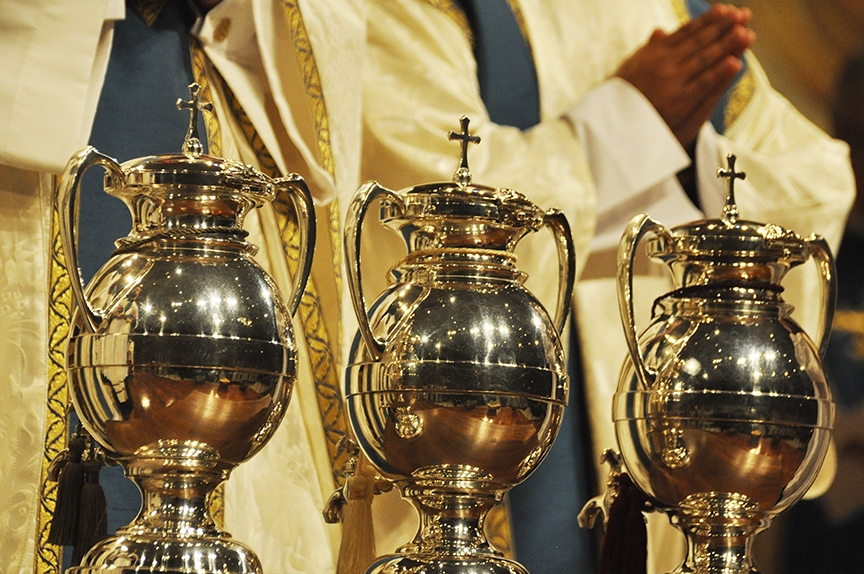 "O God, Father of all consolation, who willed to heal the infirmities of the weak through your Son, listen favorably to the prayer of faith: send forth from the heavens, we pray, your Holy Spirit, the Paraclete, upon this oil in all its richness, which you have graciously brought forth from the verdant tree to restore the body, so that by your holy blessing everyone anointed with this oil as a safeguard for body, soul, and spirit may be freed from all pain, all infirmity, and all sickness," the prayer of blessing reads.
The Oil of the Catechumens, which was presented by Deacon Rafael Bougrat of St. Philip Church in Franklin, is used in the Baptism of catechumens being initiated into the Church at the Easter Vigil.
"O God, strength and protection of your people, who have made the oil you created a sign of strength, graciously bless this oil, and grant courage to the catechumens who will be anointed with it, so that, receiving divine wisdom and power, they may understand more deeply the Gospel of your Christ, they may undertake with a generous heart the labors of the Christian life, and, made worthy of adoption as your sons and daughters, they may rejoice to be born anew and to live in your Church," the prayer of blessing reads.
The Sacred Chrism, which was presented by Deacon Brent Thayer, is used in the sacraments of Baptism, Confirmation and Holy Orders, as well as for the consecration of altars and the dedication of churches. Before the consecration, Bishop Spalding added balsam to the oil for fragrance and breathed over the opening of the vessel, recalling "the spirit of God 'moving over the face of the waters' at creation (Gen. 1:12) and Jesus' resurrection appearance to the disciples in which 'he breathed on them and said to them, 'Receive the Holy Spirit'' (John 20:22)," according to the U.S. Conference of Catholic Bishops.
Then, he prayed the Prayer of Consecration, which recalls key moments and figures in the history of salvation including the story of creation, King David, Moses and Jesus himself, before it concludes, saying: "May this oil be the Chrism of salvation for those born again of water and the Holy Spirit, and may it make them partakers of eternal life and sharers of heavenly glory."
To view the full Mass, visit the Diocese of Nashville Facebook page.