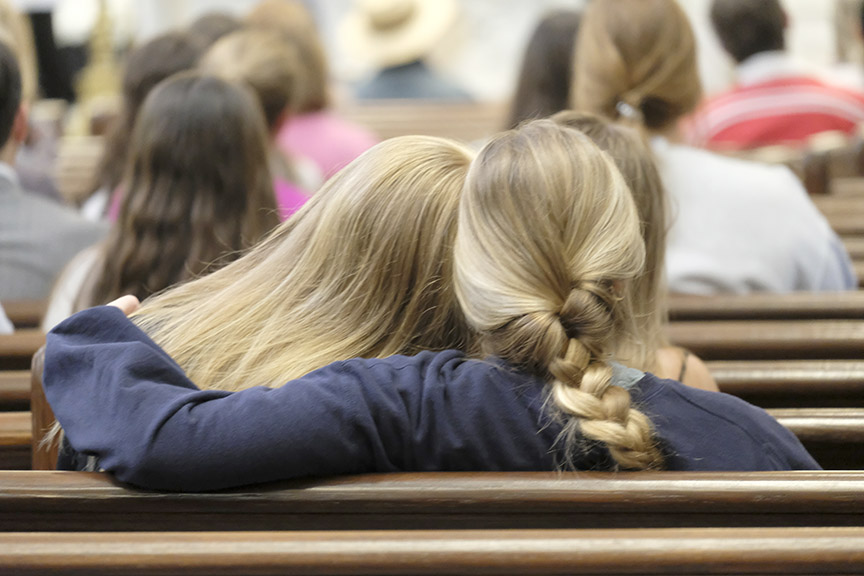 Three children and three adults were killed in a mass shooting during the mid-morning hours of Monday, March 27, at The Covenant School in the Green Hills neighborhood of Nashville. The private, Christian school educates students in preschool through sixth grade and was founded as a ministry of Covenant Presbyterian Church.
Metro Nashville Police have identified the three child victims as 9-year-olds Evelyn Dieckhaus, William Kinney, and Hallie Scruggs, daughter of Chad Scruggs, the senior pastor of Covenant Presbyterian Church, and granddaughter of Sharon Scruggs, finance counselor for Our Lady of the Lake Church in Hendersonville, and her husband, Chuck Scruggs.
The announcement was made on the Our Lady of the Lake Facebook page late Tuesday morning, March 28.
"It is with deep sadness and heavy hearts that we inform you, 9-year-old Hallie Scruggs, who passed away yesterday at The Covenant School in Nashville, is the granddaughter of parishioners Chuck and Sharon Scruggs," the statement reads. "Sharon has served on the Our Lady of the Lake staff as Finance Coordinator for many years and is dearly treasured and loved. We ask that you keep the Scruggs family in your prayers and to respect their privacy at this time as they grieve the unimaginable.
"Our Lady of the Lake is deeply united in prayer with the Covenant Presbyterian community," the post concludes. "Please continue to pray for the victims and their families and that God brings them a peace only He can provide."
The three adult victims include Head of School Dr. Katherine Koonce, substitute teacher Cynthia Peak, and school custodian Mike Hill.
The shooter, identified as 28-year-old Audrey Hale, who was armed with two assault-type rifles, was shot and killed by police officers who had responded to the scene.
"My heart breaks with news of the school shooting at The Covenant School this morning," said Bishop J. Mark Spalding in a statement posted to social media. "Let us pray for the victims, their families, and the Covenant Presbyterian community."
Representatives from the Diocese of Knoxville responded to the post saying, "Our prayers are with the victims, their families, and the people of Nashville."
Bishop Spalding celebrated the 5:30 p.m. Mass Monday, March 27, at the Cathedral of the Incarnation to pray for the victims of the shooting and the school.
"On this day of such tragedy, we come here to gather as a people who live in hope, in faith, and in love," Bishop Spalding said at the beginning of Mass. "So, as we gather today, mindful of what our faith teaches us, that darkness, sin, death does not have the final word, but light, love, and the victory of Jesus Christ does."
Bishop Spalding added to these thoughts during his homily.
"We come here to be with and for each other, not only for us gathered here in this church today, but with and for all the people of Nashville and Middle Tennessee that have gone through this day struggling, emotional, tearful," the bishop said. "We come together to be with everyone, and we're together in our prayer, we're together in our condolences and our sympathies, we're together in our love, love for another.
"We are mindful that our faith, our hope, and our love overcomes, endures, even through the darkness and the sufferings and pains of life, and today is one of those significant days of tragedy and pain," he said. "We've spoken to each other about this shooting today, and every time we think of the children, we think of the innocence, and it fills our hearts with powerful emotion, profound sadness, suffering, hurt. And we understand our words in these kinds of moments are somewhat insufficient, but for you and for our family and friends that we go to in the next hours and days ahead, please make sure you listen with love.
"Listen and let our most profound response be this. 'I love you. I care for you. I'm here for you.' Those words are sufficient for now."
"In many ways, I hope that our prayer here as a family of faith today, is like an embrace for our community, that others will know we care and we're concerned," Bishop Spalding continued, noting that the word 'lament' had been a frequent one on his mind throughout the day. "Lament is a prayer or a poem or a song in which we cry out to God in our suffering and in our pain and we tell him, 'Here is my hurt, here is my anger, here is my frustration, here is my woundedness and my weakness. Help me God. Help me in this moment.'
"And God will," he concluded. "So, let us go through this Mass offering up our prayers, asking God to pour even more love into our hearts so that we can, in so many ways, embrace this hurting community around us.
"God, through the gift of your Son, you have brought life to the world. Send Him into our hearts at this time, and as we pray for those family and friends of the lost, may they never forget our love for them that we show in the name of Jesus, Lord, Savior, Victor over sin and death."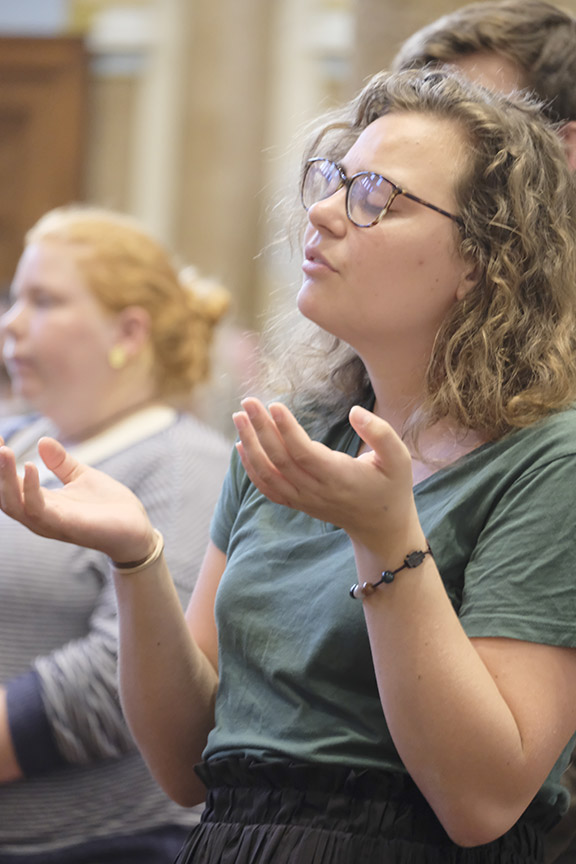 Nearly 150 people were present for the Mass.
"It was incredibly heartbreaking to hear about the shooting, especially at a school so close to us where a lot of my good friends babysit kids who go there," said Bridget Hall, a junior at Vanderbilt University. "I'm in a lot of group chats with Christian groups, and we all just prayed all day long for these kids and for their families, so it was really heartbreaking to hear."
Reflecting on why she wanted to come to Mass, Hall continued, saying, "This is my community and I can't do anything other than pray for those kids and for their families."
Lynn Davis, a parishioner of the Cathedral, had similar feelings.
"I'd heard about the shooting from a friend of mine whose two daughters went to Covenant School, and I know the heartbreak she was feeling, and I was just stunned," Davis said. "I turned on the television and just started to watch things unfold and I thought, I just need to be with people who love God, trust God, and can offer heartfelt condolences and prayers in a way that was meaningful for me."
The Diocese of Nashville released a statement Monday afternoon in regards to the deadly shooting.
"The news of the shooting and loss of lives at The Covenant School this morning is deeply sad and shocking," said Brian Cooper, chancellor and chief operating officer. "It is a painful reminder that these horrific events can happen at any time. Our own city is not immune to this violence.
"Across Middle Tennessee, our churches and schools continue to be vigilant as we focus on the safety and security of parishioners, students, faculty, and staff. It is a top priority," he continued. "Within the last five years, the diocese has conducted multiple comprehensive security reviews of each school and adjacent parish grounds. We have taken significant steps to continually enhance the security of our facilities in cooperation with parish leaders."
This school shooting is just one of many that have plagued schools around the nation in the last several years and is even more reason why the Diocese of Nashville and the Catholic Schools Office remains vigilant to the safety protocols and practices put in place at the 16 diocesan schools and three independent Catholic schools, diocesan officials said.
"We have in place mandatory training for our faculty, staff, and administration. This was established several years ago," Dr. Rebecca Hammel, superintendent of schools for the diocese, added in the statement. "This training accompanies annual site and safety protocol reviews and regular safety drills conducted with staff and students in our schools. We will look for opportunities to strengthen our safety protocols as we learn from the ongoing police investigation of this sad incident."
"All of our Davidson County schools went on a lockdown," said Dr. Hammel, in a separate interview with the Tennessee Register. "All of our schools work with local authorities on a regular basis and the police departments are very good to our schools in that they will typically call our schools to let them know that something of this magnitude is happening, and then they respond with lockdowns and taking whatever precautions are necessary on campus. That certainly unfolded today.
"When we got word, I got on our group text and was able to communicate with the principals that way to make sure the local schools were indeed locked down," she said. "This tragic event gives us all pause to re-evaluate our own protocols and to ensure that our children's safety remains the top priority for us at all times. It's the core of our decision-making and the basis of what we do every given day."
Father Ed Steiner, pastor of St. Philip the Apostle Church in Franklin south of Nashville, posted a message to the parish Facebook page as he announced a rosary would be prayed for the victims at the church Monday evening, and a dedicated Mass intention for the victims during the 9 a.m. Mass on Tuesday, March 28.
"A few months ago, Capt. Rick Clouse of the Franklin Police Department, gave an active shooter training for our staff, our ushers, our ministry leads, and anyone who was interested in the training. We took the training seriously, but there was an element of the training being only for a hypothetical situation. 'Such a thing would never happen here,'" the post reads. "Now, with another school shooting just a few miles away on Hillsboro Road, such an event is no longer hypothetical. …
"Those who were killed are clearly victims, but their parents and families are victims as well," he continued. "Additionally, all those in the school building and the parents and families of those in the building will suffer trauma for many years to come. Many First Responders will have been traumatized as well. All of these children and adults need our most earnest prayer."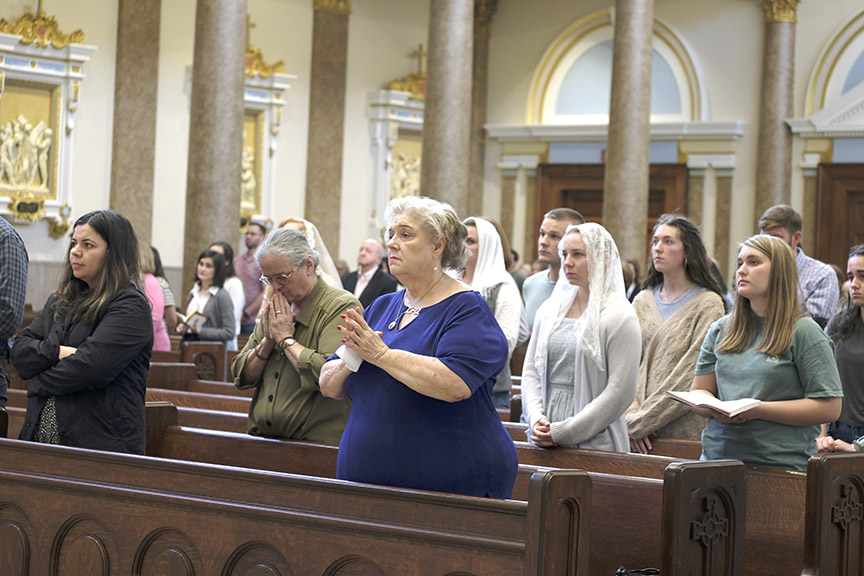 "We will ask many questions in the days to come, especially why this happened," Father Steiner concluded in the post. "But for now, our hearts, concerns, and prayers are with the victims."
Tennessee Gov. Bill Lee released a statement on Twitter assuring citizens that "I am closely monitoring the tragic situation at Covenant and the (Tennessee Department of Safety) and (Tennessee Highway Patrol) are assisting local law enforcement and first responders at the scene.
"As we continue to respond, please join us in praying for the school, congregation, and Nashville community," he concluded.
Nashville Mayor John Cooper also released a statement on Twitter: "In a tragic morning, Nashville joined the dreaded, long list of communities to experience a school shooting. My heart goes out to the families of the victims. Our entire city stands with you. As facts continue to emerge, I thank our first responders and medical professionals."
The Diocese of Nashville and the Catholic Schools Office encouraged all to keep the victims in their prayers.
"It's so hard to even find the words because it's tragic, it's senseless, it's a loss of innocent life," Dr. Hammel said.
"They are our colleagues. We know people there and we're saddened that they're not only experiencing this but that their lives are changed forever because of this senseless act," Dr. Hammel said. "We grieve with the community. As a private school in this city, we are engaged with fellow private school leaders and we care for one another, so this hits all of us deeply."