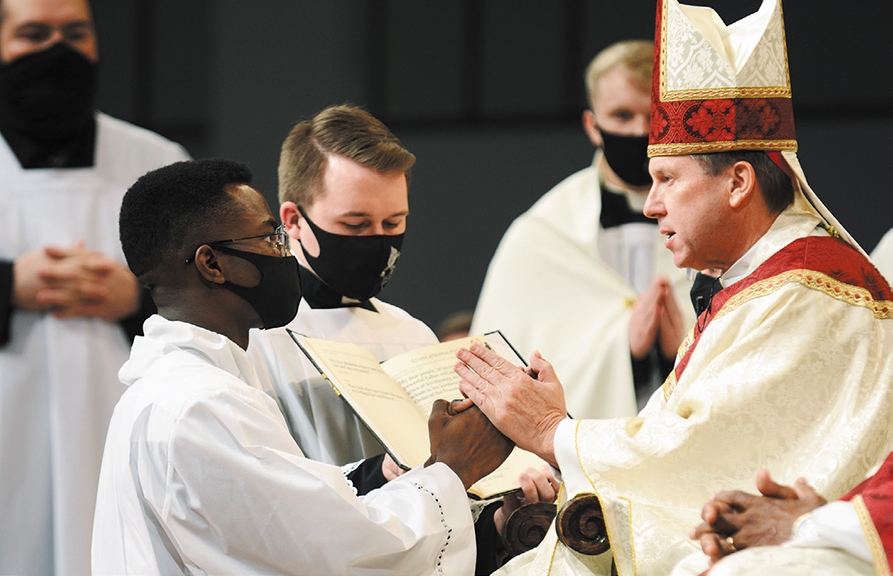 For Deacon Chukwunonso "Nonso" Ohanaka, the priesthood was always something he thought about when he was growing up.
"I always wanted to celebrate the Mass at some point," said Deacon Ohanaka, a seminarian for the Diocese of Nashville who is scheduled to be ordained to the priesthood in May. "That was what attracted me."
As a senior in high school and a freshman at Austin Peay State University in Clarksville, his thoughts about the priesthood became more serious as he began the process of trying to determine if God was truly calling him to the priesthood.
During his time at Austin Peay, "My entire prayer that year was 'Lord, place me where I need to be,'" Deacon Ohanaka said.
The next year, he was accepted as a seminarian for the diocese. "When I entered seminary, I finally got that sense of peace I was longing for," Deacon Ohanaka said. There was a feeling, he said, "I'm on the right track."
Deacon Ohanaka's journey to the seminary and ultimately ordination as a priest is called the discernment process, and is one that every person travels, especially those considering the priesthood, the diaconate and religious life.
Discernment is about discovering God's will for a person's life, said Father Austin Gilstrap, the director of vocations for the diocese as well as pastor of Our Lady of the Lake Church in Hendersonville. The discernment process, he said, begins with a simple question – "What is your will, Lord?" – that leads to a years-long, dynamic give-and-take with the divine.
It is a complicated process, Father Gilstrap said. "That's why we take so much time for discernment.
"I love the process. I love that I went through it. I love the result of the process," Father Gilstrap added. "But like anything worthwhile, it was challenging and there was sacrifice involved."
'Are you calling me?'
"The first thing to know is that God has a vocation or a calling for every single human being," said Father Gilstrap. "He doesn't create us without a mission."
One mission we all share, Father Gilstrap said, is "to get to heaven, to be a saint."
But people also have a second mission, one more specific to them, Father Gilstrap said. "The second thing we have to figure out is how are we going to live out our life."
Discernment is the process of answering that question, Father Gilstrap said. "Discernment is being able to listen to God and understand what he's saying to us."
For men discerning a call to the priesthood, the first step is having a conversation with God through their prayer life. "Without prayer," Father Gilstrap said, "discernment is impossible.
"God built us to talk to him this way, to know him this way," Father Gilstrap said. "Otherwise, we would be lost. … It is wonderful to have God help me and know he is interested in me and has a path for me and trust that he will fulfill his promises."
To begin a conversation with God, Father Gilstrap advises men considering the priesthood to go to a church, find where the Blessed Sacrament is kept, and start with a personal profession of faith. "Stir up what you believe about the Eucharist," he said.
Then ask the question of God, making it as simple as possible, Father Gilstrap said. "Are you calling me to the priesthood?" he said. "And I tell them to just stop and listen."
For Deacon Ohanaka, listening for God's answer reminds him of the Old Testament story of Elijah. God doesn't come to Elijah in the strong and heavy wind, or in the earthquake, or the fire, but in a tiny whisper.
"The more we pray, the easier it is to hear that small voice, even in the craziness of the world," said Deacon Ohanaka, who is in his last year of studies at St. Meinrad Seminary and School of Theology.
A person can begin to hear God's tiny whisper in their own feelings about the question, Father Gilstrap said. Is there a sense of peace, fear, excitement or anger, he said. "Our feelings do tell us things."
The discernment process requires us to try to understand ourselves, Father Gilstrap said. "You have to be honest with yourself and with God."
The conversation with God must be repeated day after day, Father Gilstrap said, until the person is ready to bring the conversation to the Church to say, "This is how God has been talking to me. I see these things in myself. Do you see those things in me?"
Once a man discerns what God's will is for them, he must decide whether to accept what God is asking, Father Gilstrap said. "One of the hardest things in the world to do is to choose God's will, especially when it seems to conflict with our own will."
Early in the discernment process, Father Gilstrap asks men to trust God. If they can say yes to what God wants of them, he said, then they can discern how to live out that yes.
"A man can say yes to God without knowing exactly what he's saying yes to," Father Gilstrap said. "That is a very successful discernment."
He points to the experience of Brother Pachomius Walker, OP, a friar in formation for the priesthood with the Dominican religious order who started his discernment as a seminarian for the Diocese of Nashville.
Brother Pachomius knew he was being called to something and at first thought it was the diocesan priesthood, Father Gilstrap explained. During his discernment, he realized his call was to life in a religious order instead.
"He had already said yes to God's call, but he didn't know the how," Father Gilstrap said. "Sometimes what God is saying to us is a little more nuanced."
A supernatural vocation
For men discerning whether God is calling them to the priesthood, Father Gilstrap said, his first discussion with them is about marriage.
"A lot of guys will think of their discernment as an either/or proposition, marriage or the priesthood," he said. "The problem with that is that's not how God builds us."
Every person by their physical nature has a vocation to marriage, or a natural vocation, Father Gilstrap said.
A call to the priesthood and religious life is a call that goes beyond our nature, and as such is a supernatural vocation.
The call to the priesthood is a call to "a radical availability of the man to worship God, to be that mediator of worship," Father Gilstrap said. "Principally what we do as priests is worship God and help our community worship God."
Watching the Holy Spirit work
The discernment process deepens once a man has been accepted as a seminarian and begins his studies at a seminary.
It is not a journey one makes alone, Father Gilstrap said. "Everybody is working on this discernment process with the man," including the diocesan Vocations Office staff and the faculty and staff at the seminary he is attending, he said. "We're all trying to actively listen to God."
The question they are all trying to answer, Deacon Ohanaka said, is does the seminarian have the qualities necessary to be a good priest.
There are four dimensions of seminary formation: human, spiritual, intellectual and pastoral.
Through those four dimensions of formation, seminarians "are learning more about what they're discerning," Father Gilstrap said. They are learning more about the Church, more about themselves, more about their relationship with Christ. "And through that process they're learning more about God's will," he added.
"The exciting part for me is having that opportunity to watch the Holy Spirit work so dynamically in so many people's lives," Father Gilstrap said. "It's beautiful, it's wonderful, and it's exciting to watch."