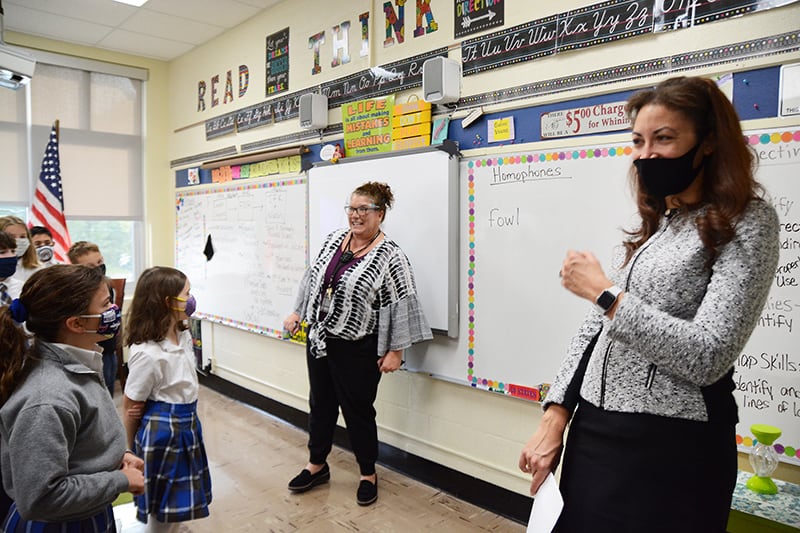 Holy Rosary Academy's recent recognition by the U.S. Department of Education for the second time as a national Blue Ribbon School "is a sign of ongoing excellence," Tennessee Commissioner of Education Penny Schwinn said during a visit to the school on Thursday, Nov. 5.
"What a big deal this is," said Schwinn, who was at the school to also convey the congratulations of Gov. Bill Lee.
Earning the award, which is based on student achievement, for the second time shows "excellence academically and excellence in who you are as people and the character you show each and every day," Schwinn said.
"Academic excellence doesn't come only from studying and getting all of the high grades and doing all that incredible work," she said during a student produced television segment that was shared online with the Holy Rosary community. "You have to have the character to keep that going year after year, and that's both with students as well as staff and faculty."
"To get the award twice is an indicator of not just a one moment in time celebration but a celebration of ongoing achievement in your school and then who you are in the school you've built together," Schwinn added.
"It's very clear why you've shown that level of excellence," Schwinn said. "Good job to all of the students. Excellent job to the faculty and staff and to the families. I know you are big supporters."
On hand to help welcome Schwinn to the school and congratulate the students, faculty, staff and community at Holy Rosary for earning the Blue Ribbon School designation was Bishop J. Mark Spalding.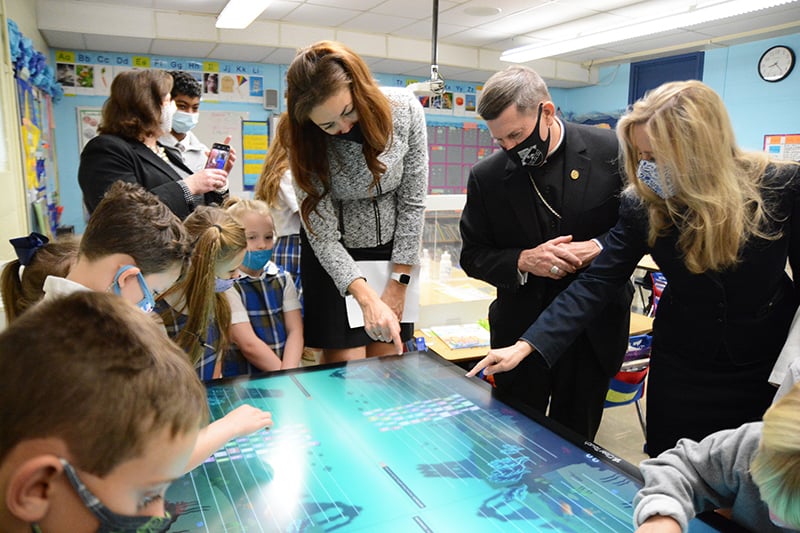 "This whole endeavor in going for a Blue Ribbon distinction for a school takes the good, hard work of each and every person," Bishop Spalding said. Being named a Blue Ribbon school is a sign "we're making ourselves better and with that challenge we're making each other better, and we reach out as one community to do this," he said.
"Be determined to use that good and wonderful spirit that is here and share it with everybody with whom you come in contact with," Bishop Spalding said. "We need this spirit that's found at Holy Rosary parish and school to be shared with everyone." Holy Rosary Principal Kimber Halliburton led Schwinn and the bishop on a tour of the school, showing off some of the technology the school uses in the classroom.
Fourth grade teacher Kellie Neal explained how she and the other teachers use an amplified sound system to make sure all they students can hear and understand them when they speak while wearing a mask.
And first grade teacher Tammy Glass demonstrated the use of the Clear Touch Interactive Panel with the students in her class.
"I call it a smartboard on steroids," Halliburton said.
The Clear Touch can be positioned flat like a table or vertically like a chalkboard. Teachers can save their work on the device, which is interactive, Halliburton said.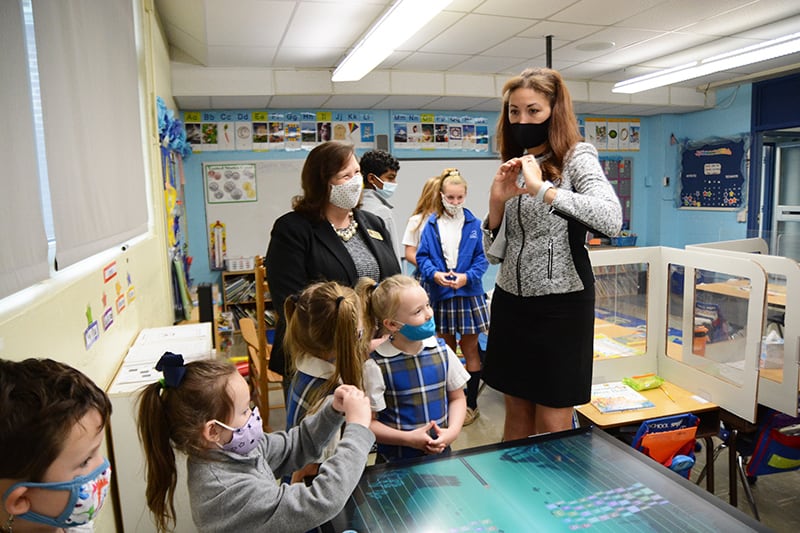 Teachers can use the Snowflake educational software to develop their own lessons that they can share with other teachers worldwide or use lessons developed by others, Glass explained to Schwinn and the bishop.
Holy Rosary currently has one and will have two more coming, Halliburton said.
"To have the commissioner here representing the governor … what an honor," Halliburton said.
"It means so much for the two of them (Schwinn and the bishop) to rearrange their schedules to congratulate our students and staff," she added. "The best word I can use is gratitude."
To view a video of Tennessee Commissioner of Education Penny Schwinn and Bishop J. Mark Spalding visiting Holy Rosary Academy, visit https://youtu.be/7Se-YGbcrrs.