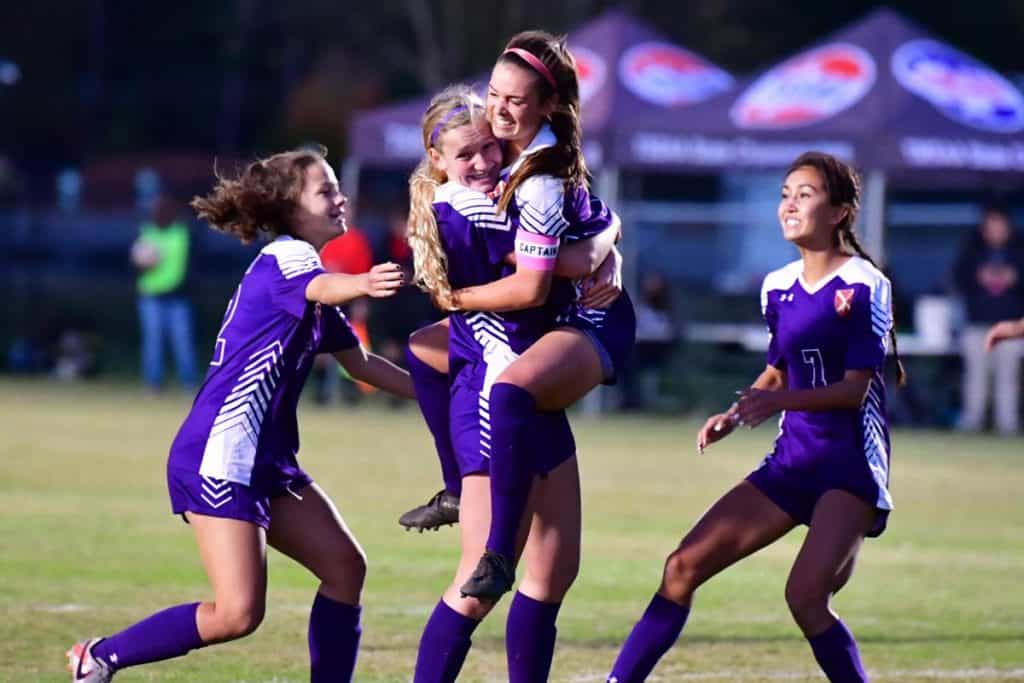 With the score tied at 2-2 and about 3 minutes left in the Division II-AA girls soccer state championship match, Father Ryan High School senior Bradie West took the ball on a throw-in at midfield, looked up and saw three Girls Preparatory School defenders and the goalie between her and the goal.
"I knew that this was probably my one chance to do something," said West. She dribbled through the three defenders and then knocked the ball past the goalie for the go-ahead goal.
The Irish clamped down on GPS for the final minutes of the game to win their fifth state championship by a 3-2 score, on Sunday, Nov. 1, at the Richard Siegel Soccer Complex in Murfreesboro.
"I think I blacked out" after scoring the winning goal, West said. "All my teammates were in a big huddle and hugging and cheering. It was awesome."
Father Ryan finished the season with a 12-1 record. GPS came into the championship match with a 15-0 record, having given up only five goals on the season, and never more than one goal in a game.
"For us to put three on them was quite a shock for them," said Father Ryan Coach Robin Dieterich.
In the first half, it didn't look good for the Irish, who fell behind 1-0 at the half on a GPS goal by Sasha Carbone.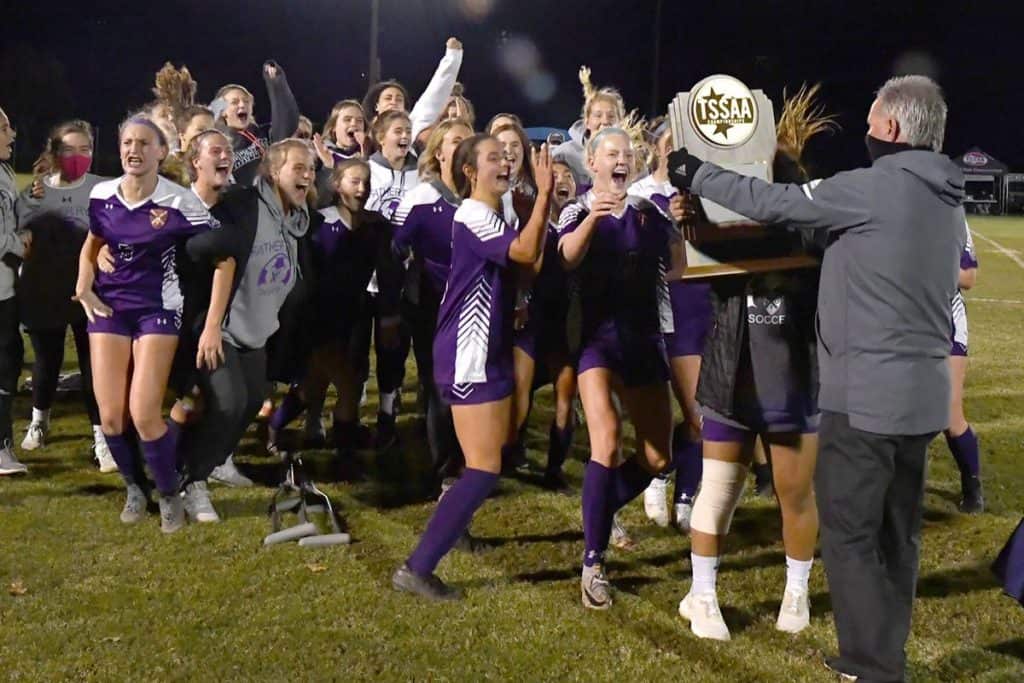 "GPS came out quickly, more quickly than we did," Dieterich said. "The first half I thought we were back on our heels too much. At halftime we made some adjustments and apparently they worked."
"One of our adjustments was to not give them the time and space we were giving them," Dieterich said. "We started winning more of those 50/50 balls we weren't winning in the first half."
"I think we just weren't going to take a loss," said senior Maddie Dooling, who helped anchor the Father Ryan defense at her center back position. "We had been in the state championship for the third year in a row. We had lost the previous two. We just weren't going to do it again. We couldn't do it."
Kelly Tuerff evened the score for Ryan on a penalty kick 45:58 into the game. Tuerff was aggressive moving the ball forward and was taken down drawing the penalty kick, Dieterich said. "And Kelly buried it."
"The PK that Kelly Tuerff scored, that really got us going," Dooling said.
The Irish took the lead when Olivia Prim scored on a corner kick at 66:10 of the game. "She was trying to get the ball into a dangerous area, and actually bent it into the goal," Dieterich said.
"That was an amazing goal, one of the prettiest goals I've seen this season," West said. "It was cool because she doesn't normally take our corner kicks."
Now holding a lead with about 14 minutes left to play, Ryan's coaches had a decision to make, Dieterich said, stay aggressive or play to protect the lead. "We started to protect it, and they got some momentum."
GPS tied the score at 2-2 on a goal by Sydney Morris with about six-and-a-half minutes left in the match.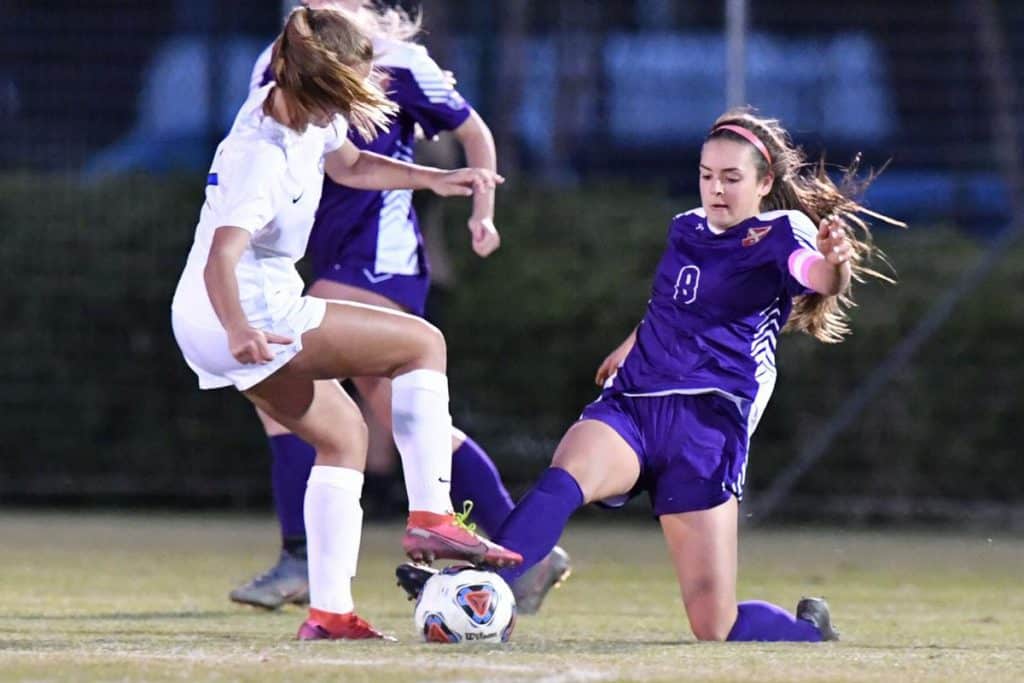 "I thought immediately the game was going to go into overtime and PKs," Dooling said. "I thought oh no, this cannot happen."
"That was a tough one," West said. "Two years ago … it was a game just like that. They ended up winning that game. I didn't want that to happen again."
West made sure when she scored the winning goal.
"We still had three minutes to hang on," Dieterich said. "It seemed like forever."
"I just thought, they're not getting a goal," Dooling said. "It's the last three minutes of my soccer career ever. I'm going to play as hard as I can and not let them get a goal."
When the final whistle blew, "Honestly, I was kind of in shock," Dooling said. "I immediately found Abbie Smith and Emma Kirchhoff and we embraced and started crying."
"Oh my gosh. That was awesome. I was crying tears of happiness," West said. "It was my last game. It was just a great way to end it and to share that with my team."
West was an offensive powerhouse for the Irish all season, scoring 19 goals and collecting 10 assists in 13 games.
"Last year we graduated two players who had most of our goals," Dieterich said. "The big question was who was going to step up and pick up the slack, and she's done that all year long."
"I just wanted to work hard for my team and my teammates and do the best that I could," West said of her banner senior season.
"Bradie got a lot of attention on one end of the field but on the other side of the field our defense was really solid," Dieterich said. "Maddie Dooling was solid back there. Next to her was Abbie Smith. It was hard to get past them."
If teams did, returning starting goal Allison Kirchhoff was waiting for them, he said.
"We're just so close," Dooling said of the key to success for her team. "We have been for so many years. We all work for each other always. We're always uplifting. It's mainly how tight-knit we are."