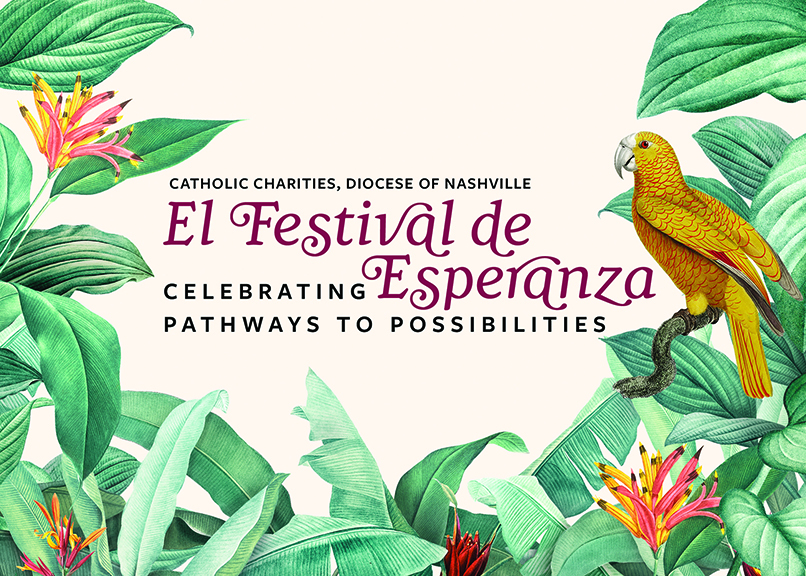 Catholic Charities, Diocese of Nashville's annual fundraiser, El Festival de Esperanza, presented by First Horizon, is quickly approaching as it brings to the forefront the program that started it all in 1962, when 43 Cuban children were resettled in Nashville during Operation Pedro Pan.
The event, which begins at 6 p.m. Wednesday, April 27, at Saint Elle, 1420 3rd Avenue South in Nashville, will embody "the energy of a Cuban culture-infused party" and "commemorate the earliest days of Catholic Charities, Diocese of Nashville, when our first program was the resettlement of 43 Cuban children fleeing for safety from their homeland, as political tensions rose to dangerous levels in 1962," according to sponsorship materials.
"Translated to 'a festival of hope,' El Festival will introduce the three Fernandez brothers (Carlos, Paul and Luis) who came from Cuba in 1962, were welcomed by the Rowan family, and attended Christ the King School for 18 months, before being reunited with their family," according to the event invitation. "This remarkable reunion of original clients and volunteers demonstrates a true pathway to possibilities for all those served by your generosity."
"We're very thankful to Catholic Charities for what they did," said Carlos Fernandez. "They gave some kids, that they didn't know much about, homes that were so loving and so caring.
"We made so many friends and met so many good people here, and the Rowan family were so nice and so loving that we have never forgotten them," he said. "My dad and my mother were always very grateful to Catholic Charities and to the Rowan family for having us here."
The 60th anniversary celebration will feature authentic Cuban food, drink, music and dance by professional Casino Rueda dance group Nashville Rueda, accompanied by Giovanni Rodriguez and 12 Manos, an authentic Cuban band. Festive, colorful dress is encouraged.
There will also be several activities available including a professional cigar roller, dominoes, and photo opportunities with a vintage automobile.
Tickets are $125 per person and available for purchase at https://cctenn.org/el-festival/.
Event parking is free and includes a shuttle service from the Nashville Film Institute Campus on Polk Avenue, just five minutes from the event location.
Sponsorship opportunities are also available. For more information, e-mail Jess Regan, Catholic Charities sponsorship manager, at jregan@cctenn.org, or call 629-702-0048.
Each guest and donor will receive a copy of the Commemorative 60th Anniversary Book, which will feature full-page portraits of 35 "graduates" of the many programs of Catholic Charities as well as essays about the various programs and the people served.
All proceeds from the event benefit Catholic Charities' ministries and programs.
"As a leading social services provider, we serve our neighbors regardless of faith tradition. Only 5 percent of our revenue is provided by diocese and church donations. Financial support from corporations, foundations and individuals is critical to meeting the needs of our neighbors," said Judy Orr, Catholic Charities executive director. "We serve more than 25,000 people annually throughout Middle Tennessee. The past two years have really demonstrated our expertise in helping people navigate the devastation of a tornado and a bombing disaster, the losses due to the pandemic, and most recently the trauma of evacuation from a country across the world.
"We hope people will generously support Catholic Charities by participating in this celebration, which promises to be a really fun night," she continued, "while also truly helping so many of our neighbors needing a hand up during these difficult times."
For more information, visit https://cctenn.org/el-festival/.