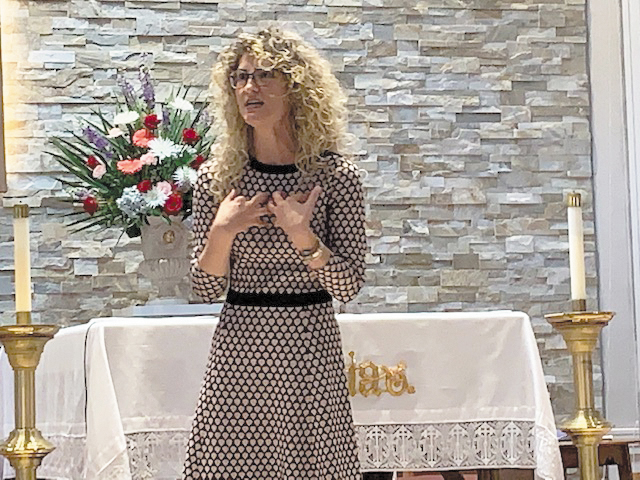 Following the guidance of the Holy Spirit will lead people to the truth, one of the speakers at the Catholic Women of Faith Conference told the women in the audience.
"Don't care about what others think. Follow the Holy Spirit's guidance and He will lead you to truth," said Kendra Von Esh, during her talk at the conference, which was held on Saturday, April 24, at St. Philip Church in Franklin.
The annual conference made a return this year after the COVID-19 pandemic forced organizers to cancel last year's event.
"Our preparations were different this year because of safety concerns," said Sherri Isham, conference director. "The biggest challenge was listening to everyone's opinions on how to accommodate those concerns and taking it all into consideration."
Because the pandemic isn't completely over yet, attendees could either watch online or go in person, with limited in-person seating available and social distancing required. Roughly 300 people attended in person, with an additional 75 tuning in online.
The day featured Mass with Nashville Bishop J. Mark Spalding, speakers Von Esh, Sonja Corbitt and Christine Watkins, and Catholic musician Taylor Tripodi. The women attending also had lunch together, recited the Rosary together, and had the opportunity to take advantage of the Sacrament of Penance and shop from local Catholic vendors.
Von Esh shared her powerful story of reversion to the faith after looking for happiness in all the wrong places.
"I was raised Catholic," she said. "I was baptized, confirmed, went to CCD every Sunday. But we didn't really talk about God at home. It was TV, magazines, and movies that raised me."
In college, she turned to drugs, alcohol, and partying for happiness. And those self-destructive habits followed her into adulthood.
In 2013, she felt compelled to go back to church for Easter. "I wasn't going to the Catholic church though!" she said. "I hadn't gone to Mass even for Christmas or Easter in more than 20 years."
But she went to Mass anyway after some convincing from her mom's boyfriend. "He said to me 'You're Catholic though. Why wouldn't you go to Mass?'" she explained. Toward the end of that Easter Mass, the priest announced that the parish would be having a Penance service for Divine Mercy Sunday.
At first, she resisted going. But dealing with a stressful situation at work left her looking for peace. She went back to the Sacrament of Penance for the first time in 26 years. "I did an examination of conscience before I drove to the service and listed all my sins on a sheet of notebook paper," she said. "What I thought would be a short list turned into a general confession."
She had her first real encounter with God while in the confessional. "I walked in and tried to put a light-hearted spin on things. I told the priest I hadn't been to confession in more than 20 years. And of all the things he could've told me in that moment, he said 'Welcome home.' And I couldn't stop crying because I knew that God was real and that he loved me!" she said.
"There is so much freedom in living for Jesus and making Him your audience of one," she said.
Corbitt, a convert from the Southern Baptist Church and a parishioner at St. John Vianney Church in Gallatin, shared lessons she learned from her relationship with the Blessed Virgin Mary.
"Our former Bishop David Choby once told me that the measure of my faith in Jesus was directly correlated to my devotion to Mary, because the best way to reach Him is through her," she said. "The first time I ever prayed the Rosary, I had no idea of what I was doing. I just thought, 'Lord, please don't hate me for doing this.' And then I learned it was basically the Bible on a string!"
She encouraged the women to study Scripture more deeply. "When Mary was saying the Magnificat, she was reciting Scripture," Corbitt said. "The Magnificat comes from a long line of Jewish hymns and psalms. It comes from the Song of Songs, the Book of Psalms, and the song of Hannah in the Book of Samuel. If we receive the sacraments but aren't studying Scripture, we're only connecting with God halfway."
Watkins, founder of Queen of Peace Media, shared the story of her conversion after a powerful encounter with the Blessed Virgin Mary.
"I grew up in an atheist household," she said. She looked for fulfillment and happiness everywhere. For quite some time, she found it in being a professional ballet dancer. But an injury put an end to that forever.
"Since ballet was taken away from me, I started exploring different things that would give my life meaning and purpose," she said. "But there was no way I would consider Christianity, and definitely not Catholicism!"
She found comfort in the New Age movement and the hookup culture. "I was so entrenched in sexual sin that images of Mary and Jesus became offensive to me," she said.
But after a cervical cancer diagnosis and a Catholic friend praying for her through Mary, she had a healing encounter that changed her life forever. "My cancer was gone after that," she said.
She now looks to Mary as her mother and encourages others to do the same. "I had hated Mary and Jesus, but they never stopped loving me," she said. "I was disconnected from God before, but Mary's intercession brought me back to Him."
The day ended with a concert by Catholic singer-songwriter Taylor Tripodi, a native of Cleveland, Ohio, the oldest of nine children, and recently named one of the top 30 Catholic musicians in the world. She aspires to use her voice to glorify God and to spread the hope of the Gospel message.
Many in attendance were glad to have the opportunity to attend an in-person event after spending months in quarantine. Donna Sabash from Immaculate Conception Church in Clarksville went with a handful of her fellow parishioners.
"I'm so glad to have come here in person with my friends from church," she said. "It's just not the same only being able to go to events that are only online. Getting to be here and see people I know from around the diocese, go to Mass in person, and listen to these great speakers has been awesome."
Overall, the day was a success. "If you think about the Gospel story of the woman at the well, women have always wanted to gather with each other since the time of Jesus," Isham said. "It really has been wonderful to see so many people here today after being away for so long."