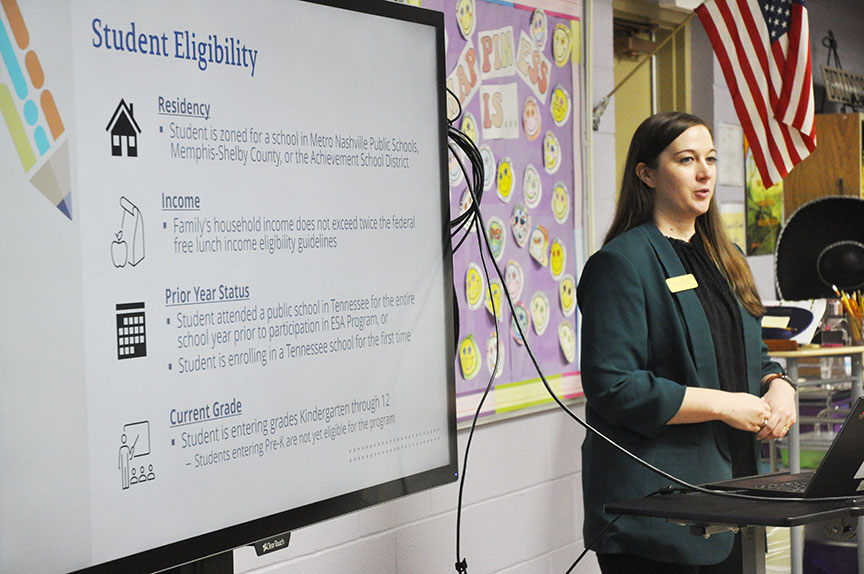 The faith formation of her children is why Luisa Recinos said she came to the Education Savings Account (ESA) Info Session Monday, Nov. 7, at St. Joseph School in Madison.
"I feel like it's very important to build a solid foundation from the beginning," said Recinos, a parishioner of Sagrado Corazon Church. "It's all about learning about God."
By applying for ESA, Recino said, she would have more of an opportunity to send her daughter, 7-year-old Ana Montes, who is a second grade student at Eakin Elementary School, and eventually her 3-year-old son Emiliano Montes, to one of the Catholic schools in the diocese. Therefore, she said she wanted to learn as much as possible and came to the information session, which was led by the leaders of the Tennessee Department of Education ESA Program, as well as translated into Spanish by Sister Mary Johanna Mellody, OP.
"The financial part was especially helpful to hear and learn," Recino said. "When you think about private school, you don't always know about the help that's out there. These info sessions provided an opportunity to learn about this great opportunity that's available" through ESA.
The ESA Info Session at St. Joseph was the first of three offered to all current and prospective ESA families in the diocese. Sessions were also offered Wednesday, Nov. 9, at St. Ann School and St. Edward School. Additionally, a session for school leaders was offered Thursday, Nov. 10, at the Catholic Pastoral Center. An estimated 50 families attended the three sessions, with 25 school leaders attending the session on Nov. 10.
"When the Tennessee Department of Education approached me about having the opportunity for our schools to host info sessions, I thought it was a great opportunity for us to collaborate and offer more opportunities for families," said Dr. Tony Bonta, assistant superintendent for operational vitality for the Catholic Schools Office of the Diocese of Nashville. "It's a great opportunity to expose our schools and also have the Tennessee ESA experts, who have been great collaborators, to give families and school leaders the most accurate ESA information."
Amber Green, director of ESA for the Tennessee Department of Education, and Lauren Huddleston, director of programs and outreach for ESA, along with Cindy Smith, director of finance and operations, led the information sessions.
During the formal portion, Green and Huddleston explained what ESA is, went into detail about eligibility requirements, walked attendees through the application process, noted how ESA funds can be used, and addressed some commonly asked questions.
The Education Savings Account program was adopted by the Tennessee General Assembly in 2019, to provide funds, much like a scholarship, according to Green, to eligible families in Davidson and Shelby Counties who want to send their children to a participating private school in the area. Funds can help families pay for tuition, books, and more.
For the 2022-2023 program, each ESA account receives $8,192 in eligible funds. Eligibility is determined based on residency, household income, prior year status of the student, and the student's current grade level.
After the formal session, leaders opened the floor to audience questions.
"Being able to ask questions in person was really helpful," said attendee Ashley Elmquist. "I was given paperwork on this already, but this info session definitely added to what I already knew about the program."
Elmquist said she's interested in ESA because of the experience her youngest son, Judah, has had going through pre-kindergarten at St. Joseph, and is considering whether her older son, Cecil Elmquist, a first grade student at Dan Mills Elementary in Inglewood would benefit as well.
St. Joseph "has been really good for Judah, and I think next year, he's going to need a bit more enrichment as a kindergartener than the school that we're zoned for is able to offer," Elmquist said. "Then, logistically, we're still in the exploring stage … but we're trying to see if it's a good fit for Cecil, too."
It was purely logistical for the family when Judah first began coming to St. Joseph, but Elmquist said their family has seen the other benefits as well.
"The longer we've been here, the more we've seen how the staff, the friends, the community has been great for our kids and really our whole family," Elmquist said, noting that even though they aren't Catholic, they occasionally attend St. Joseph Church with their friends. "We have a lot of friends who are part of this community."
As of Tuesday, Nov. 8, 35 ESA students are enrolled in one of the 10 eligible Catholic schools in the diocese including 10 at Holy Rosary Academy, four at St. Ann, 13 at St. Edward, three at St. Henry School, and five at St. Pius X Classical Academy. Other schools in the diocese that are open to ESA students are Christ the King School, St. Joseph, St. Matthew School in Franklin, Pope John Paul II Preparatory School in Hendersonville, and Father Ryan High School.
For more information, visit https://esa.tnedu.gov/.