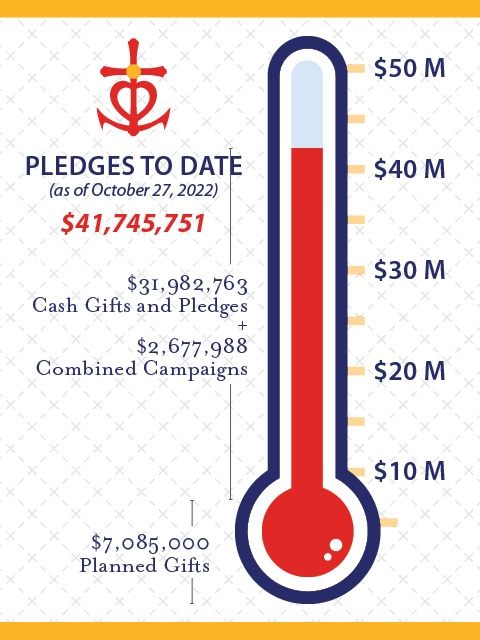 The Legacy of Faith, Hope and Love Campaign is all about bringing to fruition the hopes and dreams of the Catholics of Middle Tennessee, said Brian Cooper, chancellor and chief operating officer of the Diocese of Nashville. And that includes being ready to accommodate its continued growth.
"All the campaign priorities came from the Catholic community, and it all started from a clean sheet of paper, beginning with Bishop (J. Mark) Spalding's 90-day 'Look, Listen and Learn' tour after his ordination," Cooper explained. "He visited every single parish, most every Catholic organization and heard what was on people's minds, both their concerns and their hopes and dreams.
"After that, new leadership was assembled, and, under the bishop, we discerned and set long-term goals for the diocese to be accomplished over a five-year period," he added.
"Initially, there were basic needs of improved financial foundations, improved administration, greater levels of stewardship and care in how we use the gifts received," Cooper continued. "At the same time, we realized that, overall, our Catholic community in our entire diocese had been very blessed with significant advantages of new incoming growth, of a very strong economy, of rising real estate values, and general financial prosperity."
Once year one addressed the most immediate needs of these elements by focusing on growing the Bishop's Annual Appeal for Ministries, it was time for a long-term strategic plan, Cooper said, and thus the Legacy Campaign was born.
The $50 million A Legacy of Faith, Hope and Love Campaign is a diocesan-wide fundraising initiative to build up endowments to support in perpetuity parishes, schools, ministries and agencies of the diocese.
The historic campaign, with the assistance of Steier Group, is raising money to create new endowments or enhance existing endowments to provide future revenue for five key priorities: individual parish needs; Catholic education; vocations; parish growth and expansion; and outreach to those in need. The money will be split among each of the key priorities.
"We turned our attention to the longer-term strategic goals of strong fundamental vibrancy in core Catholic ideals that would propel our mission and our success both in the present and for many generations to come," Cooper said.
"Out of those ideals came the core nucleus to form the Legacy of Faith, Hope and Love Campaign for future generations," he said.
The parish growth and expansion priority is the final element that was needed to support the other four priorities further as they themselves grow. "The Legacy Campaign will provide permanent advantages of growth and prosperity for the broader Catholic community for generations to come," Cooper said.
Parish growth and expansion is set to receive 10 percent of campaign funds, as the diocese continues to serve the Catholics of the 38 counties across Middle Tennessee, in hopes of having Catholic churches established in every county. The diocese is already continuing that growth with the recent establishment of St. Peter the Apostle Church in Carthage and Mother Teresa Church in Nolensville, and the continued building of St. Michael Academy in Nolensville, proving the need for such an endowment for future projects.
"The exciting part is that while the Legacy Campaign did not fund any of the progress we've made thus far, in the future the Legacy Campaign will provide many new resources for these types of opportunities," Cooper said. "All of that has been accomplished by us working together and finding ways to make these changes happen.
"We know as a Catholic community, when we do things together in communion, so much more is achievable than individual efforts … and the Legacy Campaign proves that," Cooper said. "The Legacy Campaign, as it matures and as it develops, will provide an entirely new additional, permanent funding focused on those core ideals of the Church.
"With continued growth of our churches and schools, our mission will be broader and expanded so that we not only grow the Church itself, but also positively influence the values and the culture in the communities that we reside in," he added.
As of Thursday, October 27, the campaign has raised $41,745,751.
"When we put our hearts and minds together toward common goals, and place our faith in Christ and the help of the Holy Spirit, there is nothing that we can't achieve, and, as ambitious as the capital campaign goal sounded in the beginning, I believe in my heart that we will achieve it," Cooper said. "When that day comes, it sets a new standard for all of us as to what can be accomplished and achieved when we work together.
"It will propel us in ways that we cannot even imagine today, but when we look back 10, 15, 20 years from now, we will see this was an impetus for the diocese, a golden moment where we embraced Christ and we embraced each other," he added. "We're blessed for the opportunity to lift up our church and enable it to play an even greater role in bringing people to Christ."
The campaign is being rolled out at churches across the diocese in three waves, with a different group of churches in each wave. Wave One and Wave Two are complete. Wave Three is ongoing in the remaining parishes.
Steier Group, a capital campaign fundraising firm out of Omaha, Nebraska, has assisted dioceses in similar campaigns all around the country. Corporate donations have covered the fees for Steier Group to assist the diocese in managing the campaign.
For more information, visit dioceseofnashville.com/legacy.