Andy Telli and Theresa Laurence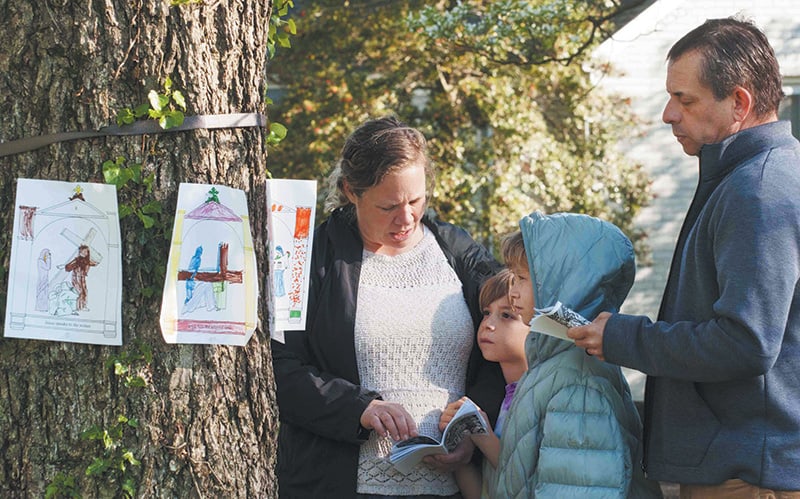 Every year, the Church's liturgical calendar builds to the events of Holy Week, culminating in Easter.
In liturgies, services and traditional devotions, the faithful gather to proclaim the death and resurrection of Jesus Christ.
But this year, with the COVID-19 pandemic hovering over the world, coming together as a community was impossible. People were forced to observe Holy Week on their own.
"It's been real hard," said Mike Porter, a parishioner at St. Stephen Catholic Community in Old Hickory. "I feel so isolated. I just can't wait to get back."
During a typical Holy Week, Porter would have been a constant presence at St. Stephen.
"Normally, I build the fire for the Easter Vigil Mass," Porter said. "This is the first time in many, many years I haven't done that."
He also serves as a hospitality minister for the liturgies and services for Holy Thursday and Good Friday as well as the Sunrise Mass on Easter.
"This is my absolute favorite time of the year," Porter said. "It's just been tough not being there."
For Holy Week, St. Stephen livestreamed the Mass on Holy Thursday, the Stations of the Cross and the Veneration of the Cross on Good Friday, and the Easter Vigil Mass on Holy Saturday.
St. Stephen Pastor Father Pat Kibby encouraged all his parishioners to watch the broadcast of the bishop's Easter Sunday Mass, Porter said. "We're going to do all of them," Porter said beforehand.
"Father Pat and our deacons have done so much to keep all of us connected," Porter said. "And it's been a big Godsend."
'Focus on Jesus'
Being separated from their faith communities has been painful for Catholics across the Diocese of Nashville.
"It's been really hard to not have the sacraments in our life," said Trish McAtee, who with her husband Michael and their five children is a parishioner at St. Catherine Church in Columbia.
"Definitely, we've seen the struggle without the sacraments, and how important they are in our lives in trying to become better people, holier people, better parents," McAtee said. "It's been very depressing on Sundays when we can't go to Mass."
And this year, they couldn't go to Mass on Easter, "the most important day of the Church year," McAtee said.
That absence created a more solemn attitude for Easter, she said. "It makes you think about what Easter was actually like and what the Apostles felt," McAtee said. "All you can do is focus on Jesus. And everything else is stripped away. That's what life's about.
"At the same time, it's a reminder that we need others to bring Jesus to us," McAtee said. The Church comes to Jesus as a community, she added.
Although the pandemic has limited that sense of community, her family has maintained their prayer life at home, McAtee aid. "We're trying to be more diligent about praying the Rosary," she said.
Her family will continue their devotion to the Divine Mercy from home this year. "Every year, we always partake in the Divine Mercy novena," which ends on Divine Mercy Sunday, this year on April 19, McAtee said. "Lots of graces flow from that."
"How important it is to remember we're here to live for heaven and not for earth. To think about what God intends for our life," McAtee said. "He wants us all to be saints. So we can think about how to do that when we all re-enter the world."
'More than beautiful'
St. Stephen parishioners Audrey and Chris Russell and their 11-year-old son Jake observed Holy Week and Easter in a doubly unfamiliar way this year. The Mt. Juliet residents lost their home in the March 3 tornado, so not only were they unable to celebrate Easter with their parish, they weren't even in their own home.
The family picked up palms from St. Stephen ahead of Palm Sunday; from their rental home in Mt. Juliet they watched St. Stephen's livestream of Holy Week Masses, and Bishop Spalding's Easter Sunday Mass from the Cathedral.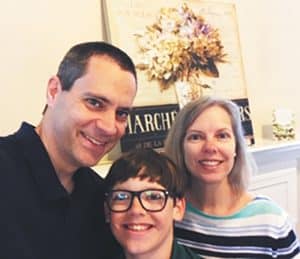 "We did not go out to Easter brunch as normal. We did not dress up quite as much," Audrey Russell said.
Even though the family has been physically separated from their parish at this time, they have stayed connected. "Father Kibby has been checking in often, praying for us, and our LifeTeen minister Angie Bosio came and brought some things to Jake, which meant so much," Russell said.
"The prayer support from my fellow leaders at Bible study has been powerful. The generosity of all to bless us with funds, food, supplies, gift cards and more has been beautiful."
As the family continues to navigate rebuilding and taking care of all their "tornado tasks," Russell said, "We know God is working through this and will bring good from it, but we have hard moments."
This has been especially tough on Jake, whose school was also destroyed in the tornado, and now he is unable to see friends.
But Russell continues to lean into her faith and the hope of the Easter season. "My word for 2020 is 'believe.' The other phrase God has given me was 'fresh start.' It's turning out to be a combination of both."
'A time of study and peace'
There have been times that Marge O'Neill has had the feeling, "Stop the world, I want to get off!"
Staying at home has given her a sense of getting away from the rest of the world. "Because I'm not going out, I've done a lot more reflection than I normally would," said O'Neill, a parishioner at St. Henry Church in Nashville since 1978. "I was ready for a time of study and peace."
O'Neill has spent more time on her screened in porch. "It's my prayer space," she said. "When I go there I'm surrounded by God's nature. That's where my thanksgiving starts. … There are a lot of things that I'm thankful for."
"I start the day doing the daily readings," O'Neill said. "I take a little more time meditating on what I was reading."
But O'Neill hasn't been completely isolated. She has used the internet to stay connected with family, friends and her parish.
She started Holy Week by driving to St. Henry to pick up a palm and a yellow ribbon that diocesan officials encouraged people to put up at their homes as a sign of unity and solidarity.
"I didn't realize how emotional I would get" when she picked up the ribbon, O'Neill said. "I realized how much we have in the Church."
She tied the palm and the ribbon to a tree in her yard. "It's a symbol that I believe" in Christ's resurrection, O'Neill said.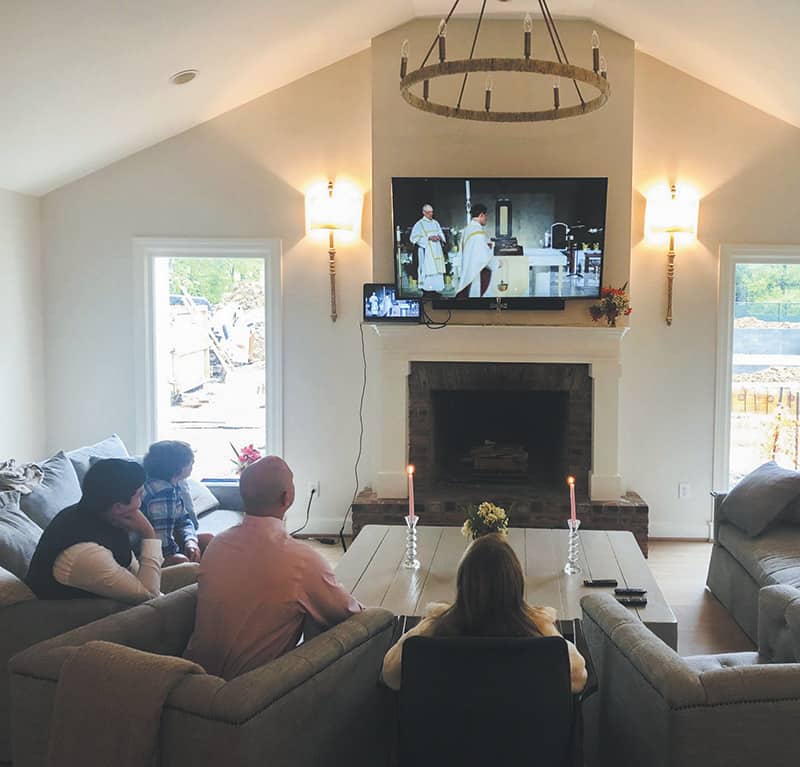 She also watched all the Holy Week liturgies and services online and on television.
O'Neill watched the Easter morning Mass celebrated by Bishop J. Mark Spalding and broadcast on WZTV-17. "That was really special," she said. "The Cathedral is just a special spot."
'God will always help'
The Strickmaker family of St. Henry Parish observed Holy Week at home "trying to be reverent and thoughtful," having family prayer time at night, according to Ann Marie Strickmaker.
During Lent, her daughter Evelyn, a fourth grader at St. Henry School, had made a "sacred space" in her room for quiet prayer, as encouraged by her teacher. She even wrote an essay to encourage others to do the same, and to "count their COVID blessings."
"I'm constantly trying to remind myself that we're going to make it," Evelyn wrote. "I have made a sacred space to talk to God, and I highly recommend doing the same."
For Holy Thursday, the Strickmaker family watched the livestream of the Mass from their parish and her daughter washed the feet of her older brothers, a seventh grader at St. Henry and a sophomore at Father Ryan High School.
On Friday, the family prayed the Stations of the Cross, and on Easter Sunday, "We got dressed up, watched Mass in our living room, had brunch Zoomed with family, and later went for a walk with our dog," Strickmaker said.
Not being physically present for the Holy Week liturgies was difficult, Strickmaker said. "We're grieving in a way, not being able to receive the Eucharist."
But, she said, "there's a beauty in being able to (observe Holy Week) in our living room, knowing the community is out there following along."
Since public Masses have been suspended and the faithful haven't been able to receive the Eucharist, "It makes you realize what a gift that is that we normally have it available," Strickmaker said. But right now, she added, "it's tough."
As her daughter reminds her in her writing, "At this time, God will always help you in a time of need. Before the coronavirus ends you could read the Bible, say prayers in a sacred space, read, do an art project, make a healthy meal for your family, play with your dog, play outside with your family, watch a family movie, have a family dinner," she wrote. "Look outside and say 10 things that you're grateful for."