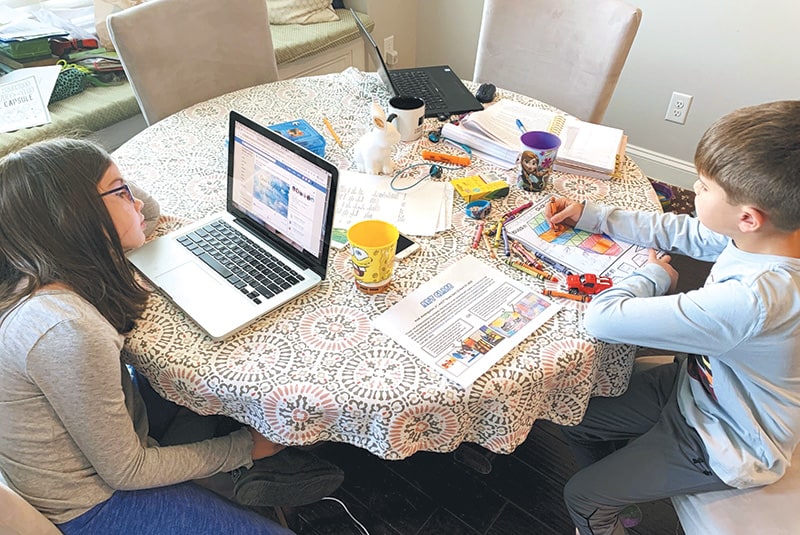 With schools closed and most offices shuttered these days, families in the Diocese of Nashville and across the country are navigating a new dynamic in their homes: distance learning and remote working. 
Most weekday mornings, "we're all working at the dining room table," said Ginette Brown, an employment law attorney and mother of two. She sits on one side of the table with her laptop, and her children, Isabella, a third grader at St. Edward School, and Langston, a first grader at St. Edward, set up their workstations alongside her.
Brown's husband, a hotel general manager, is still physically going into work, so she has primary responsibility for overseeing the children's distance learning.
That can be challenging, Brown said. "You can't write a brief when you're teaching your kid about butterflies," she said. But she does seize certain times of the day when she can "buckle into my work and pound things out."
Brown's work has been "busier than ever," she said, but she's willing to keep up her workload because "what we're doing is important to people's livelihood."
When the Brown family first started their new working and learning setup, there was an adjustment period. "We had to re-assess what we can realistically accomplish and expect of each other," Brown said. "We all have to carve out the space and time we need."
She and the children have now fallen into an easier routine. Isabella, the third grader "likes to get out of bed early, get going and check off the boxes" of her assignments, Brown said. Langston, the first grader "needs a little more hand-holding."
Before they started distance learning, "we tried to keep the kids off electronics as much as possible," Brown said. They had a little bit of a learning curve getting used to the different platforms their teachers use, but "they picked it up so quickly."
There are moments now when Brown looks at the table and realizes, "we've never used that many devices as a family all at once."
Brown said that the distance learning experience has generally gone well. "The teachers have done a fantastic job adapting lessons" for age-appropriate online learning, she said.
One of the rewards of working alongside her children at this time, Brown said, is "seeing how my kids learn. It's so nice to see what they learn and how they learn. That's the silver lining."
She's also watched her children become more self-sufficient, by necessity. "They can do so much for themselves that I've been doing for them," Brown said, such as making their own lunches.
"I've loosened up the ties a lot," she said, which has given them a big confidence boost.
Finding balance
The Thweatt family, also of St. Edward, is learning to navigate the new landscape with both parents working from home.
Christina, the school office manager at St. Edward, is the primary teacher for her first-grade and pre-school daughters.
"While teaching, I'm able to check emails and take phone calls on my cell phone, etc. for my own job," she said. But, "I have very limited time during normal working hours to sit down and focus on my job because the majority of my day is spent instructing and care taking," which also includes watching her 2-year-old son.
Thweatt's husband, the IT director for a major healthcare company, has seen his workload "dramatically increased since COVID-19," she said. He works from home, but generally has a full day of meetings and calls.
"He does his best to tag team with me," Thweatt said, and they both try to wrap up their work in time to have a family dinner together.
Having both parents home "allows us time to prepare meals and actually sit down to eat with our children," Thweatt said.
The children "really miss their normal routine, teachers and friends," Thweatt said, so establishing a home routine "has really helped us stay focused on our goals for the day."
The family set up a learning area in one of the children's bedroom to help create a classroom and have quiet space, Thweatt said.
"Our girls have loved just listening to their teachers read, morning circle time, and the Zoom meetings with their classes."
One of the biggest challenges right now, Thweatt said, is finding balance between helping her children do their work and not getting behind on her own work.
"My husband's job is very time consuming and it is essential during this time, so he is unable to really have time to sit down and help me," she said.
"We often have to play catch up after the kids have gone to bed," to finish their work for the day, she added.
The comfort of routine
Having a regular routine and clear expectations for the day has helped the Kent family, of St. Joseph School, stay afloat at this time, Rebekah Kent said. "It's comforting to my kids and to me that they have that direction."
Her daughters, in the second and fourth grades at St. Joseph, start their day watching St. Joseph School Principal Michael LeHaie recite the Pledge of Allegiance, then dive into their school work in their at-home classroom.
They each get assignments for the day or week and have several live classes via Zoom every week.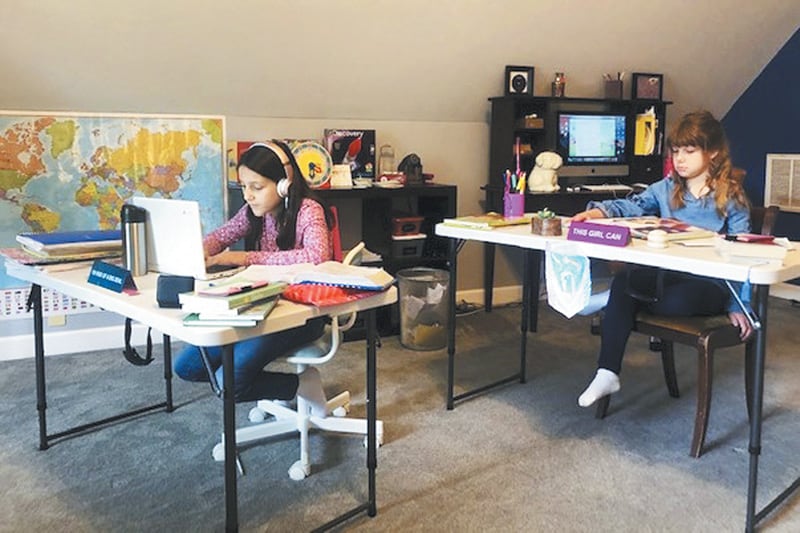 "Overall, I've been impressed with how they rolled out" the distance learning program, Kent said, "and that they were able to pull together what they did so quickly."
The Kent girls' elementary school work is not overly demanding and doesn't require them to be online constantly, so their family is able to handle the load without needing new digital devices or faster internet service.
"We got lucky," Kent said, especially since they are one of the few families she knows with a working printer at home, which they've needed to complete some assignments. For families with more children and more demanding work, "I don't know how they've been doing it, especially if mom and dad work from home," Kent said.
Kent was laid off from her job as a service manager at a downtown steakhouse in mid-March, and has been overseeing her children's learning from home while her husband Brian continues to work in the hotel where he is general manager.
"He had to lay off 40 employees so we're thankful he still has his job," she said, even though he had to take a pay cut.
Kent and her children follow a routine during the day, she said, "but not a strict timeline," taking long lunches and walks during the day to get a break from school work.
Kent and her family have taken the distance learning seriously, but, she said, "it's a lot to ask of any parent, working or non-working."
She's happy that the schools have made an effort to keep the children engaged in learning up to this point, and she feels she's gotten value from the tuition they already paid.
Catholic schools are offically extending distance learning until May 15, but it might be difficult for students to stay focused that long. Kent and other parents are thinking, "let's just start summer."