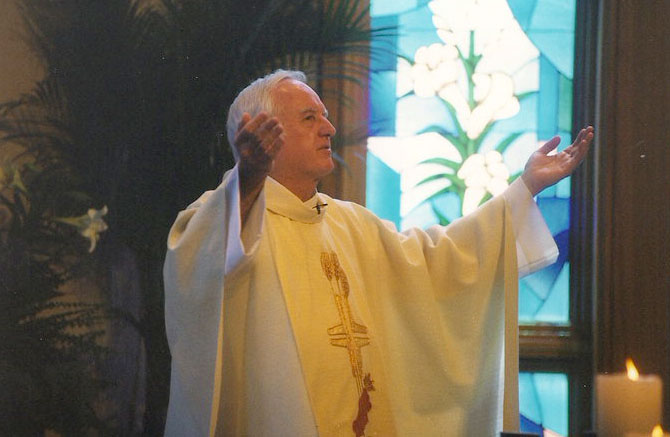 Father Joseph Patrick "Joe Pat" Breen began his priesthood just as the Church launched an era of change with the Second Vatican Council. And for the rest of his life, he embraced wholeheartedly the Council's mission of modernizing the Church.
Father Breen, who with his large extended family and wide circle of friends might have been Nashville's best-known Catholic, died on Saturday, May 21, 2022, after a long illness. He was 87.
Visitation will be 4-8 p.m. Thursday, May 26, at Woodlawn-Roesch-Patton Funeral Home and noon to 1:30 p.m. Friday, May 27, at Christ the King Church, 3001 Belmont Blvd. in Nashville. A funeral Mass will be celebrated at 2 p.m. Friday, May 27, at Christ the King.
Pallbearers will be Forrest Beavin, Bill Breen, Phil Caldwell, Jimmy French, Dr. David Thombs, Chris Tidwell, Freddie Wiggins and Dr. Mark Williams. Honorary pallbearers will be the Wednesday Morning Breakfast Group.
Bishop J. Mark Spalding was able to visit with Father Breen in the week before his death.
During the visit, "I anointed him and gave the Apostolic pardon … during a grace-filled visit," Bishop Spalding tweeted on Sunday, May 22. "We pray for the repose of Father Breen's soul and the comfort and consolation of his family."
An Apostolic Pardon is an indulgence for the remission of temporal punishment due to sin that is given to a dying person who is in the state of grace.
Father Breen was a young seminarian studying in Rome in 1959 when St. John XXIII announced the Church would convene the Second Vatican Council. "I along with my classmates and many, many others welcomed the change," Father Breen told the Tennessee Register in 2011 as he prepared to celebrate the 50th anniversary of his ordination. "It brought a new spirit into the Church."
The Church that the council envisioned, according to Father Breen, was more decentralized with greater authority for local bishops, a greater role for the laity, and more dialogue between the hierarchy and the laity.
He pursued that vision of change in the Church throughout his life as a priest, even when it led him into controversies and public disagreements with the hierarchy, which often stemmed from conflicting ideas of how the Church should implement the changes of Vatican II.
That vision also helped him build community and long friendships among the parishioners at the churches he served as pastor, St. Therese of Lisieux Church in Cleveland, St. Rose of Lima Church in Murfreesboro, and St. Edward Church in Nashville, where he was pastor for 30 years before retiring in 2014.
"I like the idea of good participation by the laity, men and women knowledgeable and competent and who truly love the Lord," he said in 2011.
Father Breen counted among his most important achievements helping in 2008 to give birth to the community of Our Lady of Guadalupe Church in Nashville, the first church for Spanish-speaking Catholics established in the Diocese of Nashville.
Back then, representatives of Radnor Baptist Church on Nolensville Road approached Father Breen to ask if St. Edward was interested in buying their facility.
"I'd never done that in my life," Father Breen told the Tennessee Register in December 2021 as he prepared to celebrate the 60th anniversary of his ordination as a priest. But he seized upon it as an opportunity to provide a home for his parish's thriving and growing Hispanic ministry.
He led an effort to raise the money to buy the property and renovate it for use as a Catholic church with help from the diocese, the Hispanic ministry at St. Edward, and many of his friends. Today, Our Lady of Guadalupe is an active parish where its five weekend Masses are attended by more than a thousand people.
"That's the greatest thing I've done," Father Breen said.
Along with his support of Nashville's Latino community, Father Breen was often a vocal supporter for the vulnerable and marginalized. He spoke forcefully against all forms of discrimination and gun violence.
A product of Catholic education himself, Father Breen was an ardent supporter of Catholic schools.
The spiritual component of Catholic schools has an impact that lasts a lifetime, Father Breen told the Register. "I don't have any doubt at all. I see it in people … the spirit still lives within them."
While he was pastor at St. Edward, he always encouraged the students to "do what's right and do your best." It became a motto for the school.
"It's simple. If you carry that out throughout your life, you'll never have any regrets," Father Breen said.
St. Edward has established the Father Breen Scholarship Program, and he was the first donor to the program. In the last year, he helped the diocese raise money for its newest school, St. Michael Academy, which will be built on property in Nolensville that will also be the site of the new parish, Mother Teresa Church.
'He loved everyone'
Following his death on May 21, Father Breen's family released a statement: "Father Joe Pat Breen was the patriarch of our family, and we never lost sight of the blessing that he was to all of us. We grieve tonight, but we know that we aren't the only ones. Joe Pat's family extended far beyond his blood kin. He loved everyone he ever met from the bottom of his heart.
"Father Joe Pat was genuine. He was exactly what he appeared to be; a man who loved God and the world and all the people God made regardless of race or gender or sexual orientation or faith or lack thereof. He was an encourager. He was accepting. He was far ahead of his time.
"We miss him already.
"The family wants to thank all the people who have loved and cared for and provided for Father Breen throughout his ministry. You were important to him, and you are to us as well.
"He always said 'Do your best and do what's right.' We will try. We will see him again."
"I'm so grateful to my family, who are so wonderful, and also to the number of friends who have made me who I am," Father Breen told the Register in 2021. "God bless 'em."
Father Breen was born in Nashville on March 28, 1935, the eighth of Anna Marie Nenon and Paul Breen's nine children. He grew up in Christ the King Church and graduated from the parish school and Father Ryan High School in 1954 before leaving for the seminary at St. Ambrose College in Davenport, Iowa, where he earned a bachelor's degree.
He completed his seminary studies in theology at the North American College in Rome where he received his degree from the Pontifical Gregorian University. "Rome was the greatest opportunity of my life," Father Breen told the Register. "When I left for Rome, I thought, 'I haven't been anywhere and now I'm going to Rome.'"
Father Breen was ordained on Dec. 20, 1961, at St. Peter's Basilica at the Vatican. He was one of several members of his extended family who had a religious vocation, including his uncle, Father Thomas Nenon, two cousins who were Sisters of Mercy, Sister Maris Stella Mogan and Sister Mary Thomasetta Mogan, and his younger brother, Father Philip Breen, a long-time pastor at St. Ann Church in Nashville who died in 2016.
"He was a great priest and a wonderful brother," Father Breen said of Father Philip Breen.
Father Breen credited his parents as great examples who invited their children to be faithful Catholics with kind encouragement.
At the time of his ordination, the Diocese of Nashville included the entire state of Tennessee. Father Breen's first assignments as a priest were in Memphis as Associate Pastor at Holy Rosary Church and as a teacher at Memphis Catholic High School for Boys. He then served at St. Peter and Paul Church in Chattanooga while also serving as assistant principal and teacher at Notre Dame High School.
In 1969, he became pastor of St. Therese of Lisieux Church in Cleveland and was responsible for the missions in Copperhill and Athens.
From 1974 to 1984, he was pastor at St. Rose of Lima Church in Murfreesboro. That assignment was followed by 30 years as the pastor of St. Edward Church in Nashville until his retirement in 2014.
After his retirement from St. Edward, Father Breen lived at Mary, Queen of Angels Assisted Living Facility.
During his life, Father Breen received numerous honors related to his many activities in the community, including: the Eternal Light Award and the Human Rights Lifetime Achievement Award from the Metro Nashville Human Relations Commission; the Hispanic Service Award from Catholic Charities, Diocese of Nashville; Champion of Religious Liberty Award on behalf of the Tennessee Muslim community; the Father Philip Breen Service Award from the Ladies of Charity; induction into the St. Ambrose Sports Hall of Fame for his achievements as a tennis player for the school; a Father Ryan Gala honoree; and a member of the inaugural class of inductees into the Nashville Catholic Middle School Forensics League Hall of Fame.
As Father Breen approached the 60th anniversary of his ordination, he looked back on his priesthood and life fondly. "I've had a real good life," he told the Register, "very fortunate, no regrets."
In addition to his parents, Father Breen was preceded in death by his sister, Ann Treadway, brother-in-law Felix Treadway, sister Mary Jo Beavin, brother-in-law Bill Beavin, brother-in-law Wallace Williams, brothers William Breen Sr., Paul Breen, sister-in-law Betty Breen, brother Thomas Breen, sister-in-law Jean Breen, brother Hugh Breen, Father Philip M. Breen, niece Susan Beavin, and great-nephew Paul Beavin Jr.
Survivors include: his sister Dorothy Williams of Birmingham, sisters-in-law Barbara Breen and Mary Breen; 29 nieces and nephews, and numerous great-nieces and nephews, and great-great-nieces and nephews.
Memorial contributions can be made to one of the following: Ladies of Charity, 2216 State St. Nashville, TN 37203; The Father Breen Scholarship Fund at St. Edward School, 188 Thompson Lane, Nashville, TN 37211; the Father Joe Pat and Philip Breen Scholarship Fund at Father Ryan High School, 700 Norwood Drive, Nashville, TN 37204.
Marshall Donnelly Combs Funeral Home is in charge of arrangements.