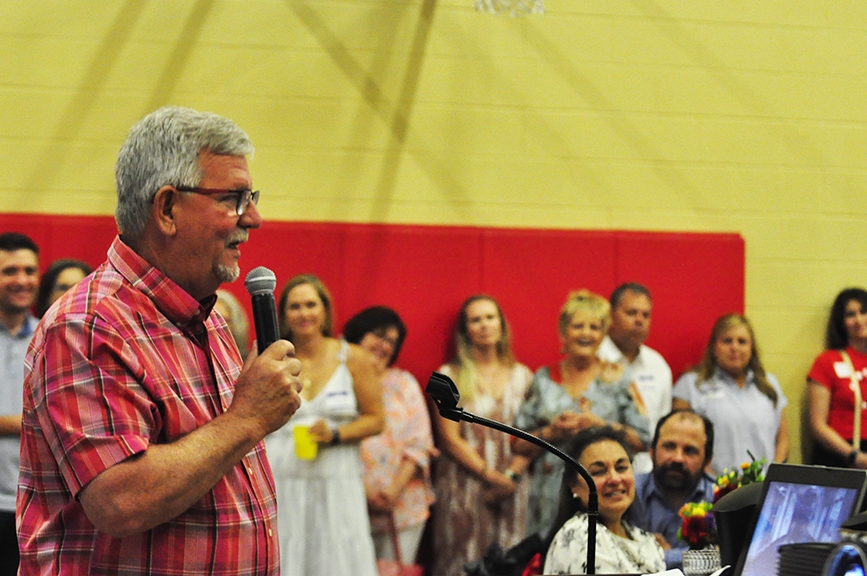 The St. Bernard Academy community gave beloved Head of School Chuck Sabo a heartfelt sendoff into retirement on Saturday, May 21.
"It's overwhelming," Sabo said of the goodbye party that comes as he ends his 16th year leading the independent Catholic school, which was established by the Sisters of Mercy in 1866. "It touched my heart."
"He has a servant's heart. He's a true servant leader," said Stephen Zralek, the incoming chair of the school's Board of Trust, a parent of a student, an alumnus, and the co-chair of the search committee that found Sabo's successor, Leigh Toomey, who will start in July. "He was able to inspire his faculty, staff and students every day.
"He took a personal interest in everyone he met," Zralek said. "Every student at St. Bernard is known and loved. And he set that from the top."
Sabo has overseen an era of growth for the school. When he took over, the enrollment was 226 students. This academic year, the enrollment was 394 students in pre-kindergarten through eighth grade. "That's our high-water mark," said Sabo, who noted that the enrollment for the 2022-23 school year will be around 380 to 390.
Key to the academic growth, he said, was adding bus routes to serve families in Brentwood and East Nashville. "Those two things helped with enrollment," he said.
The school has established a connection with the Vanderbilt University community, with 60 percent of the school's students from families with a connection to Vanderbilt.
To accommodate the enrollment growth, Sabo oversaw an expansion of the facilities in 2016 that included the addition of seven classrooms and a multipurpose space that serves as an auxiliary gymnasium.
The additional classrooms allowed the school to maintain small class sizes, Sabo said.
He also worked to maintain the St. Bernard's high academic standards. The school started using the Educational Records Bureau (ERB) standardized test. The test emphasizes critical thinking, reasoning and problem solving, Sabo said.
"We modified the curriculum along the way," implementing next generation science standards and the National Council of Mathematics Teachers' standards, Sabo said.
"Whatever it was that we thought would challenge our kids we wanted to go that way," Sabo said.
"I was always proud of the faculty we had," he added. "They worked hard, they met the kids where they were."
During his tenure, Sabo worked hard to build a sense of community among the students, their families and faculty and staff. Among the community-building initiatives were hosting a trivia night once a month and inviting parents to each lunch with their children, Sabo said. "The community bought in."
Sabo addressed the crowd at the party. "I don't know what to say but thank you."