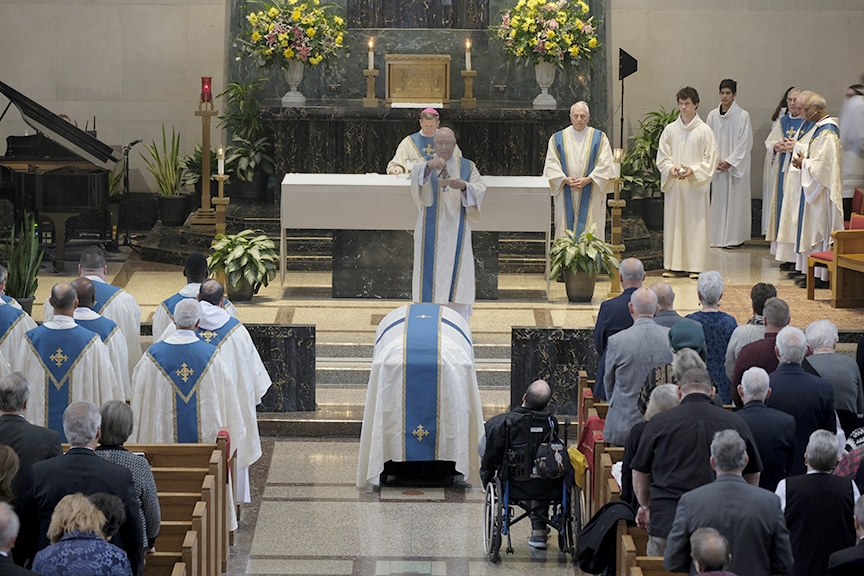 Click here for Fr. Henrick's obituary
Friends and family gathered to lay to rest the late Father John Charles Henrick on Tuesday, Jan. 31, at Christ the King Church in Nashville, Father Henrick's family parish.
Father Henrick, who was a priest for the Diocese of Nashville for more than 60 years, passed away on Sunday, Jan. 22, at the age of 87.
He was ordained a priest for the diocese by Bishop William Adrian on May 26, 1962. Throughout his time with the diocese, he taught religion and English at Father Ryan High School for six years, was pastor of Good Shepherd Church in Decherd for one year, pastor of St. Philip the Apostle Church in Franklin for six years, pastor of Our Lady of the Lake Church in Hendersonville for 10 years, and finally, served as pastor for St. Ignatius of Antioch Church in Antioch for 25 years until his retirement in 2014.
Father Henrick was preceded in death by his parents John C. Henrick Jr. and Virginia Wilson Henrick, and his sister Angela Henrick. He is survived by his sister Patricia Henrick, his brothers Joseph (Paula) Henrick, Christopher (Laura) Henrick, and William (Suzanne) Henrick, as well as several cousins, nieces, and nephews.
Funeral arrangements were under the direction of Marshall Donnelly Combs Funeral Home. He was buried at Calvary Cemetery following the funeral.
Bishop J. Mark Spalding celebrated the Mass of Christian Burial, with more than two dozen priests of the diocese serving as concelebrants.
Before the Mass, attendees heard eulogies from two of Father Henrick's long-time friends – Dan Brodbeck and Dennis Grimaud, both parishioners of Holy Family Church in Brentwood.
"I must admit, when I was asked to say a few words about John, I was humbled, yet lost for words. How was I going to do justice to honor a man that was so incredibly strong, in my eyes, in his own quiet and passionate way," Brodbeck said. "John was a priest, a brother, a son, an uncle, a teacher, a student, a traveler, a servant leader, a loyal follower of Christ, a baptizer … and yes, he was a good friend to all of us."
"John was an absolutely fabulous listener," Grimaud added. "You could sit and talk to John for a long period of time, and he had a lot of wisdom. The thing I noticed about John more than any other was his ability to help others, to be there for others.
"John was special in his own right, always engaging, always available," he said. "When I first met John, I thought John was just kind of secluded, sitting back and quiet. But it was more than that. John was actually developing a relationship and allowing you to talk so that you could feel comfortable with him. … John allowed you to tell him what you were feeling and his advice was great."
When Father Henrick was pastor of St. Ignatius, Grimaud recalled when the Hispanic community there started to become more prominent.
"He was taking Spanish courses because he had such a growing Hispanic population in his community," Grimaud said. "He was very sensitive to their needs, so he was accommodating, made them feel wanted, incorporated them, and integrated them into the whole St. Ignatius population."
During their remarks, both men recalled the days they and their families spent traveling with Father Henrick and his two close priest friends – the late Father Ed Alberts, a former priest for the Diocese of Nashville and the founding pastor of Holy Family, and Father Tom Weise of the Archdiocese of Mobile.
"There is no doubt, traveling with friends was John's way of staying close to God," Brodbeck said. "There was always an air of reverence when we traveled together. We never missed a Mass on Sunday, no matter where we were or what the schedule called for that day."
"I don't know if you've ever experienced Mass one-on-one with a priest, but it is extremely special," Grimaud added. "The Holy Spirit was present with us through John, and it was just a magnificent experience to do that. All of us who experienced it I know were changed forever."
Grimaud said he was always enamored by the relationship between Father Henrick, Father Alberts, and Father Weise.
"It was absolute friendship there. To see the relationship between these three priests. … I named them my God squad and they've been my God squad ever since," Grimaud said. "It's just amazing to me that I realize now what draws somebody to become a priest. When I look at those three priests, they were more interested in what was happening to us than what was happening to them. It was an amazing process to watch over the years.
"The relationship that they had influenced the relationship all of us had together," he said. "Traveling with them was such a pleasure."
Brodbeck and Grimaud concluded their remarks saying how much they'd miss Father Henrick.
"John, you will live in our hearts and memories for years and decades to come," Brodbeck said. "You probably already have your itinerary prepared for the years and years to come. Enjoy the fruits of the seed you sowed here on earth for all eternity, and someday soon, all of us will join you in your heavenly travels."
"I'm going to miss John tremendously," Grimaud said. "John, I have to tell you. You've influenced my life; you've changed my life. My friend, rest in peace."
Father Dexter Brewer, pastor of Christ the King, delivered the homily during the Mass, where he too shared stories of traveling with Father Henrick and the other priests and learning of Father Henrick's love for the arts and "all things cultural."
As he finished, he left Father Henrick's family and friends with words of comfort, referencing one of Father Henrick's favorite operas "Turandot" by Giacomo Puccini, which tells the story of Prince Calaf who falls in love with the Princess Turandot.
Even though he passes her test of solving three riddles in order to win her hand in marriage, she still refuses to wed him. To give her a way out, he says he will accept death, which is what any potential suitor got if they didn't solve the riddle, if she is able to guess his name by the light of the next morning.
"When the dawn comes, I will win," Prince Calaf proclaims.
"John, I say to you, the dawn has come, and both you and heaven have won," Father Brewer said. "May he sleep peacefully until we see him again."