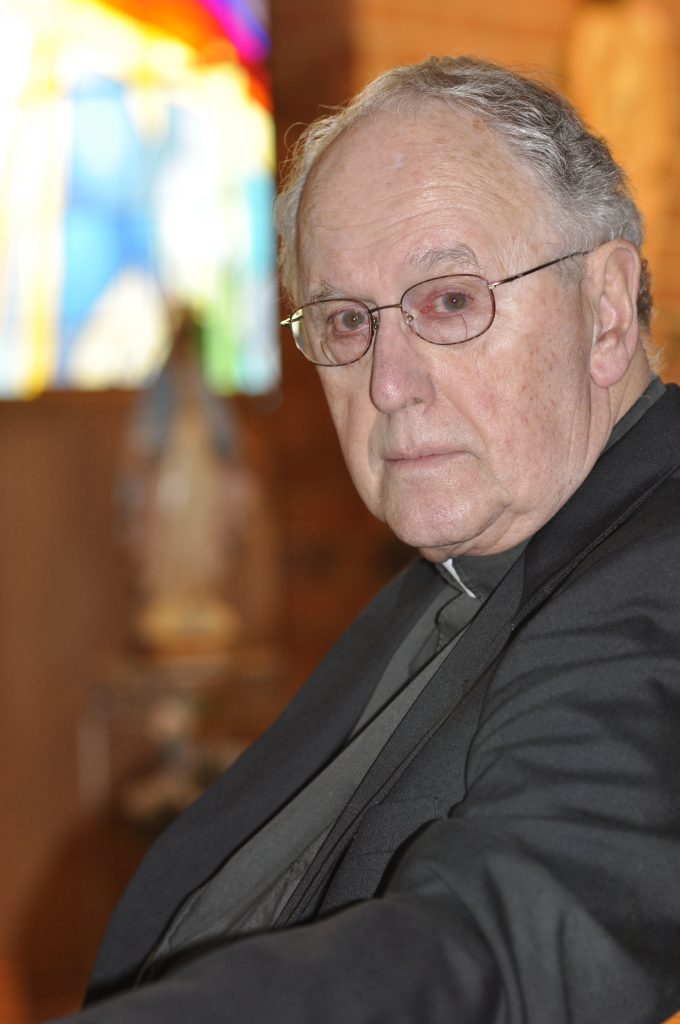 Click here for coverage of Fr. Henrick's funeral
Father John Henrick, a priest for the Diocese of Nashville for more than 60 years, died on Sunday, Jan. 22, 2023. He was 87 years old.
A Mass of Christian Burial will be celebrated by Bishop J. Mark Spalding at 11 a.m. Tuesday, Jan. 31, at Christ the King Church in Nashville, where he and his family were parishioners when he was a child.
A visitation will be held prior to the Mass beginning at 9 a.m., with eulogies at 10:45 a.m.
Father Henrick was the oldest of the six children of his parents, John Charles Henrick Jr. and Margaret Virginia Wilson Henrick. His family were parishioners at Christ the King Church when he was young, and he attended Christ the King School through the sixth grade. His family moved to Memphis, and he graduated from Christian Brothers High School. Father Henrick later earned a degree in journalism from the University of Notre Dame.
While he was awaiting word on his application for officer training school with the U.S. Navy, Father Henrick took a summer job at Camp Marymount, the Catholic summer camp in Fairview. Thoughts of the priesthood that he had when he was younger began to resurface, and instead of answering a call to the military, he heard a call to the priesthood. He was ordained by Bishop William Adrian on May 26, 1962.
"I wasn't scared," of the prospect of being a priest, Father Henrick told the Tennessee Register on the occasion of the 50th anniversary of his ordination. "I was sure this is what I was supposed to do."
Among his early assignments were teaching religion and English at Father Ryan High School for six years. His first assignment as a pastor was at Good Shepherd Church in Decherd, which lasted about a year. Then he was assigned as pastor of St. Philip Church in Franklin from 1973 to 1979. For the next 10 years, he was pastor of Our Lady of the Lake Church in Hendersonville before being named pastor of St. Ignatius of Antioch Church in Antioch. He served as pastor of St. Ignatius for 25 years before retiring in 2014.
"He was a wonderful priest and a good person," said Mary Jane Brunner, who was his secretary at St. Ignatius for 15 years. She was hired at St. Ignatius just a few months before Father Henrick arrived as pastor.
"He was always ready if anybody needed him," Brunner said. "He said a beautiful Mass every day. He was just good."
Shannon Spiller, a parishioner at St. Ignatius since the parish was established, became friends with Father Henrick through his visits with her husband, Dupre Spiller, who was homebound before he passed away. "He was wonderful," Spiller said of Father Henrick. "For years, he was so faithful in coming to see him and bringing him Communion."
"I will always be eternally grateful," Spiller said.
The Spillers were from New Orleans and would often have Father Henrick over for a dinner of red beans and rice. "I never saw anybody put as much tabasco sauce on his red beans and rice as Father John," Spiller recalled with a laugh.
"He was a shy person, but when you knew him … he was a hoot, so funny," Spiller said.
Father Henrick loved to travel and loved dogs, she said. When he became pastor of St. Ignatius, he brought with him two Scottish Terriers, and he had dogs throughout his years at the parish. "He loved those dogs."
Father Henrick was "a good priest and a good, faithful friend," Spiller said.
During Father Henrick's tenure as pastor of St. Ignatius, he saw the parish become much more multicultural, with many Hispanic parishioners as well as parishioners from Africa and Asia, he told the Register in 2012.
St. Ignatius remained a vibrant community under his leadership. "We have a very active staff, a great RCIA program, and a great religious education program," he said in 2012.
"One of our biggest ministries is our dedication to our sister parish in Haiti," Father Henrick told the Tennessee Register. St. Ignatius sends a medical mission team to Haiti every year and has sponsored a water purification program that has contributed to a significant drop in water borne diseases in the sister parish, he said.
The ministry also has a spiritual impact on St. Ignatius parishioners who participate, Father Henrick said. "It invigorates the people. They're enthusiastic and willing to go again and pay their own way."
At the time of the 50th anniversary of his ordination, Father Henrick looked back happily at his life as a priest. He told the Register, "It's been a really good life."
Funeral arrangements are under the direction of Marshall Donnelly Combs Funeral Home.