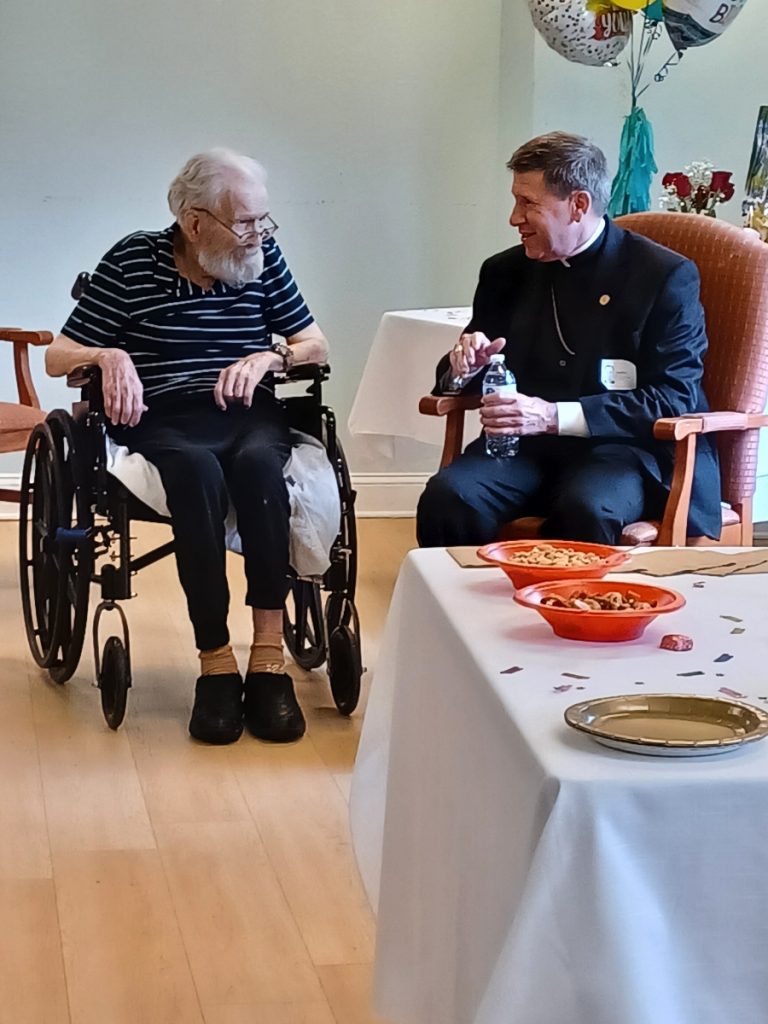 Long lives run in Father Paul Hostettler's family, and he's fallen right in line with his relatives.
On Friday, May 12, family and friends, including Bishop J. Mark Spalding and several priests of the Diocese of Nashville, helped Father Hostettler celebrate his 100th birthday.
"I would have to say we hit the gene jackpot," said Connie Radford, Father Hostettler's niece and goddaughter. "His father was the youngest of the children in his family. The oldest in the family was our Uncle John. He lived to be 102. So Uncle Paul's new goal is to be 102 and a half.
"Uncle Paul can be a little competitive," Radford said with a huge smile.
The birthday party, celebrated at the Nashville Center for Rehabilitation and Healing where Father Hostettler is living, "was a tremendous success, better even than I was hoping for," said Radford, who grew up in Nashville, attended Holy Rosary Academy and St. Bernard Academy, and now lives in Louisville, Kentucky. "All the people I wanted to be sure come, did come and honor him on his incredibly special, special day."
Father Hostettler is a Nashville native whose family settled in Tennessee in the 1880s after emigrating to the United States from Switzerland. The family first settled in Signal Mountain near Chattanooga, Radford explained. "His grandfather walked to Nashville from Signal Mountain and started this big Hostettler family here."
After Father Hostettler graduated from Father Ryan High School, he entered the seminary and was ordained a priest for the Diocese of Nashville on June 3, 1950.
After his ordination, Father Hostettler served in parishes around the state, including Memphis, Jackson, Cleveland, and Athens, among others. As pastor of St. Therese of Lisieux Church in Cleveland, he led efforts to build a church there.
When the Diocese of Knoxville was established in 1988, Father Hostettler became a priest of that diocese.
"My favorite place was Copperhill," in the southeast corner of the state along the borders of Tennessee, Georgia, and North Carolina, Father Hostettler told the Tennessee Register in 2015 at the time of the 65th anniversary of his ordination. When he was a pastor in Cleveland and later in Athens, he served at St. Catherine Laboure Church in Copperhill as a mission. When he retired for the first time in 1993, he volunteered to go back to Copperhill to serve there full time and stayed for 13 years.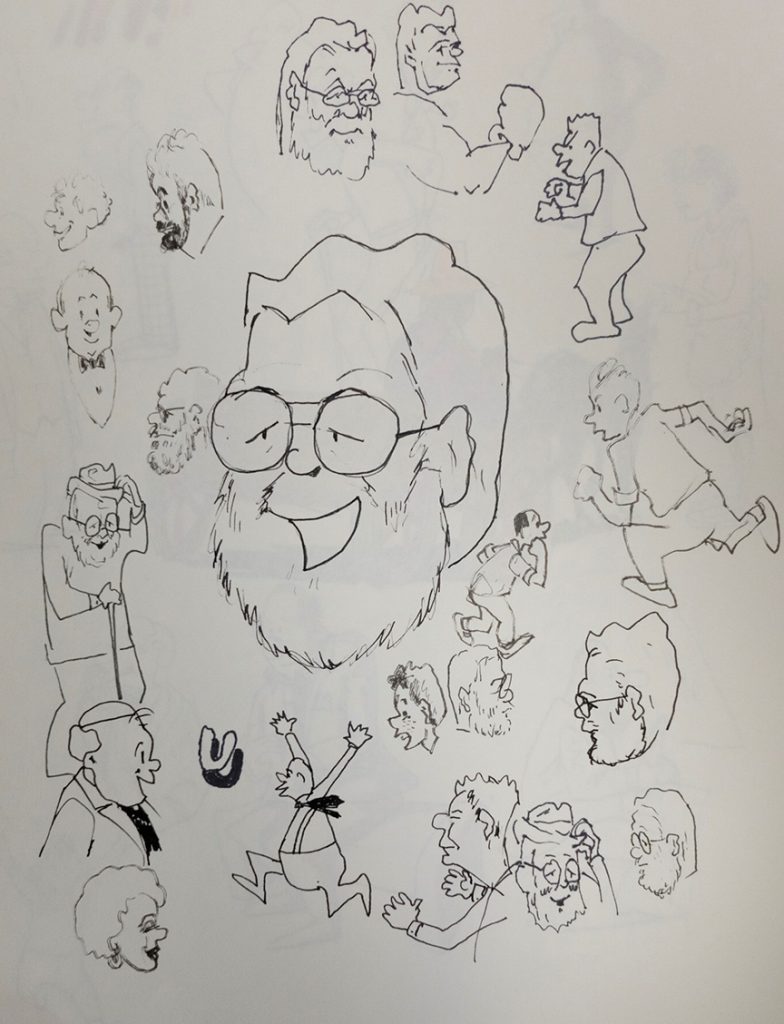 "It's a very small town. When I was living there, there were only about 400 people living in the town, and I got to know a whole bunch of them," said Father Hostettler. "I loved that part of the state. Something about it got into my blood."
Father Hostettler retired for the second time and moved back to his hometown of Nashville to be closer to family. For several years, he served as chaplain at Mary, Queen of Angels Assisted Living Facility, celebrating Mass there.
"I love him so much," Radford said. "He's been the most wonderful uncle in the world."
Her affection for her uncle is shared by many who know him. "I think people love his humility," Radford said. "He's very funny. … He charms everyone. 
"I know people who say because of him they have come back to the Church … even more devoted to the Catholic Church and to Jesus," Radford said. "He was always a wonderful example to me, just watching someone live a godly life."
Father Hostettler is a man of many talents, his niece said. "He was a great golfer. … He was a horseman," serving as the riding instructor at Camp Happy Hollow, the forerunner to Camp Marymount. Her uncle is also "a very talented artist," she added. "Just intelligent. And I think that's why people like him. He's such a well-rounded person."
Father Hostettler has loved being a priest, Radford said. "Being a loyal, godly priest is his life," she said. "All of the flocks that he has cared for have cared for him and really appreciated him."
Celebrating Mass and administering the sacraments for people is the most fulfilling aspect of being a priest, Father Hostettler told the Tennessee Register in 2015. "That's when you're another Christ. When you say this is my body, this is my blood … that's a great privilege to do that for the people."
"In my opinion," Radford said, "Uncle Paul has lived the life of his dreams. How many people get to do that?"