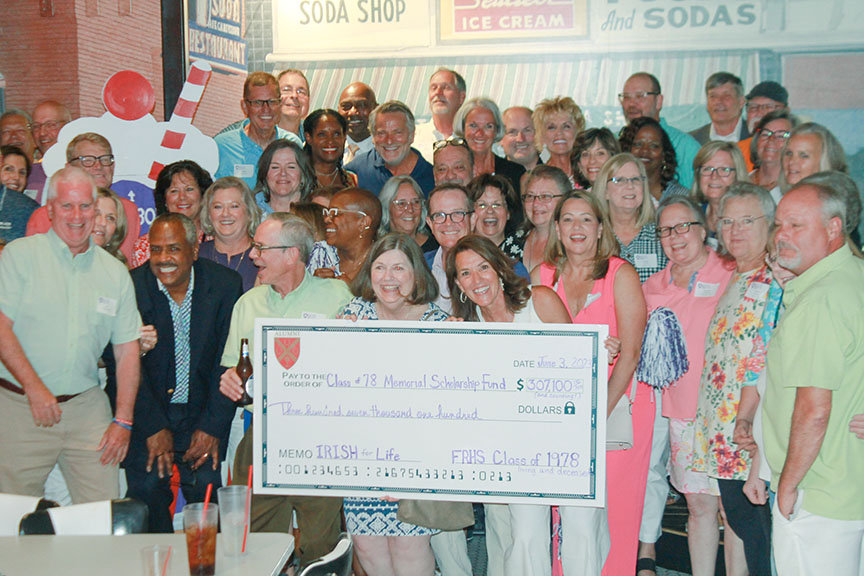 As the Father Ryan High School Class of 1978 gathered for its 45-year class reunion on Saturday, June 3, at the Elliston Place Soda Shop just two blocks away from the original high school campus, they came together not only to celebrate the past, but to support the future with the Class of 1978 Memorial Scholarship Endowment Fund.
"Our great friend and fellow alum John Bumpus, and his wife May, contacted Melissa and I last year with an idea, opportunity, and a challenge," explained Eddie Vaughn, a member of the class of 1978 and a member of the reunion committee.
The idea: "What if we as a class raised a large gift to support tuition assistance at Father Ryan," Vaughn said. "John and May made a generous initial gift and asked us to take this idea to our class and see where it would lead."
That was the challenge, he said. "Find others who would say 'yes,' so we could build the gift into something meaningful," Vaughn continued. "We gathered a small group first, and then sent a request to our entire class."
The response was more than anyone expected as the challenge was accepted. With an initial goal of $250,000 to start, the class came together to raise $307,100.
Amongst the donors from the class of 1978 include: Bud and Beth Archie, Lucy (Davis) and Marty Blair, Donna (Davis) and Paul Griffith, Julie (Corby) and Sean Groark, Jim and Ellen Simpson, Eddie and Melissa (Freeman) Vaughn, Rick Barry, Mary (Mitchell) and Jack Burns, Matt and Martha Gorham, Craig and Janna Lamb, Barry Tamburin, John and May Bumpus, Bill and Susan Green, Scott and Patricia Hunt, Steve and LeAnn Mock, Charlie and Mimi Vaughn, and Mike and Tracy Wehby.
"The fund is ongoing for 1978 alumni contributors, supporting our alma mater and future students with need," Vaughn said. "This 1978 Memorial Scholarship Endowment Fund will support 'needs based' tuition assistance for those who can't afford the cost of Catholic education. It is given in the name of all members of the class of 1978, living and deceased."
For more information about Father Ryan's scholarships and tuition assistance, visit fatherryan.org/admissions/tuition-accessibility.