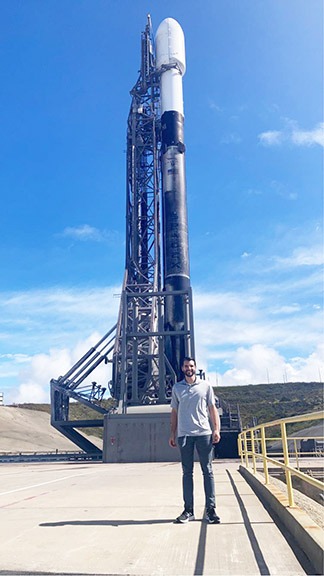 Christian Suray, a 2016 graduate of Father Ryan High School, got the work opportunity of a lifetime after graduating from the University of Alabama in 2020 with his degree in Aerospace Engineering. He was selected to work as an engineer for Elon Musk's SpaceX space crew.
"Since high school, I had been following SpaceX and had always wanted to work for them. I applied when I graduated college and was selected for an interview," Suray explained, noting the five-step process that includes behavioral and technical interviews. "The last step of the process is being flown out to Los Angeles to participate in a day-long interview where I presented on a technical project I completed to a panel of SpaceX engineers and then interviewed with each of the panel members individually afterward.
"The next day, I heard back that I got the job, so I packed up and moved to Los Angeles," he said. "I ended up working at SpaceX for a little less than two years."
While with SpaceX, Suray helped build satellites for the Department of Defense.
"I was a 'Mission Integration Engineer' for a developing business unit that was just announced last year called, 'Starshield,'" Suray explained. "Starshield built variations of Starlink satellites (SpaceX's communication satellite product) for government Department of Defense applications.
"I was responsible for working with our government customers and the SpaceX engineering team to design, build, test, and fly satellites that provide valuable data for national security," he continued. "This involved me negotiating between multiple teams to reach a compromise that both met SpaceX's business objectives and the government's requirements."
Overall, he said the experience was a very rewarding one for him.
"The most rewarding moment of the experience was seeing two satellites that I had worked on being launched from Vandenberg Space Force Base in-person on my birthday," Suray said. "The most rewarding part of my day-to-day working at SpaceX was being surrounded by the most innovative minds in the aerospace industry."
Suray said he knew he wanted to pursue science from a young age.
"Growing up, I had always wanted to be a guitarist in a rock 'n' roll band, but my curious mind, methodical approach to problem solving, and passion for Legos made me think about engineering as a viable option as well. To the relief of my parents, this was the route I eventually chose for college," he said.
He said his faith has been a big influence in his life as an engineer, too.
"I would not be where I am in my career today without faith. My very first opportunity to work on NASA's Space Launch System (SLS) when I was in college came from volunteering in a high school youth ministry," he explained. "The youth minister at the church was friends with a SLS program director and recommended me for an interview.
"It's hard to see it when you're in the present, but looking back over the years, I can see all of the instances where God had 'nudged' me toward making decisions that have led me down this career path," Suray continued. "With that perspective, my wife and I always try to look at every career opportunity from the point of view of how it will bring us closer to God and closer as a family."
Suray grew up at St. Philip the Apostle Church in Franklin, where his parents Donald and Susan Suray are still parishioners. He recently started a new job at Boeing in Huntsville, Alabama, so that he and his wife could be closer to them as they prepare to welcome their first child.
"I accepted a position as the Branch Manager of Technical Integration at Boeing supporting the Missile Defense Agency's GMD program," Suray explained. "GMD is our country's mainland defense capability that defends the continental United States against hypersonics and nuclear weapons.
"The best way to describe it is shooting a bullet with a bullet, but the bullets are traveling at hypersonic velocities," he said. "I manage a team of 20 engineers who are responsible for ensuring all of the components of the GMD system integrate together to support the program's testing and deployment schedule.
"In addition, I lead a business development team that coordinates with our corporate office to identify new opportunities for the company and write proposals to win business with support from our industry partners."